On Wednesday, April 29, members of the RV Industry Association's Workplace Safety Task Force hosted a virtual panel to discuss what their companies are doing to keep their employees healthy and safe from the coronavirus as they reopen their plants. The panel was moderated by Workplace Safety Task Force Chairman Rick Puckett, Enterprise Director, Environment, Health, Safety and Security at Winnebago Industries.
Puckett was joined by experienced workplace professionals and fellow task force members David Youmans, Chief Ethics & Compliance Officer at Forest River, Ann Spratt, Director of Operations Support at Grand Design RV, and Erick Click, Director of EHS at Lippert Components, Inc. They talked about what each company is doing to follow the playbook of recommendations and considerations compiled by the Task Force as plants begin to reopen.
Some of the topics covered included temperature checks, social distancing, increased cleaning and disinfection, use of PPEs, contingency plans for an infected employee, and more. Puckett emphasized that RV companies can have "real power together" in fighting against COVID-19 by closely following CDC protocols as they put together their companies' separate safety plans.
The first question Puckett asked the panel was how they were handling the issue of temperature checks in their plants. Youmans stated that although temperature checks is an optional strategy from the CDC, his company has decided to have employees monitor their own heath for all potential symptoms, including checking their own temperature. One of the reasons for this decision is to avoid giving workers a false sense of security that could lead to employees being less diligent in following the other safety protocols. "There are many people who are asymptomatic," even if they are carrying the virus, Youmans noted.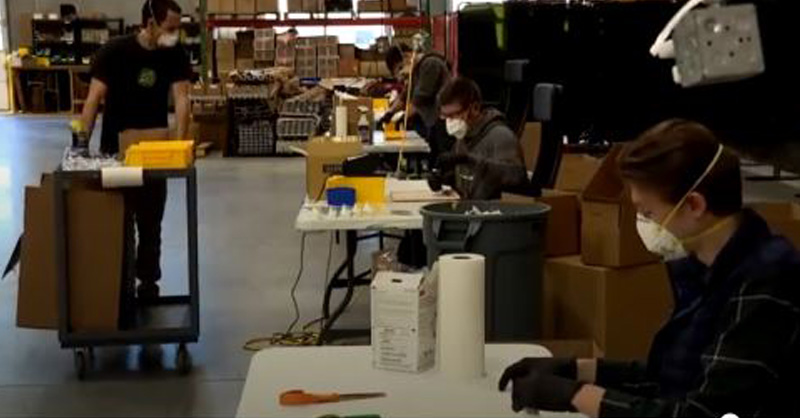 Puckett added that although temperature checking is not perfect, it can screen out those who do have a temperature. Spratt chimed in that Grand Design RV is implementing taking the temperatures of employees, suppliers, and visitor.
The topic of social distancing followed. Puckett directed discussion of this popular and valuable tool to Click, who said his company was emphasizing social distancing "from the moment you arrive in the parking lot until the moment you head back home." He also said Lippert Components started by assessing their facilities and analyzing the processes and tasks. They had to get a little creative in how to create space but were able to do so by spreading out processes and utilizing barriers on the production line. In a lot of cases social distancing can be implemented, although some processes could not be spread out, in which case they use PPEs and face shields.
Click also noted that sometimes it was necessary to add some levity to the work environment and talked about how one general manager created a yardstick with a cardboard hand at the end of it, so employees could still give one another a high-five. Even at six feet apart. Puckett added that the engagement of executives and employees was critical and that there could be some fun, too, as employees returned to work.
The next topic, directed to Youmans, was changes companies are making at a well-known communal site on the plant floor – the coffee station. He suggested instead using a single-serve coffee machine as a substitute.  Food trucks are also being reevaluated, although some have offered to serve individually wrapped food and use masks. Addressing breakrooms and crowded microwaves and refrigerators are also issues being addressed. One idea is to ask employees to bring cold lunches and not use microwaves, as well as staggering lunchtimes for employees. Click added that they reached out to their workforce for ideas. One idea was to allow employees to eat lunch in their cars as a way to keep distancing while eating. One thing is clear, according to Click: "We must be flexible."
Outside visitors, a subject that had already shown up in audience questions, was next up. Puckett directed this question to Youmans who suggested they eliminate visitors as much as possible, using email whenever they can. He added that visitors who have to come inside the building must go through the same protocol as employees – handwashing, etc. They should also set up service windows with plexiglass screens.
Puckett, who has a safety background, said that face coverings should be required in manufacturing spaces, and he has purchased hundreds of thousands of masks and is ordering shields. He emphasized the need to set up training for employees so they can understand why and how masks and other equipment are essential, not just for their own safety and health, but for those around them. Expanding upon the topic of PPE, and masks in particular, Click said they began with the idea that anyone working within 6 feet of someone else would need to wear a mask. That has transitioned to a requirement for everyone to wear a mask who is coming into the manufacturing space.
Handwashing, a simple but vital preventative measure, was then addressed. Puckett stressed that handwashing is a critical element in any safe environment and task force members described various ways to protect hands from the virus. Click of Lippert Industries said one tactic is to keep interior doors open, so they don't have to be touched. He also noted there was a fun resource, washyourlyrics.com, that allows people to find a song to sing to help with the appropriate length of handwashing. All the panelists stressed hand washing, as well as the use of hand sanitizers.
The importance of cleaning and disinfecting their plants according to CDC guidelines was a topic all members emphasized. Ann Spratt of Grand Design RV said her company had hired extra cleaning staff for before and after shifts and added more sanitizing stations. She also has "sanitizing kits" for all returning staff, with masks, gloves, and hand sanitizer for each worker.
The opportunity to eliminate touchpoints by implementing touchless access was directed to Spratt who discussed how her company is reevaluating work assignments to eliminate everyone going to one common area. One recommendation she has implemented is for everyone to spend the day with their hands in their pockets, each time they take their hands out to touch something is an opportunity to evaluate how to limit that touchpoint.
Time clocks are a tricky issue all panelists are facing and agreed that they represent a huge risk for contamination. Some are seeing plants that have eliminated time clocks and have supervisors taking role, but that is not widespread. How to move away from manual time clocks, is a major struggle. Click put it well when he said, they "can't engineer the concern away, but we can do something to eliminate the passing of [contamination]." One low-tech solution is for employees to use hand sanitizer before clocking in and again before clocking out.
The last topic Puckett asked the panel was what they would do if an employee became infected. Spratt said she would follow CDC guidelines, closing the area where the employee worked for one day and sending in a sanitizing crew. She also suggested setting up a grid system to map where that employee has been during the day to clean those areas further.
Click said he would also follow CDC guidelines, and added that open communications were vital within the plant. Dave Youmans of Forest River agreed and added that disinfection was necessary, as was a quick response.
During the presentation, Puckett referenced a number of helpful CDC resources, available below:
A recording of the entire session is available for RV Industry Association members here and a copy of the Work Place Safety Task Force's Playbook of Considerations as Plants Reopen will be available to members in the coming days.