Working with the wider RV industry to improve the RVing experience is a core focus for the RV Industry Association. With the completion of the first-ever Campground Industry Market Analysis, we now have a comprehensive report that details the availability of campsites and campground amenities at federal, state, municipal, and private campgrounds across the United States. Never before has this amount of data on campgrounds and RV campsites been available in a single report.
Our prior research has shown that campground availability and the amenities offered at campgrounds are key factors to the retention of RVers. This data is backed up by the 2021 North American Camping Report findings that indicates full-service hookups are one of the top ten amenities sought by campers (29%) making campground selections, yet this new campground report shows that only 8% of public campsites and 51% of private campsites have full-service hookups. Compounding this problem is the fact that during the during the peak camping season of June, July, and August, 76% of all campsites are booked, meaning it is difficult for RVers to find a campsite that meets their needs.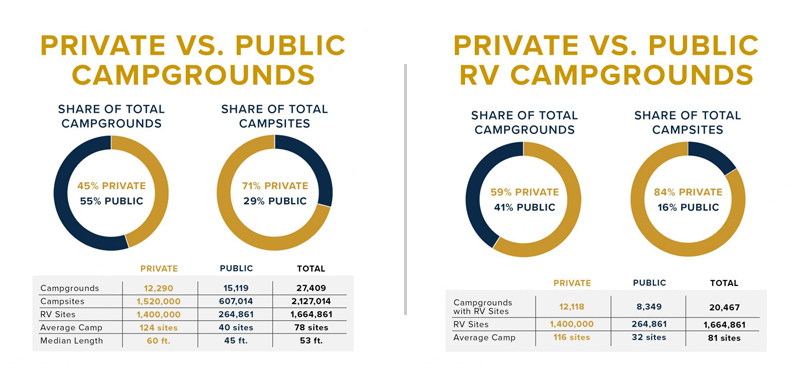 The analysis also found a disparity in amenities between private and public campgrounds. This is especially apparent in the availability of Wi-Fi in public campsites versus private ones, as well as with other available amenities such as dump stations. Research also indicates the need for increased pull-through RV sites within both private and public sectors. Altogether, these findings indicate that increasing campsite amenities should be a priority of the campground industry, as this would improve consumers' overall campsite experience.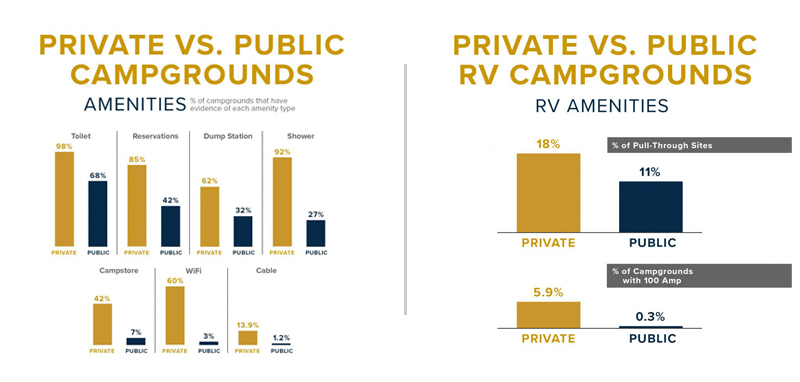 With the significant influx of new RVers in recent years, the data in the report clearly indicates that both the public and private campground sectors within the "Outdoor Hospitality" industry need to continue to grow, expand, and redevelop their supply of facilities to keep pace with consumer demand, particularly when it comes to providing full hookups and Wi-Fi to meet both current and future needs of RVers.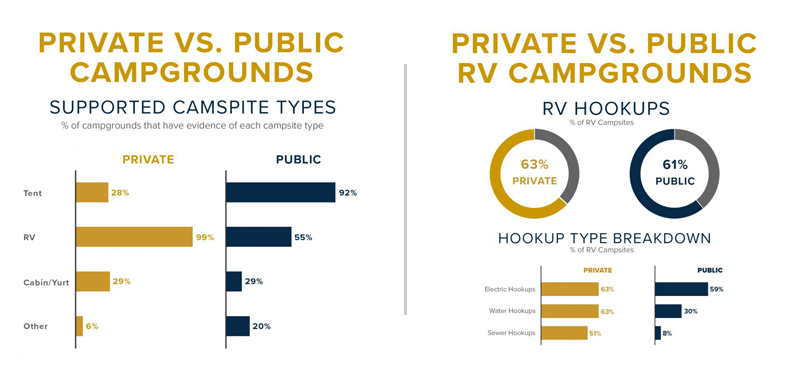 The findings in this campground research play an important role in understanding and elevating the campground sector within the wider outdoor recreation industry. With this new information, the RV Industry Association's government affairs team will have the necessary data to work with the campground industry and policymakers to address challenges going forward and, ultimately, contribute to a more enjoyable experience for consumers across the country. 
The study was completed by CHM Government Services and supported by industry partners including Kampgrounds of America (KOA), the National Association of RV Parks and Campgrounds (ARVC), and Cairn Consulting. For questions on the study, contact Bill Baker, RV Industry Association Vice President of Membership & Research at bbaker@rvia.org. 
View the full RV Industry Association Campground Industry Market Analysis here.
Subscribe to News and Insights