This year, many people have had to pump the brakes on plans for a summer getaway. Now, thanks to Dunkin', Americans have a chance at that much-needed and much-deserved travel re-do, with a moment of refresh out of the house and on the open road. Dunkin' is tapping into the hottest summer travel trend by creating a Dunkin' Refreshers RV and giving one fan the chance to win it for a week.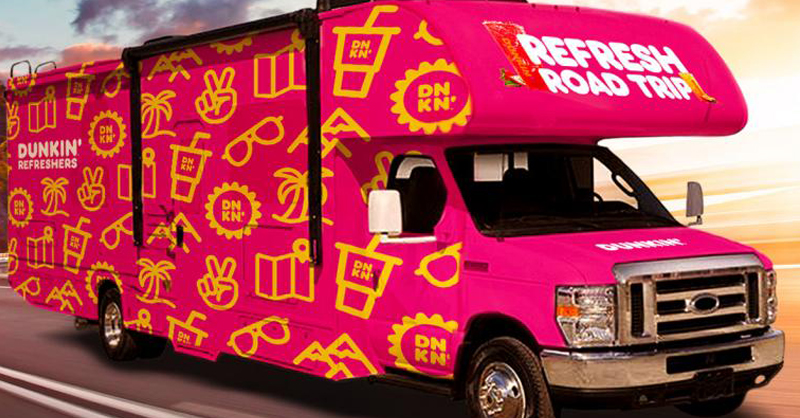 (Photo credit: Dunkin')
Inspired by the energy and excitement of Dunkin's popular new iced beverages, the Dunkin' Refreshers RV is a Dunkin' devotee's dream on wheels. The outside features a bright, bold exterior in the brand's signature pink and orange colors, with special Dunkin'-inspired décor and accessories inside, including a Keurig K-Mini Plus coffee maker with Dunkin' K-Cup® pods and a gift card for Dunkin' Refreshers to stay running on Dunkin' all week. Dunkin' will deliver this truly custom vehicle to one lucky fan on September 20 for a private, week-long RV experience with their family, friends, or members of their quarantine crew.
The RV Industry Association estimates 46 million Americans will take an RV trip in the next 12 months, causing rentals and sales to skyrocket nationwide. According to Drayton Martin, Vice President, Brand Stewardship at Dunkin', "People who have had their vacation plans cancelled are looking for ways to break out of their familiar four walls and hit the reset button.
Check out the full article along with details on how to enter from QSR here.