While Go RVing has reached a variety of audiences through its experiential marketing activations over the past seven years, there aren't many opportunities to reach an urban community. So, when long-time media partner Outside developed an event in downtown Chicago, it was the chance to interact with urbanites and families who enjoy outdoor activities.
As the presenting sponsor of The Outside Experience on July 13-14, Go RVing was visibly dominant at the event. A whopping 11 RVs were on display for tours and questions in the registration area, outdoor patio and the main exhibit hall at McCormick Place, the largest convention center in North America. On display were a SylvanSport GO, Winnebago Travato, TAXA Mantis, Forest River Surveyor, Airstream Basecamp, A-Liner Classic, Jayco Hummingbird, Black Series C12, Forest River No Boundaries, KZ Escape Mini and Winnebago Micro Minnie.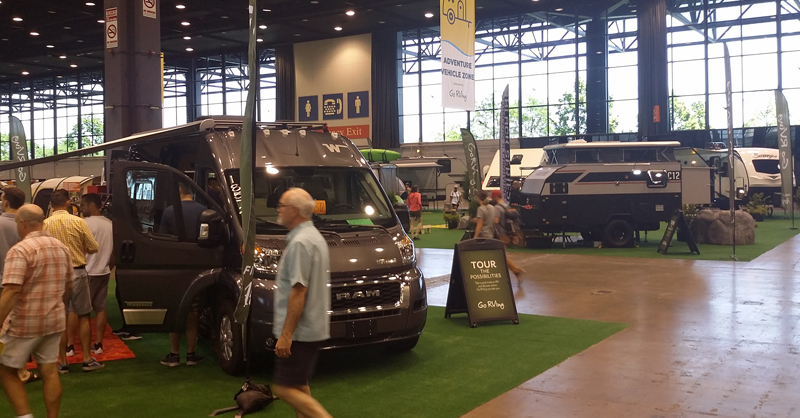 "The long-time partnership between Outside and Go RVing has provided a positive gateway for the RV industry's acceptance by the outdoor enthusiast community," said Go RVing VP of Brand Marketing & Communications Karen Redfern. "The in-magazine and TV features, as well as influencer partnerships that we have generated over the years, have made a monumental difference in the perception of RVs in a very pro-outdoors segment."
Two of the mainstage seminars during the event were presented by adventure skier Brody Leven, who was one of the early influencers brought to Go RVing by Outside. The partnership with Brody has extended far beyond for the past four years and he along with Adam Clark, produced the Unexpected series for Go RVing as well as the 2019 brand anthem.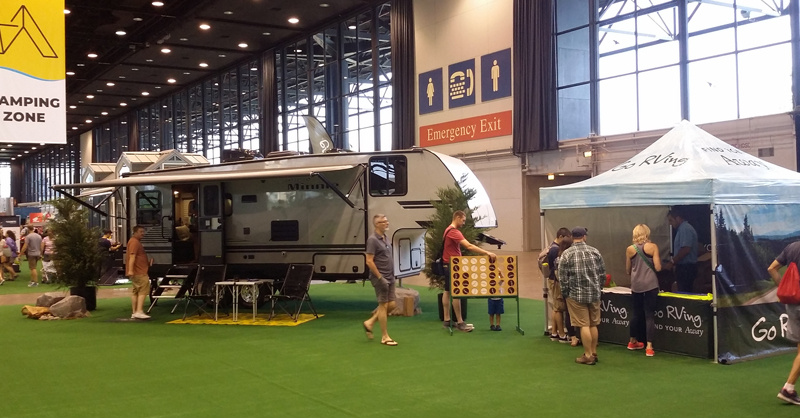 "There were countless moving parts to coordinate for a display this large, but that made it even more satisfying to see how well it turned out," said Go RVing's Marketing Program Analyst Dana DelVecchio. Like all experiential events, the thought process into selecting the RVs on display was to choose vehicles appealing to an urban crowd with a love for the outdoors – families as well as younger buyers. Over 5,000 guests were estimated to have toured the RVs over the weekend!
Jim Buck, manufacturer sales representative at Black Series Campers, was one of the manufacturer members onsite throughout the weekend. "The Outside Experience was a fantastic event set in a beautiful venue. I don't think a better location could've been picked," he said.
Indeed, the display areas were wonderfully set up with props intended to give the vibe of being at a real campground. Go RVing is grateful for the participation of RV Industry Association members along with dealerships to make The Outside Experience such a success, as well as all the experiential events throughout the year.
For more information on Go RVing, click here!