It's been over 15 months since the last Go RVing experiential event due to Covid-19. But the wait is now over! This past weekend, Go RVing kicked off the 2021 season with the Go Pro Mountain Games and Carolina Country Music Festival. Experiential events are a core part of Go RVing's efforts to expose wider, diverse audiences to RVing and an active outdoor lifestyle in an unexpected setting. Events include a mix of family fairs and festivals, outdoor and sporting events, and music and multicultural festivals.
After being cancelled in 2020 due to COVID-19 shutdowns, the GoPro Mountain Games were officially back on June 10-13, 2021. The event has served as the epicenter of global mountain culture and adventure sports for nearly 20 years and Go RVing has been increasingly involved for nearly a decade. The events were pared down this year because it was planned to be virtual until two months ago when Colorado lifted their COVID-related bans.
Last weekend, nearly 2,000 athletes and 20,000 spectators filled the streets of Vail, CO in a celebratory style. This year's games feature whitewater competitions, mountain and road biking, fishing, trail running, DockDogs, disc golf, and a photo competition.
The town is divided into competition areas like Dog Town which hosts the ever-popular dock dogs competition and was sponsored by Go RVing. Throughout the town, Go RVing banners were visible to those in attendance and on the live event feeds. This year, Go RVing also sponsored the "Road to the Mountain Games" where adventure athletes Wade Holland and Abbie Wren traveled to the games from their home in California in a Travel Trailer provided by Lance, sharing the road trip via social channels along the way and during the games. Wade and Abbie also created video content for Go RVing.
"The Go Pro Mountain Games are a perfect fit for the Go RVing brand. Outdoor enthusiasts play a large role in our High Value Audience segment and RVs make a great basecamp for any adventure" says Karen Redfern, RV Industry Association Vice President of Brand Marketing. "While Go RVing did not have RVs on site for hands on experiences, our custom video content was shared with fans through a variety of channels, including emails blasts, podcasts, and livestreams from the games. The decision to go live and allow sponsor exhibits came too close to game time for us to participate this year, but we will be back with full participation and displays next year."
Across the country in Myrtle Beach, SC, the Go RVing team was on the ground with RVs at the Carolina Country Music Festival. After being couped up for over a year, attendees to the festival came out to hear the bands play, and they were not disappointed. In addition to listening to live music, attendees were also able to tour RVs during the festival courtesy of Go RVing. Approximately 3,000 people toured the RVs provided by Campers Inn RV for the event, and nearly 780 people provided their information by entering to win a Dometic cooler. 
Go RVing's experiential events add an important effort to expose diverse audiences to RVing and an active outdoor lifestyle in an unexpected setting. Go RVing has finalized the 2021 events list. Due to later start than normal, there are 11 more events on the calendar to include the categories of fairs & festival, sports, music, and multi-cultural event. 
If any manufacturers or dealerships are interested in providing RVs for any of the upcoming events, please contact Dana DelVecchio at [email protected].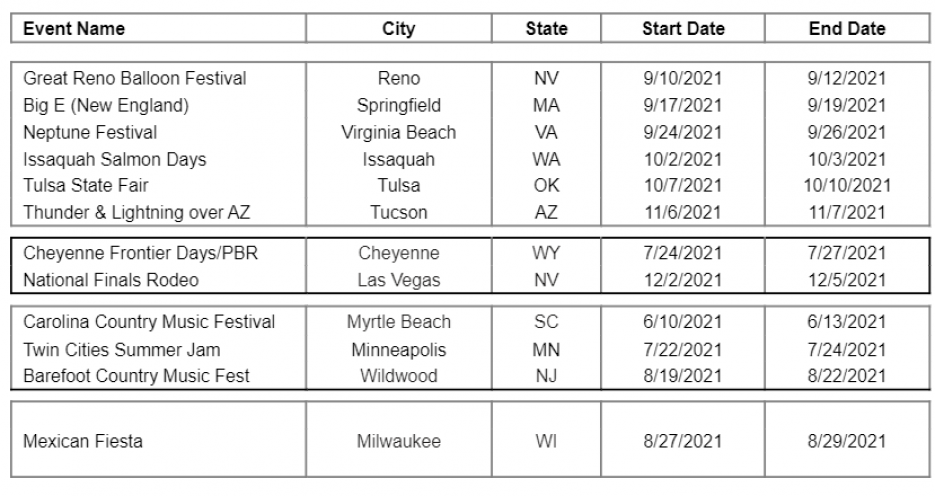 Subscribe to News and Insights