After weeks of sheltering in place, states are beginning to open and Americans are beginning to feel more comfortable venturing out for weekend and seasonal leisure travel while still seeking to avoid crowds and practice social distancing. Families have reconnected during this sheltering period and are looking for ways to expand that connection. As the public begins to consider what travel looks like under the current environment, Go RVing has released its all new campaign: Go on a Real Vacation.
"Let's remind people of the freedom that comes with traveling in an RV," said Go RVing Vice President of Brand Marketing and Communications Karen Redfern. "After months of being stuck in the proverbial passenger seat, it's time to take the wheel. It's time to not merely go on vacation, but to Go on a Real Vacation – one that only RVing can offer."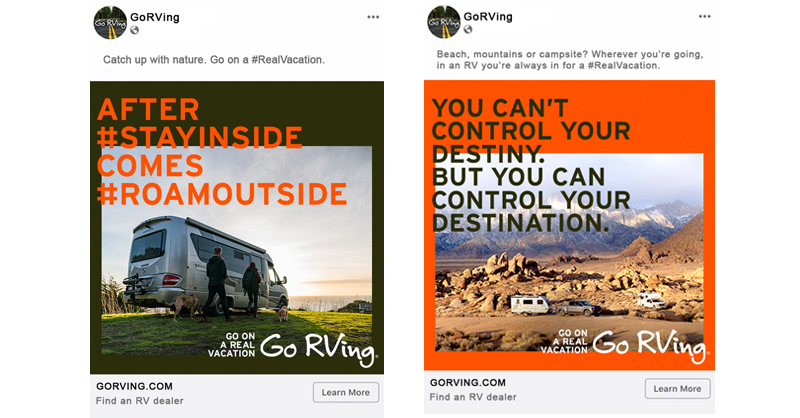 The campaign is the brainchild of Go RVing's new agency of record, FCB-Chicago who officially came on board in late April after Go RVing's six-month RFP process. Ads began launching on May 14 on Go RVing's social media channels – Facebook, Instagram, and Twitter— and will continue to grow with paid social content and digital ad platforms and media partners. A radio spot will be released after Memorial Day with distribution via terrestrial radio and national streaming platforms. Broadcast, digital video, and additional channels will be added as the campaign is fully developed to create a full 360-message for our target audience.
"We are excited about the energy the new campaign brings," said RV Industry Association President Craig Kirby. "Go on a Real Vacation embraces a bolder, more direct messaging to consumers. It reminds consumers that an RV gives them permission to take control. To vacation on their own terms and with their own agenda. It's the difference between a trip to remember, and one you'll never forget."
In light of the new normal surrounding our lives, the campaign will launch with a message that acknowledges where we've all been and where some still might be depending upon where they live. After #StayInside Comes #RoamOutside visually will be accompanied by several different levels of "outside" from walks in the fresh air to more active adventures.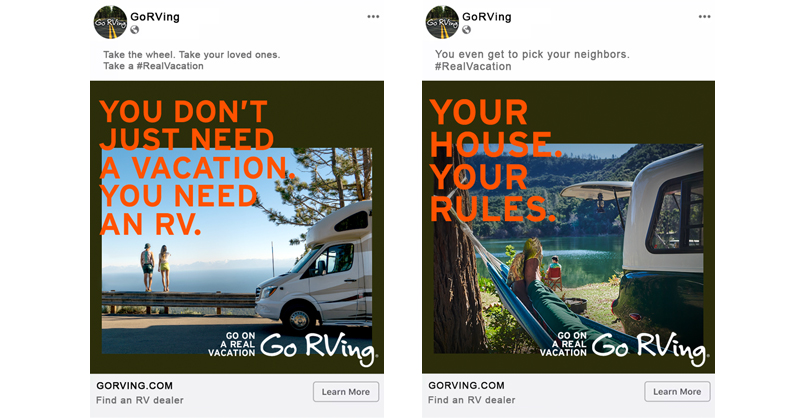 The campaign has four themes as its creative base: #RoamOutside, You Need an RV, You Can Control Your Destination, and Your House, Your Rules. Each theme will have multiple variations of vehicles, people, locations and will be built in multiple formats, allowing consumers to find a message that personally resonates with them.
"As states across the country reopen, RV dealers have seen an increase in RV sales and interest at their dealerships," said National RV Dealer Association President Phil Ingrassia. "It is being widely reported that this is the 'year of the RV,' and this new campaign is guaranteed to drive even more people to the RVs and the active outdoor lifestyle."
The Go RVing team will continue to closely monitor consumer sentiment to ensure our message is appropriate for our audience and future consumers during these uncertain times.