Last week, RV Industry Association staff attended the Washington International Trade Association's 2019 Annual Awards Dinner, also known as "Trade Prom."  The dinner, held by WITA and the Washington International Trade Foundation (WITF), its sister organization, attracts hundreds of top decision-makers, policy shapers and trade experts from D.C. and around the world.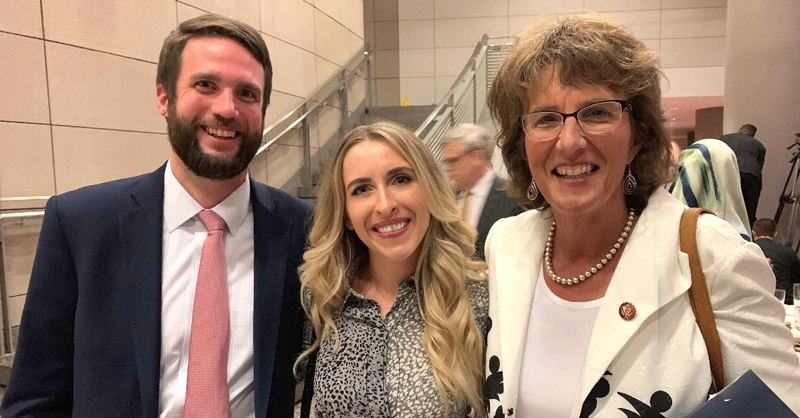 (L to R: Rep. Walorski Chief of Staff Mike Dankler, RV Industry Association Manager of Government and Political Affairs Samantha Rocci and Rep. Jackie Walorski)
The event honors those who have made significant contributions to the advancement and understanding of international trade. This year, Representatives Jackie Walorski (IN-02) and Suzan DelBene (WA-01) received Congressional Leadership Awards given to individuals who have made extraordinary contributions in the field of international trade. 
Rep. Walorski, co-chair of the House RV Caucus, brought down the house, when she and her Chief of Staff Mike Dankler received a standing ovation for their tireless work on trade issues. Additionally, she emphasized the impact of the RV industry in Indiana's 2nd district, stating "[W]e make almost all of the recreational vehicles that you see on the road - RVs - and the industry is booming. Very excited and proud of my district!"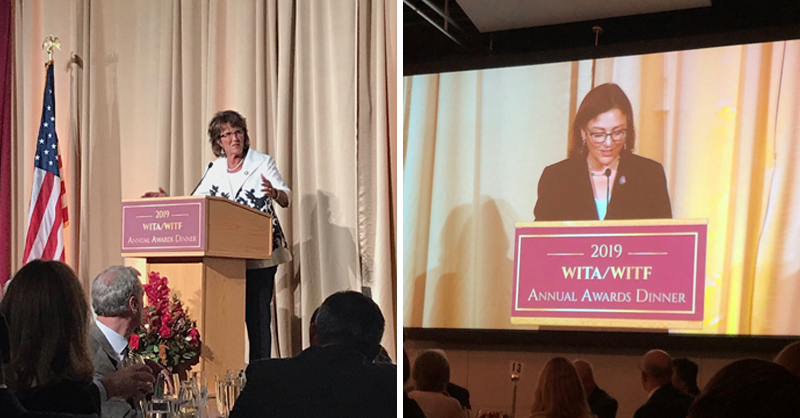 Senator Chuck Grassley (R-IA), a member of the Senate RV Caucus, received the American Leadership Award, also receiving a standing ovation for his continuing dedication to free trade. In his address, Senator Grassley highlighted the myriad benefits free trade has brought not only to U.S. manufacturers and farmers, but also the entire world. He stated that his "top priority is getting the [US-Mexico-Canada Agreement] ratified," because of its numerous improvements on the current North American Free Trade Agreement.
Closing out the evening, WITA/WITF presented the Lighthouse Award to the Association of Women in International Trade, to recognize WIIT's 30+ years of promoting the careers of women in international trade.
For more information and to watch the addresses from the evening, click here!