A crowd of people gathered outside the ballroom doors of the Salt Palace Convention Center on March 12 as they anxiously awaited the start of The Reveal at RVX: The RV Experience. The doors opened and as attendees walked through a sea of lights, the feeling of excitement filled the room as they prepared for the unveiling of nine of the RV industry's newest and most innovative products of the year.
The crowd was greeted by NBC Auto Racing Analyst and former host of Top Gear U.S., Rutledge Wood, before introducing RV Industry Association President Frank Hugelmeyer. Hugelmeyer kicked off the event with an optimistic outlook on the state of the RV industry and reinforced the importance of using innovation and new consumer trends to appeal to the next generation of RV consumers. Research, conducted by Go RVing, shows that 40 percent of the entire U.S. population's leisure preferences fit the RV lifestyle and there are currently only 10 million RVers in the U.S., meaning that the untapped market potential is extraordinary. Hugelmeyer continued, noting the magnitude an event like RVX will have on the RV industry.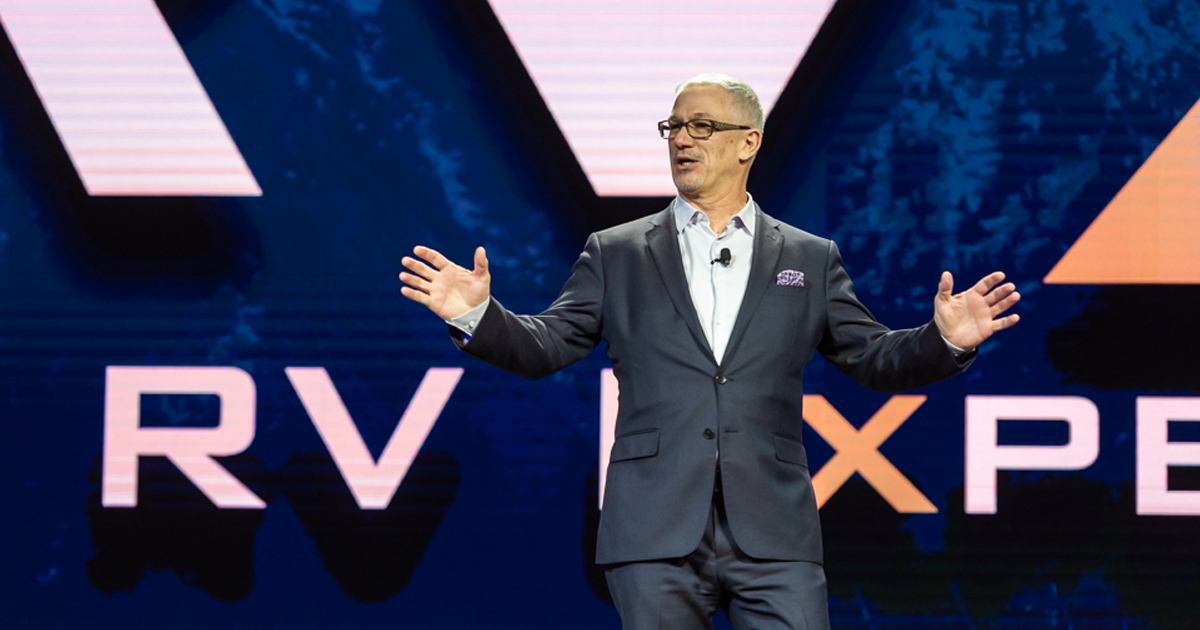 "RVX isn't just another trade show renamed. RVX is an integrated and multi-purpose marketing platform designed to showcase the future of RVing, generate greater consumer interest and drive dealer sales," said Hugelmeyer. "If we embrace new ways to build, market and service our products, if we support our customers at every turn, if we innovate, excite and attract new consumers to our diverse outdoor lifestyles, the future of the RV industry remains very bright."
Every aspect was engineered with the goal in mind to provide tools to dealers and manufacturers that will help continue to expand the RV market and appeal to future RVers. The Reveal was designed to generate maximum exposure for new, cutting edge products just entering the market, in time for camping season. RVX is also the first event in Go RVing's nationwide "Kick off to Camping Season" campaign, an unprecedented multi-million-dollar media campaign, conceived to build consumer awareness throughout the high season and driving new customers to dealerships throughout the country. With those goals in mind, The Reveal was born.
"Today's first-ever 'Reveal' will unveil the industry's best new products, as selected by a panel of consumer media and social media influencers, across nine consumer lifestyle categories," said Hugelmeyer. "From outdoor adventurers, to families, to tailgaters and spare-no-expense travelers, The Reveal highlights how new products meet the needs of these key consumer segments just as they are planning their spring and summer vacations."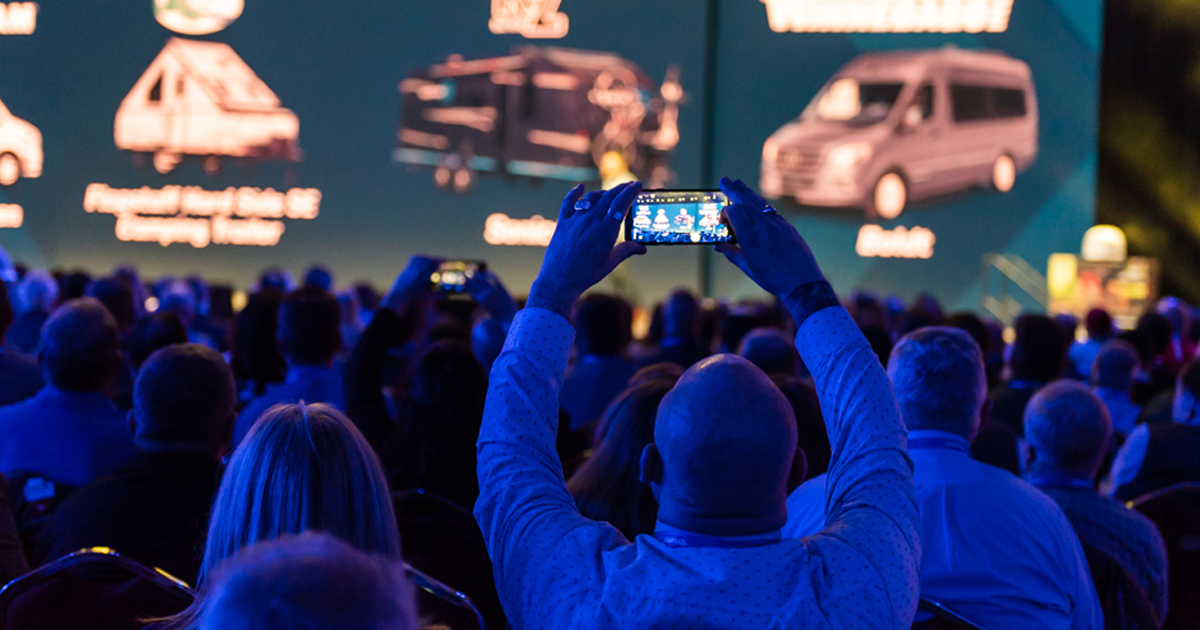 He continued, "RVX presents an opportunity for us to highlight our latest and greatest products and to learn about emerging trends in the consumer space and how to best engage the customer of the future. RVX lines up with new model introductions in many product categories, and gives dealers another opportunity to reload inventory, stock innovative new models, and engage with supplier partners. RVX is about growing our industry and your business."
Hugelmeyer concluded by officially kicking off the event with Rutledge Wood taking the stage to introduce the crowd to The Reveal.
The nine category spotlights represented during The Reveal were: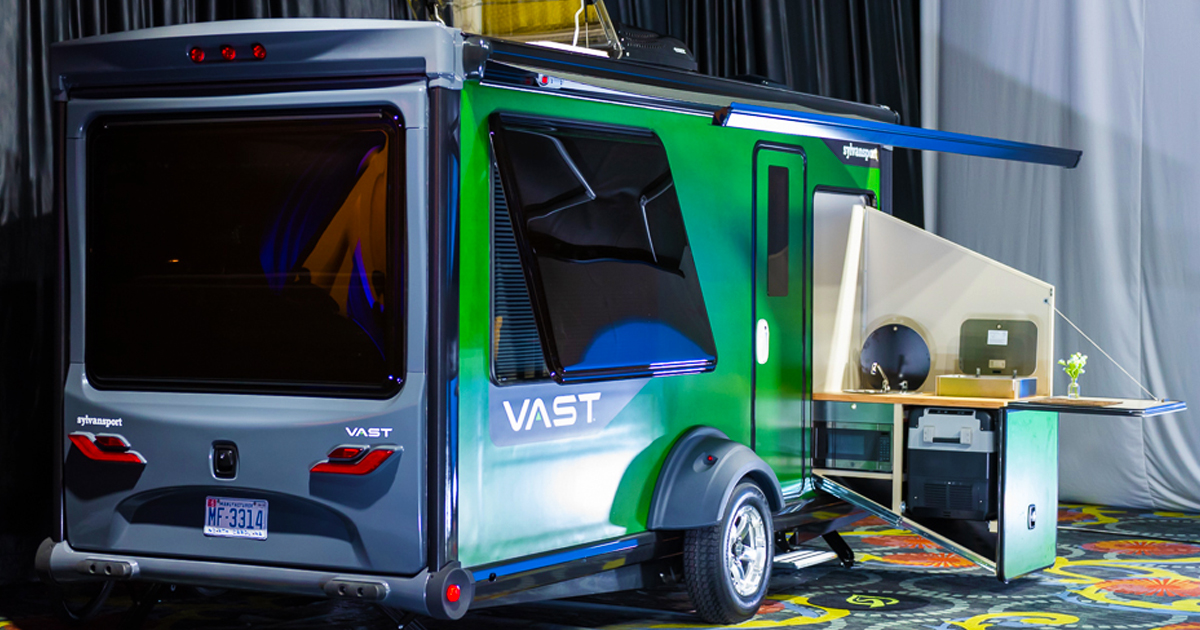 OUTDOOR ADVENTURE
Category Spotlight: SylvanSport VAST
The VAST is SylvanSport's is designed for adventure travelers and campers who want to bring all their toys of the trade, without sacrificing comfort. It features breakthrough simplicity for gear hauling, two "true" queen- sized beds, a patented indoor/outdoor kitchen and a full bath with shower.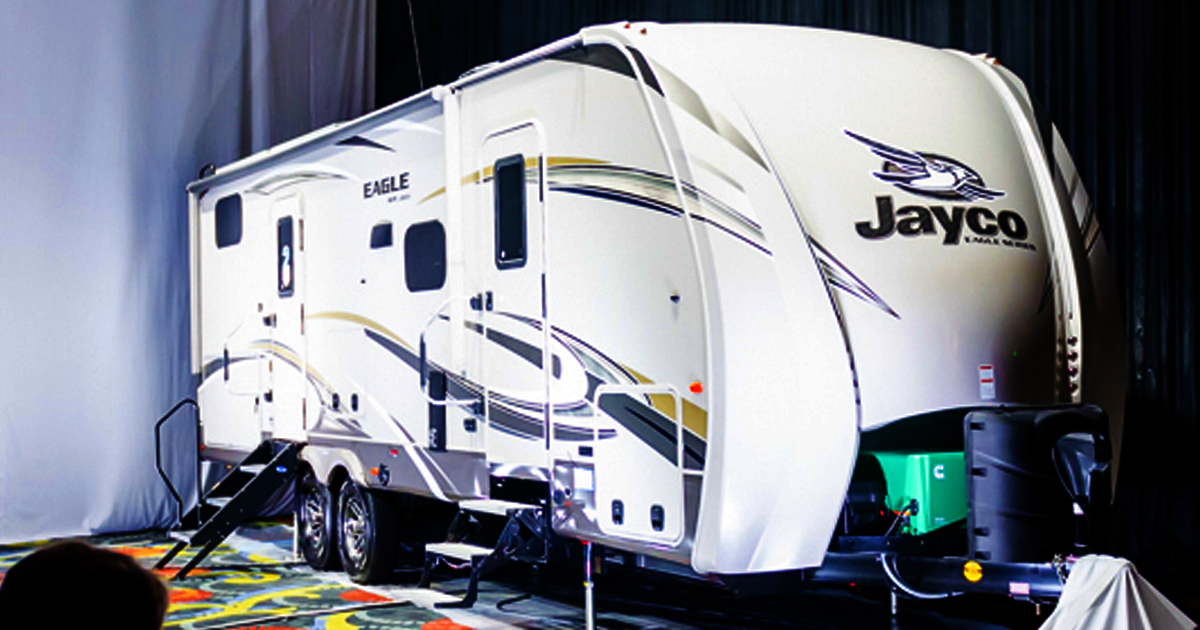 Jayco's new bunkhouse sleeps 6 comfortably and features convertible furniture and pass-through exterior storage. Customizable upgrades include a fireplace and more residential-type woodwork, fabrics, lighting and fixtures, an outside kitchen, hybrid grill and rear cargo door with flip up bunk for easy bike or kayak storage.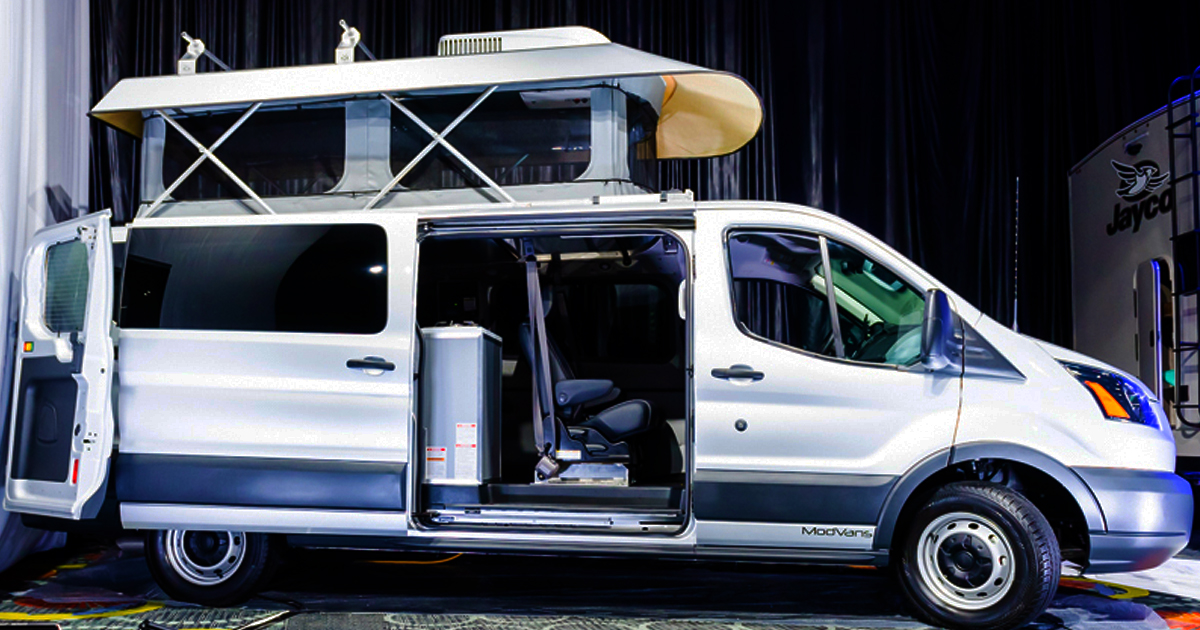 A cargo van positioned to become the everyday minivan, pickup truck or SUV, replacing the need to own a separate vehicle for work, life or play. The CV1 features removable, modular components that adjust the layout. Based on a Ford Transit chassis, the CV1 is affordable, easy to drive and serviceable by any Ford dealer.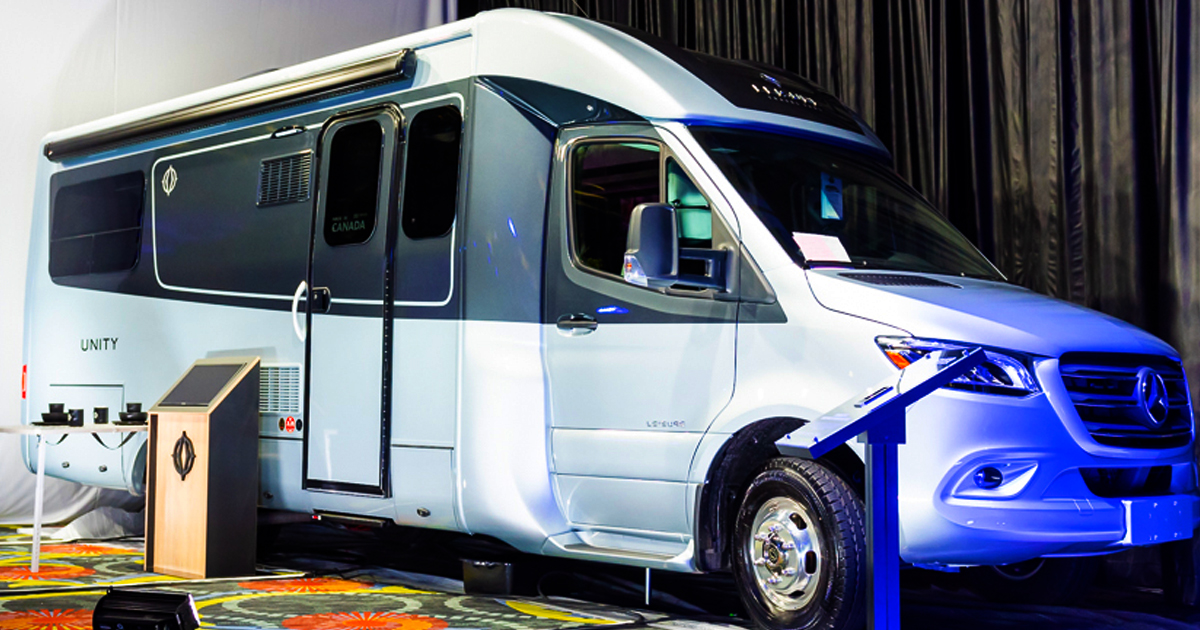 The 2020 Unity Rear Lounge represents a decade of product improvements, setting the stage for a new era of Unity's. Built on the all-new Mercedes-Benz Sprinter 3500 chassis, the Unity features a spacious "rear lounge" with residential-like sectional sofa and the first RV to feature the all-new Dometic IoT "Smart RV" system.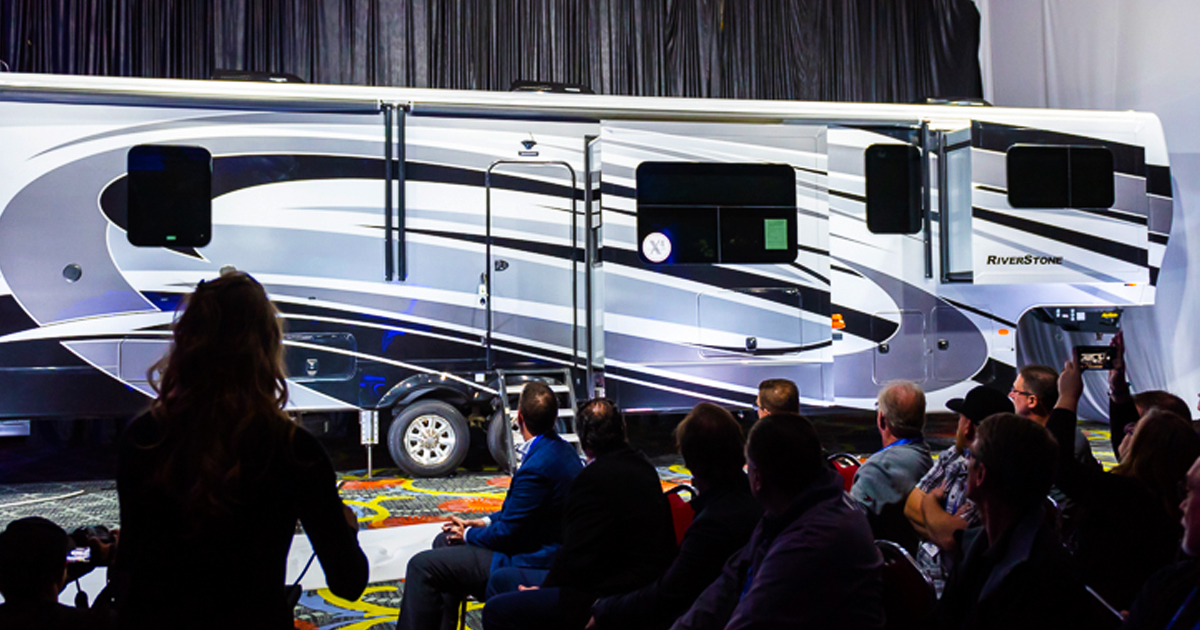 An RV geared towards the luxury/extended customer featuring separated garages to 1 and ½ bath concepts. The redesigned front cap sports a large windshield, tri-sofa front living, rear bathroom with dual vanity sink, half bath off the kitchen with a washer dryer and still has room for a king bed.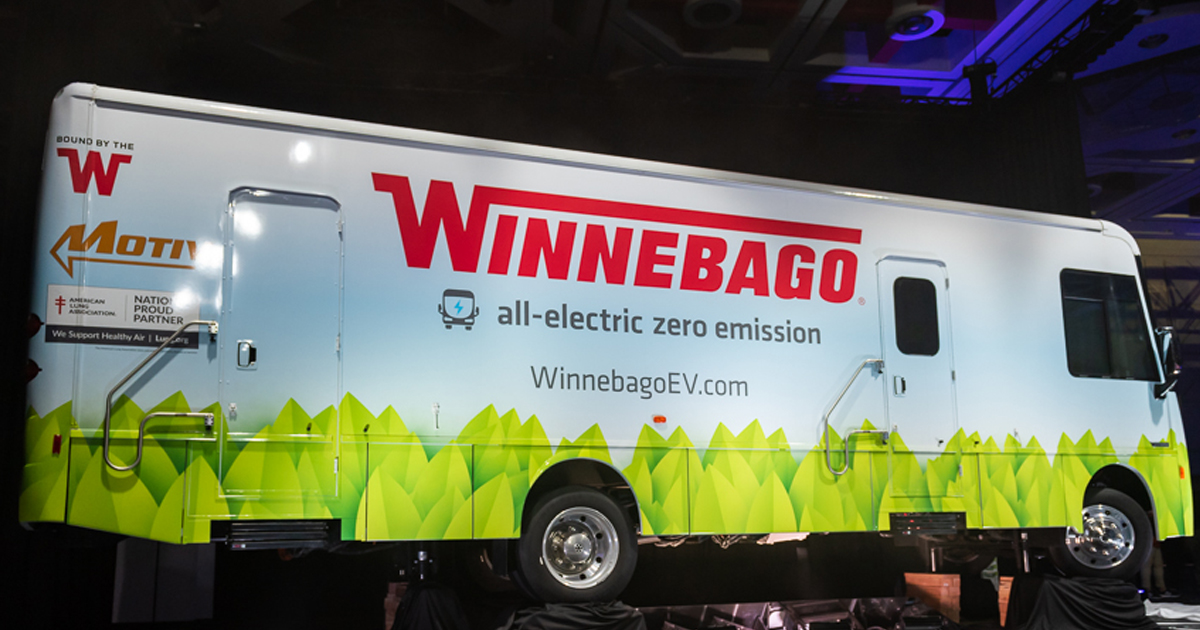 Built on a Class A RV platform in either 33' or 38' lengths and utilizes Motiv Power Systems' Ford F53 based EPIC all-electric chassis. Not yet designed for general consumer use, the vehicle is best suited for short-range commercial applications like mobile bloodmobiles, clinics, classrooms and outreach vehicles. The vehicle houses either six or eight batteries and delivers an expected range of 85 to 125 miles on a full charge.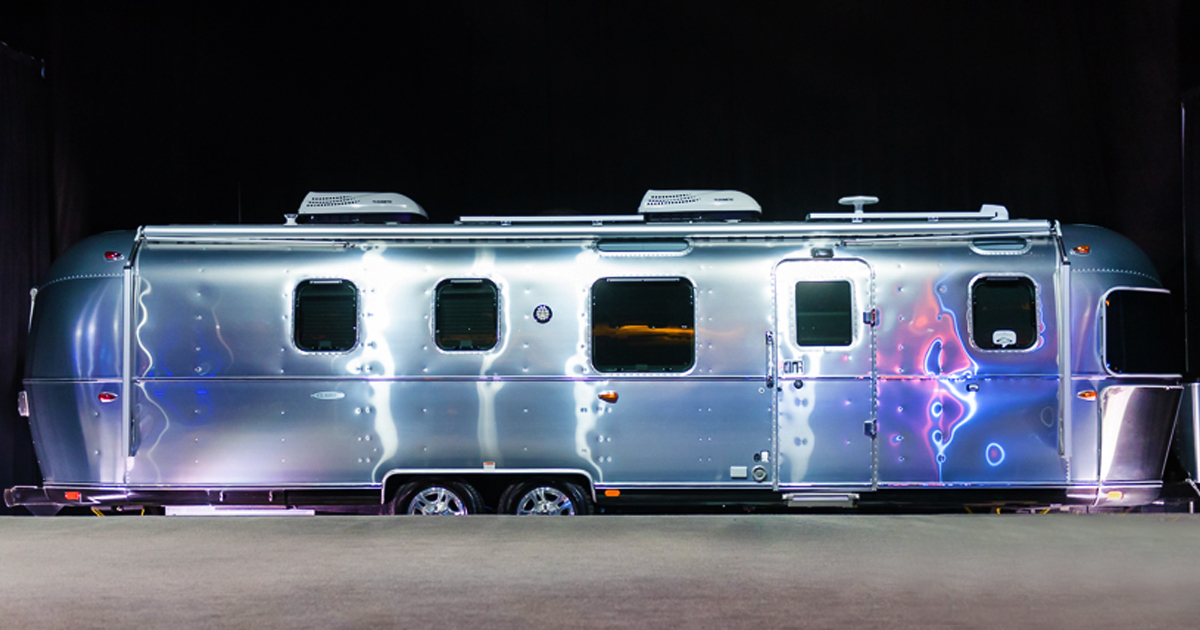 The Airstream Classic Smart RV with all-new Smart Control Technology, you can control and monitor your RV's most important features and amenities from anywhere — and stay connected to the comforts of home, even when you're far from it. That means a more comfortable camping experience every time, everywhere.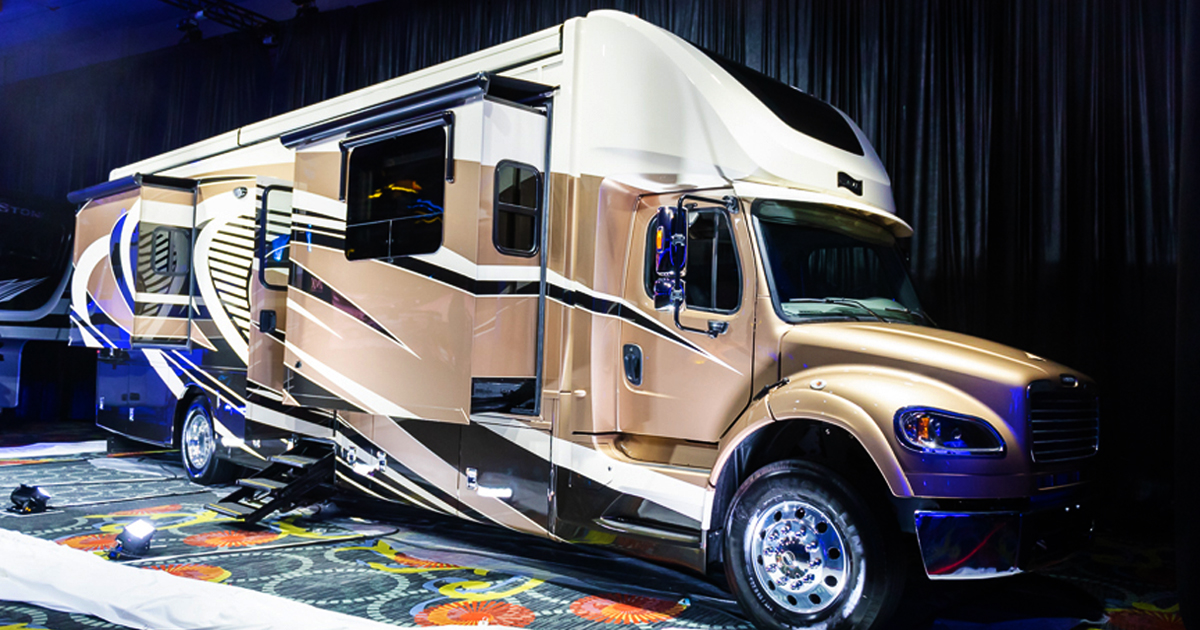 The 2020 Super Star will debut at the inaugural RVX event in March. This product is a luxury Super C class product with several innovations not offered in the market today.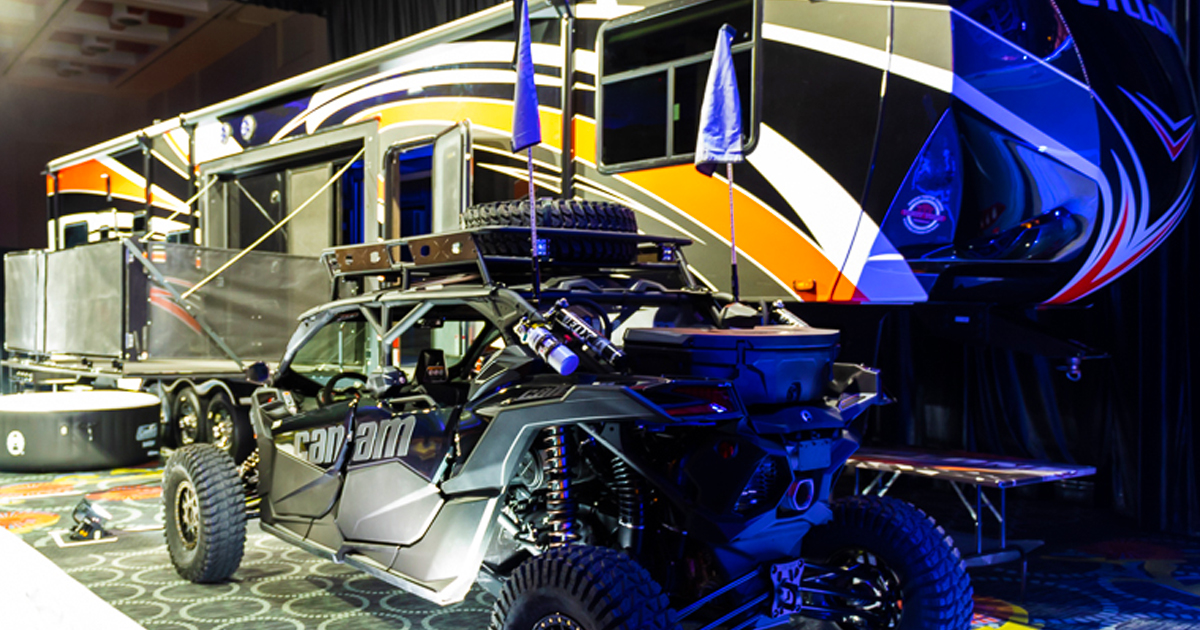 Featuring the first ever side patio that sets up with the touch of a button, featuring an outside bar, built in kegerator and multiple TVs. The interior hosts multiple 55" TVs, a sound system with 8 subwoofers and 18 amplified speakers. The 'garage' holds a portable hot tub that can be moved outdoors. Outside, the full-body paint job is complemented by matching underground lighting system.
"It's not a good time to be in the outdoor industry – it's a great time," said Hugelmeyer. "Americans love the outdoors and RVs are the ultimate mobile solution for the greatest mobile generation."
If you missed The Reveal, you can view the recording here and get up to date on all the latest products that will be available this camping season!