It has never been easier or more affordable to receive the gold standard RV Technical Institute training with the launch of RVTI's new subscription model. The new plan will allow RV dealerships to train all their technicians either through the online program or in-person at RVTI's headquarters in Elkhart for $1,200 per location. For each dealership locations that signs up for the plan, the staff from that location will have access to RVTI's Level 1 and Level 2 online training or in-person classes at RVTI's headquarters.
For individuals, either mobile technicians or people who are looking to get into the RV technician field, there is a $300/year option for individuals. This plan also provides access to RVTI's Level 1 and Level 2 online training or in-person classes in Elkhart.
This new, lower price for training is possible because of the decision from industry leaders on the RV Industry Association Board of Directors, National RV Dealers Association Board of Directors, RV Technical Institute Board of Directors, and Go RVing Board of Directors to subsidize the cost of training.
"Our industry recognizes the critical importance of increasing the number of trained RV technicians available to service the ever-growing number of RVs on the road today," said RV Technical Institute Executive Director Curt Hemmeler. "This is of such importance that the industry is subsidizing the cost of training through this new subscription model, making it even more affordable for dealers to train their entire staff on RVTI's gold standard training."
A subscription plan is also available for the RV Technical Institute's Authorized Learning Partners, a network of regional training partners approved to deliver the Institute's standardized training on a local or regional basis. Authorized Learning Partners pay $2,500/year for access to the curriculum and ability to conduct the training. 
RV dealerships who would like access to both the online training options and in-person Elkhart training, as well as access to the curriculum to train their own, can select the Authorized Learning Partner Plus program.
Check out the chart for more details or visit RVTI's website to sign up for the subscription here.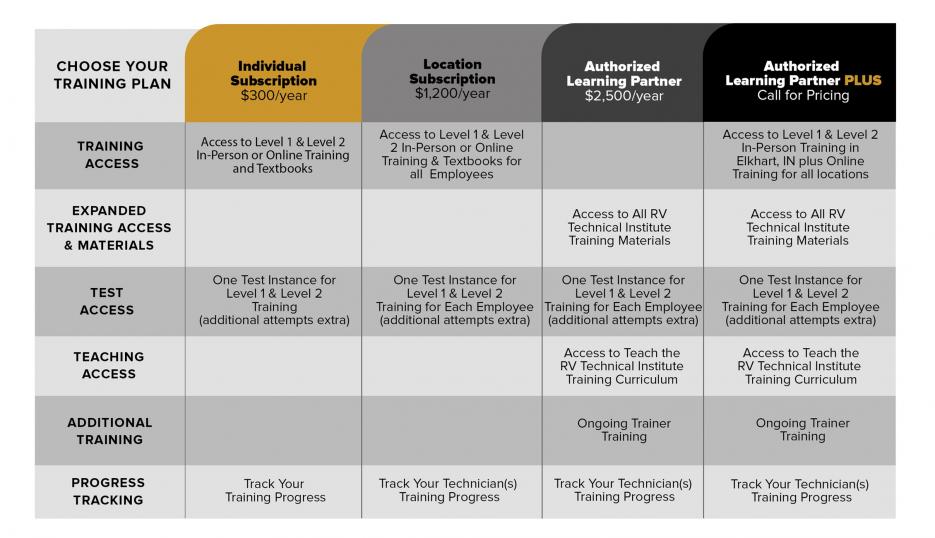 Subscribe to News and Insights