This week, members of the RV Industry Association's government affairs team have been on Capitol Hill meeting with Members of Congress to promote the policies of the RV industry. These policies are laid out in the newly published 2019 Federal Policy Agenda.
The agenda consolidates the key actions the industry would like Members of Congress to take including:
Campground Modernization and Expansion:

Support increased investment in campground modernization and expansion on public lands and utilize volunteers, partnerships and concessioners to help address this need.

Support the bipartisan Public Lands Package to protect our public lands and waterways while delivering needed reforms to enhance the outdoor recreation experience.

Support the bipartisan Recreation Not Red-Tape Act, which offers sensible, non-controversial proposals to update processes and policies on our nation's public lands and waters to improve access and experiences for all forms of outdoor recreation.

Support the inclusion of a "Recreation Title" in any infrastructure package to address federal land agency roads, bridges and crumbling campground infrastructure so Americans can continue to enjoy these iconic places for generations to come.

Tariffs:

Support American-made RVs by voicing your concern to the Department of Commerce on the downstream impacts steel and aluminum tariffs have on U.S. manufacturing industries.

 Advocate for trade policies that specifically target the bad actors in foreign trade, not all trading partners.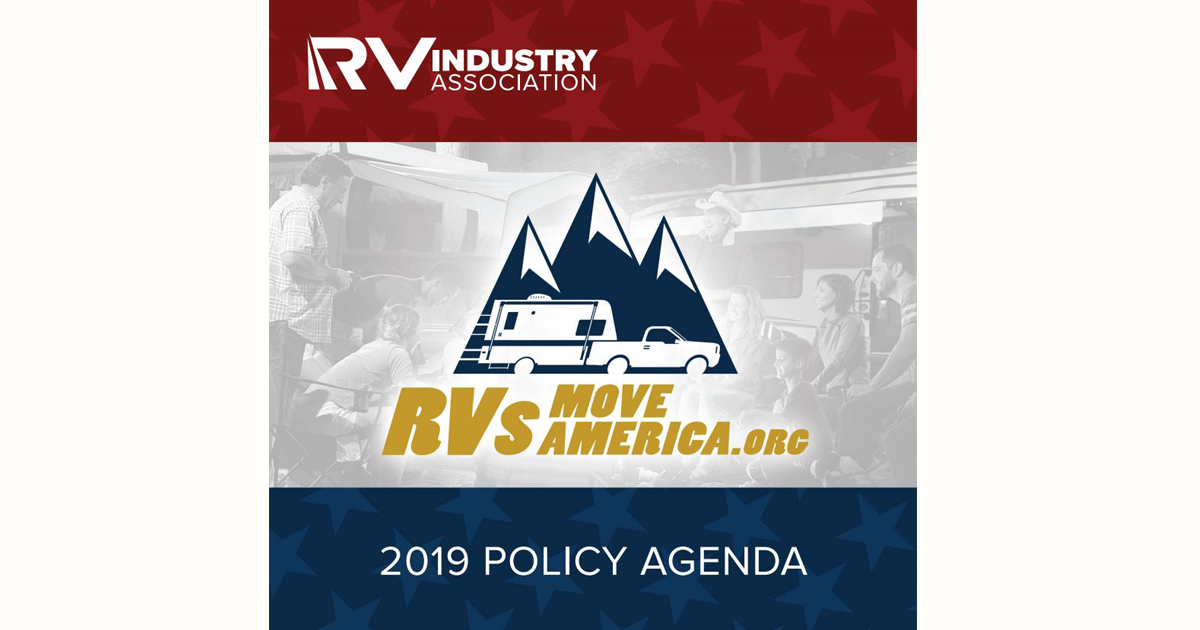 Trade:

Support passage of implementing legislation in the 116th Congress to allow the USMCA trade agreement to take effect.

Tax:

Support a change to the definition of "motor vehicle" in The Travel Trailer and Camper Technical Corrections Act or in a technical corrections bill, to ensure that towable RVs are included in the floor plan interest financing deductibility.

Outdoor Recreation Satellite Account (ORSA) Funding:

Support 1.5 million in funding for the Bureau of Economic Analysis in the FY2019 Commerce, Justice and Science appropriations bill for continued annual ORSA report and expansion of report to include state and regional data.

RV Caucus:

Support the $50 billion American-made RV industry and families that enjoy the RV lifestyle by joining the House or Senate RV Caucus.
Click here to read the full agenda for more information on each of these issues.
For questions on these policies, please contact Chris Bornemann, Director of Federal Affairs at cbornemann@rvia.org.