The annual RV Aftermarket Executive Conference came to a close on Thursday, August 15 at the Embassy Suites Downtown Convention Center in Denver, Colo., but not before celebrating those committed to excellence and growth in the aftermarket segment of the industry at the 2019 RV Aftermarket Awards.
The awards event recognized suppliers and distributors committed to the RV aftermarket, while also highlighting the most popular new products available in the marketplace. Bob Brammer of Stromberg Carlson and John Hawkins from BAL RV Products emceed the event, navigating through award categories for Distributor of the Year, Supplier of the Year and Product of the Year. All RV Industry Association Supplier and Distributor members were eligible for their respective award categories and there were eighteen entries submitted for the Aftermarket Product of the Year, ranging from smart controls to an automatic tire inflator, blind spot detection system and everything in between!
This year's winners included:
Distributor of the Year: Northern Wholesale
Supplier of the Year: B&W Customer Trailer Hitches
Product of the Year First Place: Bio Kleen, Kleen Wash
An economical, concentrated, liquid boat, RV and vehicle wash that quickly removes black streaks, water spots, insects, dirt, dust and grime.
Product of the Year Second Place: Hughes Autoformers, Power Watchdog + EPO Surge Protector 
The world's first SMART RV Surge Protector fully protects the RV from power faults and dangerous conditions.
Product of the Year Third Place: Creative Products Group, Ultra E Pro Lock
This electronic travel trailer lock with built in touchpad for key-less entry has a full-size handle for an easier grip and a revolutionary integrated deadbolt system that provides added security with extended battery life.
Last, but certainly not least, was to honor the recipient of the Jim Barker Lifetime Achievement award. This award recognizes individuals who have significantly contributed to the success of the RV aftermarket industry, and this year's honor went to George Grengs of Valterra. Having been in the industry for more than 40 years, George was elated, and surprised, with the recognition. Sharing a few words with the group, George reflected on his time with the Aftermarket community:
"My first Conference was 1985. I signed up, got my schedule, rolled into town and realized I had a total of only five twenty-minute meetings in total scheduled. Soon after, a man walks through the door and introduces himself and welcomes me to the Association and the Conference. His name was Paul Tweedy, a distributor and one of the founding members. I so much appreciated him taking the time out of his day to walk into a nobody's room and introduce himself."
"That friendly welcoming spirit, whether you're a competitor or not, is engrained in the Aftermarket community. It's important for all of us, individually, to continue that spirit and reach out to welcome new people and new companies into the industry. Because with new companies, come new products, the lifeline for us to move forward in a fast-changing world."
Check out our award recipients below!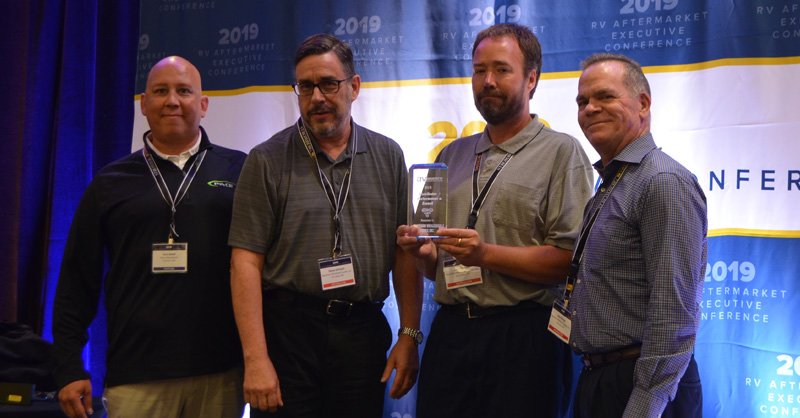 (Distributor of the Year winner)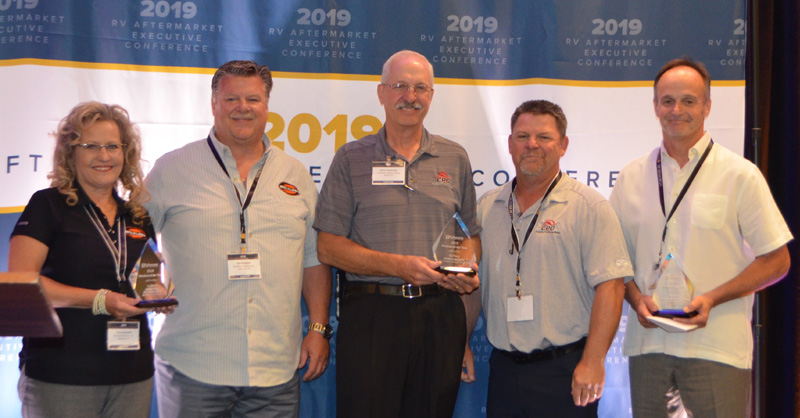 (Product of the Year recipients - first, second and third place winners)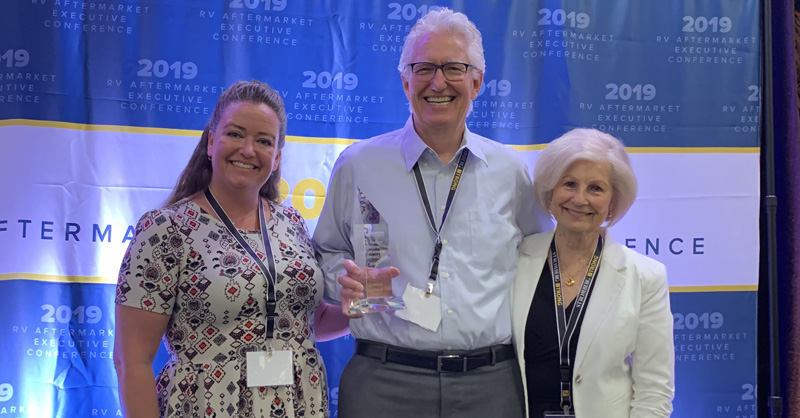 (Jim Barker Lifetime Achievement award winner, George Grengs with his wife and daughter)
If you're a Supplier, Distributor or Sales Rep in the aftermarket segment of the industry, make sure to save August 10-13, 2020 on your calendar. The 2020 RV Aftermarket Executive Conference will be held at the Hyatt Regency Mission Bay Spa & Marina in San Diego, Calif. We'll see you there!