RV travel and camping provides an appealing vacation option for American families according to recent Ipsos research examining consumer interest and planned actions on travel choices in light of the COVID-19 crisis. According to the research, 46 million Americans plan to take an RV trip in the next 12 months. This positive news for RV manufacturers, dealers and campgrounds reinforces what US dealers are already seeing at the retail level.
"As states across America continue to open up, more and more consumers are looking for ways to get outdoors and recreate responsibly," said RV Industry Association President Craig Kirby. "RVs provide a great way for consumers to enjoy vacations with their families, while still adhering to social distancing policies that are likely to remain in place in some fashion moving forward. As we approach the start of summer, the RV industry is seeing both very strong retail traffic, as well as sales, especially with first time buyers. There is such a variety of RV products, that there truly is an RV for every consumer at every price point."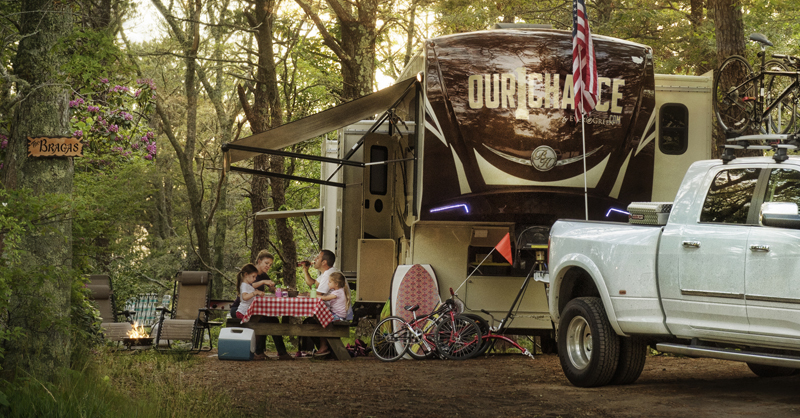 While overall interest in travel remains tepid among many consumers, RV camping leads in consumer confidence and interest across all age groups, with the highest rate of interest among those 18-34 years old.
Additionally, 20 percent of US respondents are more interested in RVs as a recreational travel option in the aftermath of COVID-19 – the highest of any option tested – over car/tent, cruise, car/rental stay, air/rental stay. Fifty-one percent of those that plan to take any RV trip this year reported that current health concerns increased their interest in RV camping – much higher than any of the other travel options.
That strong interest is reflected in findings focused on planned RV actions. In total, 1 in 4 respondents plan to take some kind of RV action in the next 12 months. Specifically, 18 percent plan to take an RV trip. Another 18 percent plan to research more RV information online. Eleven percent plan to purchase an RV; 12 percent will visit an RV dealer; and 13 percent plan to rent an RV.
Kirby added, "RVs provide consumers the opportunity to travel where they want when they want. That freedom and personal control over the travel experience opens up all sorts of possibilities for outdoor recreation and adventure, all while connecting with family and friends."