Go RVing's experiential marketing plan continues to select events where the RV industry and lifestyle can reach new audiences. This year's calendar includes music and food festivals, outdoor competitions, state fairs, and a mix of collegiate football games and Mexican National Team soccer games among many others.
Experiential displays are set up with two RVs for visitors to tour and get an in-person experience of what life in an RV is like. Guests are also invited to join in on games and giveaways as well as meet with staff on-site who can answer any questions.
RVs used at these events are generously provided by dealerships and manufacturers around the country. It's only the beginning of July and Go RVing has had over 60,000 people tour RV displays with many more events still to come.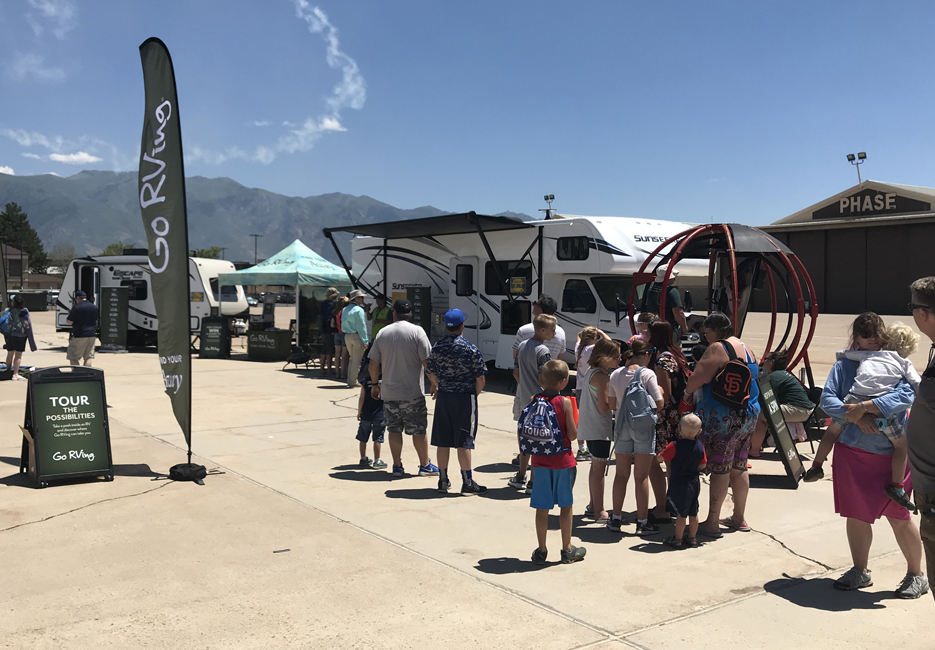 Guests line up to tour an RV at the Warriors Over the Wasatch Air Show (Photo courtesy/Go RVing)
Some exciting upcoming events include air shows, state fairs and an appearance at the Summer X-Games! One addition to the calendar was the amount of air shows included in experientials this year. Due to the success of last year's presence at one event, Go RVing expanded to four this year to expose a different audience to the RV lifestyle. Just recently, Go RVing was at the Warriors Over the Wasatch from June 23-24 in Ogden, UT, where more than 2,500 visitors toured the 2019 Forest River Sunseeker Type C Motorhome and 2018 K-Z Escape Mini Travel Trailer that were present.
Here's a list of upcoming events Go RVing will be at – one may be in a town near you:
July 14-15 - Great NE Air Show in Westover, MA
July 19-22 - Summer X-Games in Minneapolis, MN
July 20-22 - Bite of Seattle in Seattle, WA
Aug 2-4 - Townsquare – WE Fest in Detroit Lakes, MN
Aug 29-Sept 3 - Nugget Rib Cook-Off in Reno, NV
Sept 7-9 - State Fair – Kansas in Hutchinson, KS
Sept 14-15 - Jekyll Island Shrimp & Grits Festival in Jekyll Island, GA
Sept 15-16 - Fiesta Patrias in Los Angeles, CA
Sept 21-23 - California Capital Air Show in Sacramento, CA
Oct 6-7 - Sweet Auburn Music Fest in Atlanta, GA
Oct 11-14 - State Fair – Texas in Dallas, TX
Oct 18-21 - State Fair – North Carolina in Raleigh, NC
*More events to be added as dates are finalized.
Interested in participating by providing one of your units for an experiential event? For more information on getting more exposure for your product or dealership, contact Dana DelVecchio at [email protected].