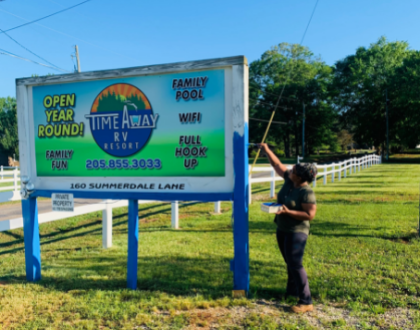 Opening one of the largest African American-owned RV campground in America is not the first leap of faith Nathan and Alicia Lawson have taken during their 30-year marriage.
That leap may have been when they decided to go into the residential real estate business – during the housing market crash of 2008. While Nathan, who had owned a trucking business for 30 years, was hauling goods around Ohio, Alicia, a successful pharmaceutical sales representative, decided the pair should get into flipping homes. She then put in bids on ten houses and by the time Nathan returned for dinner, they were the proud owners of six fixer-uppers.
Within six months, using their salaries to bankroll their investment, they had renovated each of the properties. Shortly afterward, Nathan sold his trucking business to go into real estate full-time. Over the ensuing years, the Lawson's flipped and managed multiple properties, overseeing construction contractors and collecting rents. So, when the idea of building an RV park occurred to them, it did not seem like much of a stretch for their skills and experience.
"It was like the book was already written and we just followed it," said Nathan. "We see an RV park as just another avenue for collecting rental payments, except the renters drive off."
It was in 2019 that the Lawsons began exploring ways to monetize their passion for RVing. Nathan had grown up RVing; several members of his extended family already owned RVs and they would often vacation together in a six- to seven-rig convoy at campgrounds near his Ohio home. Twenty-five years ago, Nathan and Alicia bought their first RV, replacing it only two years ago with a Thor Aria that now serves as both their home and office. It has been parked on the construction site of their RV park for the past eight months.
The Lawsons bought the property sight unseen – in fact, they had never even been to Alabama before purchasing a 13-acre tract in Lincoln, home of the Talladega Superspeedway. They just knew it had to meet a set of three criteria: it had to be in the South, it had to be located off a major highway; and they had to be able to purchase it in cash.
"We saw how stressed people were – from COVID, from politics, from the economy – and we decided to build a park that would offer them time away from their troubles," said Alicia. "That's how we came up with the name 'Time Away RV Resort.'"
The 100 big-rig friendly, pull-thru gravel sites with full-hookups and 30/50 amps opened right on time on June 1 with a grand opening scheduled for mid-month. Currently, the park is fully booked into July, mostly due to online marketing in the Huntsville and Birmingham areas.
Time Away currently has 10,000 Facebook followers who have been tracking the construction progress. The Lawsons are assisted in their marketing efforts by their adult children, Shirley, Terrance, and Arlinda, who have remained back in the family's hometown of Toledo.
While there is no shortage of campsites near Talladega (and in fact, there are RV sites on the grounds of the speedway), Time Away is unique in many ways and created to appeal to a specific type of camper.
"We've designed the resort for year-round occupancy by recreational users only," said Alicia, who is not permitting tents or long-term residents at the resort. "There is so much more than just the Speedway here for vacationers to enjoy."
Nearby, she points out, there is horseback riding, river rafting, hiking, mountain biking, and rock climbing. And the town of Lincoln has a bass tournament, a golf course, and places where people can try driving go-carts, ATVs, race cars, and even tanks.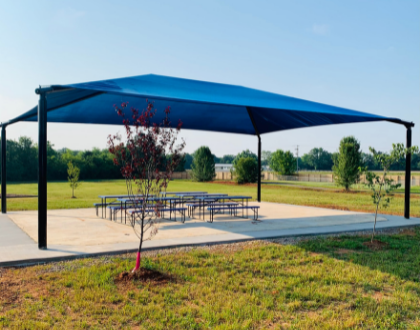 "We're looking forward to hosting families from all over, but especially from nearby communities," said Nathan, who noted that the "blue lagoon" swimming pool they have installed will be the first pool in Lincoln. "It gets pretty hot down here during the summer, so we think the pool will be a big draw for people who don't want to drive too far for a fun weekend getaway."
The Lawsons have found a lot of support for their park among Lincoln businesses and residents, and they plan on reciprocating. In addition to offering Wi-Fi, cable access, a bathhouse, a kid's playground, a dog park, and an on-site laundry facility at the resort, they will be featuring local DJs on Friday nights and live bands on Saturday nights in a large open-air pavilion. Also featured each weekend will be seminars with local professionals on such topics as NASCAR racing, RV repairs, starting a business, and negotiating land contracts.
Becoming established as part of the Lincoln community has been important to the Lawsons who say the locals are rooting for the park's success. Like many small towns, however, it is suffering from a lack of labor.
"The only way we've been able to open on time has been to develop a good plan, to anticipate every hiccup, and to have a plenty of backup lined up," said Alicia. "I had four different concrete guys, for example, to make sure we got the job done."
Another way they plan to "give back" to those who have supported them is through features and programs targeting and expressing gratitude to America's veterans. Nathan and his son Terrance are U.S. Army veterans, while daughter Shirley is retired from the U.S. Navy. The resort will feature a "Heroes Walk" of stories and photos where visitors can purchase bricks that will be inscribed with the names of the veterans they wish to honor. The Lawsons also hope to offer free site rentals for veterans next Memorial Day.
Plans are already underway for Phase II of the resort, which they hope to begin executing in January 2022. In addition to enhancing the oasis-themed park with tropical landscaping, they plan to add an adult pool, a sauna and hot tub, a splash pad, and 5-6 cabins or RVs for rent.
In the meantime, their initial opening coincides with NASCAR's 2021 season, which will be historic with basketball legend Michael Jordan and Bubba Wallace premiering their new single-car team.
"Not a lot of African Americans are into either NASCAR or RVing," said Alicia, who stresses that the resort is designed to appeal to campers of all cultures, ages, and backgrounds. "But we're seeing a lot more interest now, so our next RV resort may be back near our home in Toledo."
Just another leap of faith for the Lawsons and more fun for RVers.
Subscribe to News and Insights