Eight RV service technicians will showcase their skills as they compete in a winner-take-all to find the best tech in the country. The 2019 RV Technical Institute Top Tech Challenge, slated for 4:00pm – 6:00pm on Wednesday, March 13 at the Salt Palace Convention Center in Salt Lake City, will take place live at RVX: The RV Experience!
Held in front of an excited industry audience full of dealers, manufacturers, suppliers and the media, the Top Tech Challenge will highlight the industry-wide need for skilled labor, and how we can work together to bring in more qualified technicians to the industry. These technicians will aid us in helping improve the consumer RV experience. The winner will go home with a $10,000 cash prize to be shared by the tech and their dealership, as well as the title of Top Tech Champion!
"The RV Technical Institute Top Tech Challenge represents the industry's continued commitment to providing quality service to consumers," said Liz Crawford, RV Industry Association senior vice president of trade shows and events. "We're excited to showcase the exemplary work from service techs in the business, while having some fun as well. We're also very excited to welcome back our Top Tech winner from last year - Brandon Galbreath to defend his crown."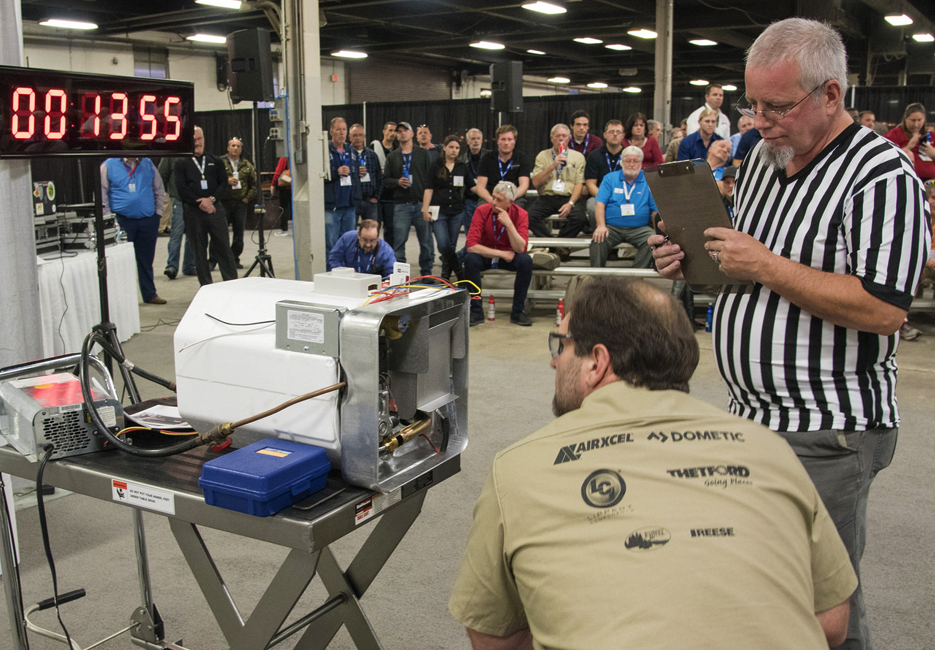 (2017 Top Tech Champion Brandon Galbreath)
To apply, techs must certify that they are currently employed as an RV Certified Technician and have a minimum of five years of experience. Submissions will be scored based on each technician's completed application, years of experience, most recent RVDA/RVIA Certified Technician Exam score, and certification expiration date. The seven applicants with the highest scores will be chosen as the final contestants. In addition to the cash prize, the winner will receive marketing materials to display at their dealership that recognizes their achievements, as well as promotional content for their website and social media platforms.
Think you have the chops to be the Top Tech in the RV industry?
Nominations are open now through November 30 to become one of the service techs. The final competitors will be notified no later than January 7, 2019.