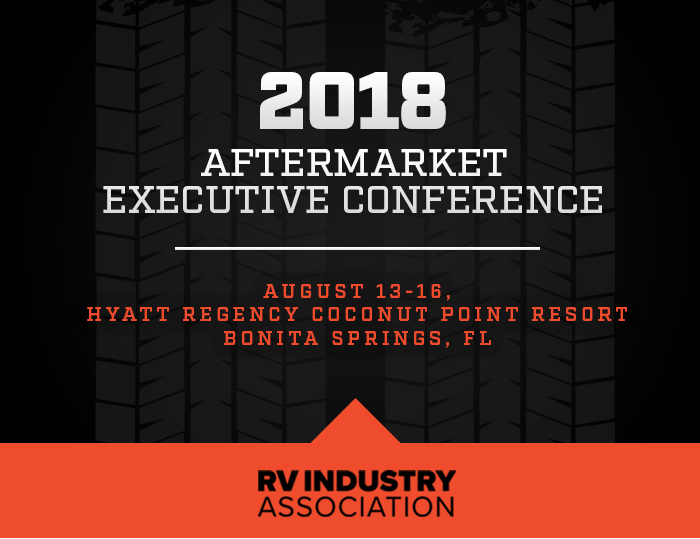 The annual RV Aftermarket Executive Conference is a three-day event where suppliers and distributors in the RV industry will meet to develop their strategies for expanding their business in the coming year. The conference, open to all RV Industry Association members, allows one-on-one "appointment sessions" between RV suppliers and distributors while also providing many social opportunities to learn vital business information from those who have a record of success in the industry.
Be among the first to hear results from the RV Industry Association's groundbreaking new research examining RVers' experiences and thoughts about purchasing aftermarket parts and accessories.

Get a first-look at new products and programs before the fall/winter RV shows.

Experience the Dealer Council! Hear what's on the mind of RV dealers and their thoughts about the aftermarket.

Network and catch up with colleagues from around the country who are all learning new ways to navigate and search for new opportunities in today's dynamic industry.

2018 Event Location/Hotel
Hyatt Regency Coconut Point Resort and Spa
5001 Coconut Road
Bonita Springs, FL 34134
Awards
The RV Aftermarket Awards program was designed to honor and recognize individuals, suppliers and distributors, who are committed to excellence and growth in the aftermarket industry, as well as highlight the newest and most popular products available in the aftermarket industry. Winners for all four award categories were announced on Tuesday, August 14th at a special event during the Aftermarket Executive Conference.
Product of the Year: The

Product of the Year, 

recognizes new products in the RV aftermarket industry 

that have entered the marketplace since the last conference. 

A panel of select dealers and distributors considered innovation, functionality, value, quality of product and technology to determine the winners.

First Place: AP Products' RV Vent Shade
Second Place: RV Intelligence's The WoBLR
Third Place: Southwire Company's Surge Guard 34950

Distributor of the Year: Congratulations to Northern Wholesale Supply. 

All Aftermarket distributor members in good standing with the RV Industry Association were eligible for this award.

Supplier of the Year: Congratulations to Pace Electronics. 

All Aftermarket supplier members in good standing with the RV Industry Association were eligible for this award.

Jim Barker Lifetime Achievement:

  

Congratulations to Bob Brammer, 

President of Stromberg Carlson Products, on his selection as the recipient of the Jim Barker Lifetime Achievement Award. 

Judged by previous winners, this award recognizes individuals who have significantly contributed to the success of the RV aftermarket industry.
FAQs
Is the Aftermarket Executive Conference for RV Industry Association Members Only?

Suppliers and Distributors attending the Conference for meetings must be members of the RV Industry Association. Before registering for the event you will need to update your existing RV Industry Association credentials or create a new account. Directions for how to do so can be found by clicking here.
2018 Event Sponsors
The annual Aftermarket Executive Conference provides many opportunities to get your brand in front of the top Suppliers and Distributors in the RV industry! Check out our 2018 event sponsors by clicking below!

Contacts
Hotel: Michelle Biersner at [email protected] / 303-868-2787
Registration: Huyen 'Wen' Dang at [email protected]a.org / 571-665-5847
Sponsorships: Scott Graham at [email protected] / 574-549-9067

Aftermarket Executive Conference Slideshow
Looking to download pictures from the conference? Visit our Flickr page for more albums from the event and high-resolution images.