Cory Lee is a contributor to Go RVing's first-timer's toolkit, an educational series aimed at new RVers that provides tips on getting started. Through his work with Go RVing, Cory provides a starting point for people searching for accessible RV options and recounts his favorite features that made his experience worry-free. Check out below how the all-terrain wheelchair is helping Cory access rugged outdoor terrain.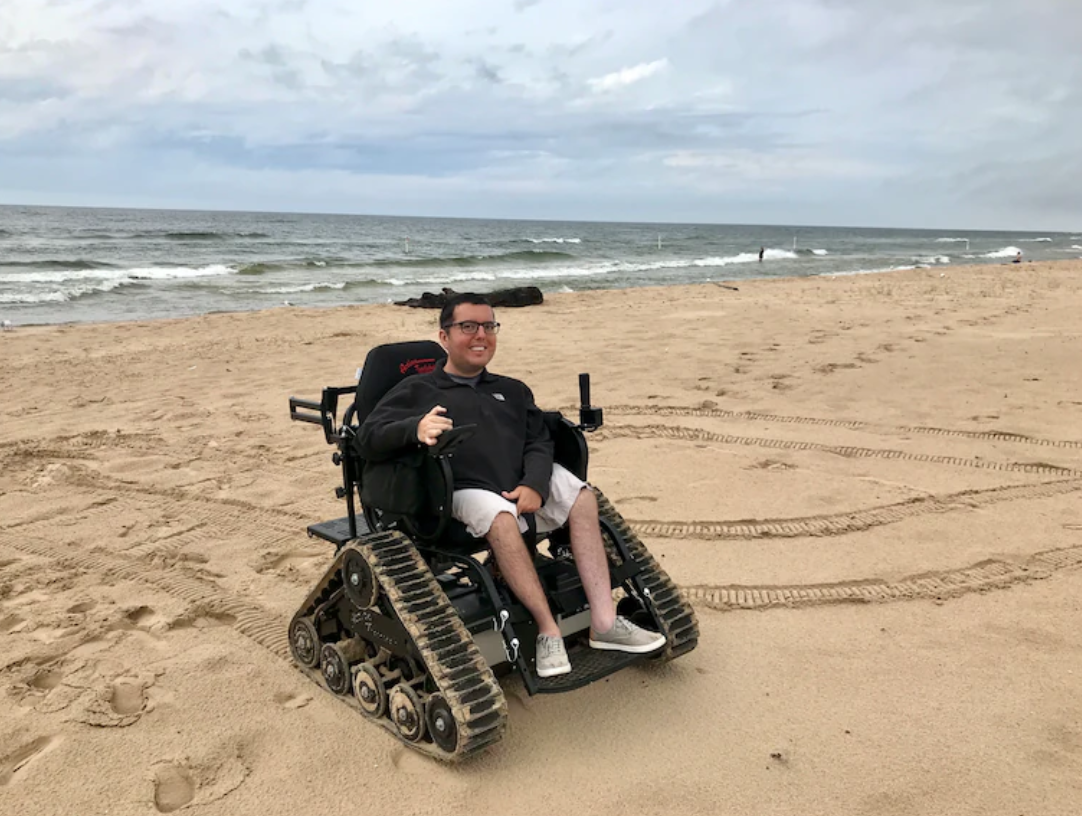 Cory Lee has visited 40 countries on seven continents, and yet the Georgia native has never explored Cloudland Canyon State Park, about 20 minutes from his home. His wheelchair was tough enough for the trip to Antarctica but not for the rugged terrain in his backyard.
Lee's circumstances changed Friday, when Georgia's Department of Natural Resources and the Aimee Copeland Foundation unveiled a fleet of all-terrain power wheelchairs for rent at 11 state parks and outdoorsy destinations, including Cloudland Canyon. The Action Trackchair models are equipped with tank-like tracks capable of traversing rocks, roots, streams and sand; clearing fallen trees; plowing through tall grass; and tackling uphill climbs.
"I'll finally be able to go on these trails for the first time in my life," said the 32-year-old travel blogger, who shares his adventures on Curb Free With Cory Lee. "The trails are off-limits in my regular wheelchair."
Georgia is one of the latest states to provide the Land Rover of wheelchairs to outdoor enthusiasts with mobility issues.
In 2017, Colorado Parks and Wildlife launched its Staunton State Park Track-Chair Program, which provides free adaptive equipment, though guests must pay the $10 entrance fee. Michigan's Department of Natural Resources has placed off-road track chairs in nearly a dozen parks, including Muskegon State Park. In 2018, Lee reserved a chair at the park that boasts three miles of shoreline on Lake Michigan and Muskegon Lake. "It allowed me to have so much independence on the sand," he said.
In 2019, Sleeping Bear Dunes National Lakeshore in Michigan became the first national park to offer a track chair, said superintendent Scott Tucker. This year, Friends of Sleeping Bear Dunes, the nonprofit that oversees the program, added a third.
South Dakota is also expanding its squadron: On Tuesday, the South Dakota Parks and Wildlife Foundation unveils its second all-terrain chair. South Dakota resident Michael M. Samp is leading a fundraising campaign to purchase up to 30 chairs. Last year, Samp's father packed up his fishing pole and piloted a track chair to Center Lake in Custer State Park. He reeled in trout, just as he had before he was diagnosed with spinal cerebral ataxia.
"The plan is to have the chairs spread throughout the state and available for various outdoor activities including, but not limited to, park and trail enjoyment, hunting and fishing," said Kristina Coby, the foundation's director.
This month, the Minnesota Department of Natural Resources will wrap up its months-long pilot program that tested out the chairs in five parks. On Nov. 16, the agency will evaluate the success of the amenity. Early indications are positive.
"We want to create an unforgettable outdoor experience for everyone, not just for people who can walk," said Jamie McBride, a state parks and recreation area program consultant with the Parks and Trails division of the Minnesota DNR. "People have told us this is life-changing."
Read the full article from The Washington Post here. 
Subscribe to News and Insights