Consumers spent less than expected in July as a pullback in auto sales helped cool an economy struggling to shake off the effects of the coronavirus pandemic.
Retail sales rose 1.2% for the month, against the expected increase of 2.3% from economists surveyed by Dow Jones.
The news wasn't all a letdown, however: Excluding autos, the gain was 1.9%, ahead of the 1.2% estimate. A separate report also showed that worker productivity rose at its fastest pace in 11 years, up 7.3% annualized for the second quarter and well ahead of the 1.5% Reuters estimate.

Overall, it was the third straight monthly increase.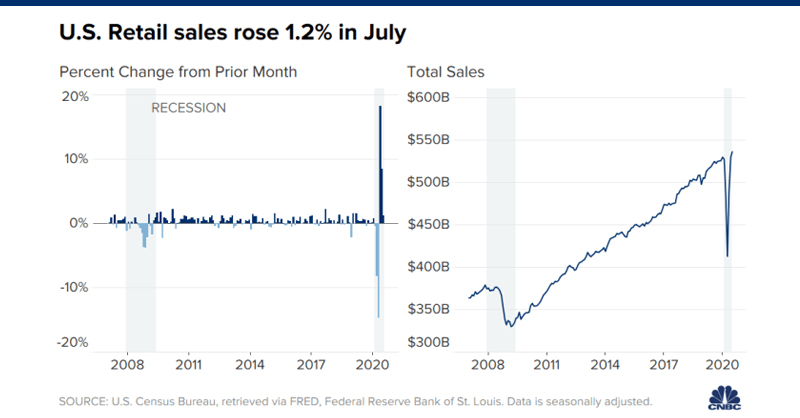 "Similar to the jobs report, retail sales stand in stark contrast to the idea that growth in July 'stalled' – when in fact it continued at a robust, if somewhat slower, pace," Citigroup economist Andrew Hollenhorst said in a note.
Considered a bellwether for an economy that gets two-thirds of its activity from consumers, retail sales saw an 8.4% surge in June that included huge gains in furniture and appliance sales. That June number was already strong at 7.5% but was revised higher.
However, those gains cooled as a resurgence in Covid-19 cases caused reopening activities to slow.
Electronics and appliance sales saw monthly sales jump 22.9% while clothing increased 5.7% and bars and restaurants, an industry especially battered by the coronavirus, were up 5%. 
Motor vehicle parts and dealers reported a 1.2% slide, bringing down the headline number. Sporting goods and book stores saw a 5% decline while home and garden suppliers reported a 2.9% drop.
In all, it still marked the third straight monthly gain for retail, which plunged 14.7% in April then rebounded to 18.3% in May as the sharp shutdown in March to stop the virus thawed.
The past three months show that "consumer spending has rocketed to record highs," said Chris Rupkey, chief financial economist at MUFG Union Bank. "There can't still be a recession in the country if the consumer is spending their hearts out like this."
Check out the full article from CNBC here.