The KOA Monthly Research Report – April Edition indicates that 38% of campers who have not traveled for a year or more plan to take at least one camping trip in 2022. However, increasing gas prices are a consideration for campers, with 71% saying fluctuations in fuel costs will impact their camping decisions to some degree. KOA's Monthly Research Reports provide a timely snapshot that builds upon the findings of Kampgrounds of America, Inc's (KOA) annual North American Camping Report, which will release later this month.
Campers report that, for the most part, they plan to keep hitting the road even if increasing gas prices alter their plans. The largest group of respondents said they plan to keep camping trips closer to home (32%). Some campers also indicate they will take fewer trips but stay longer at their destinations (25%) or take fewer trips overall (24%). However, 29% of campers report changing gas prices will not change their camping plans.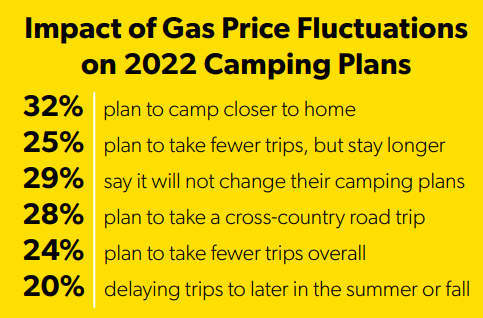 "It's encouraging that even with gas prices reaching record highs, many campers are still planning to get out and explore," said Whitney Scott, chief marketing officer of Kampgrounds of America. "The flexibility of camping is a real advantage to travelers; by choosing destinations nearby or altering road trip stops a camping trip can mitigate fuel costs in ways other types of travel cannot."
While rising fuel costs also affect RVing, 46% of respondents said they are very or somewhat likely to purchase a new rig in 2022. However, it is notable that 1-in-10 RV owners would consider selling their RV if gas prices remain high.
Another factor impacting camping this year is increased travel demand stemming from the ongoing COVID-19 pandemic. While camping experienced a rise in popularity as a safe way to travel over the last two years, a portion of the population still did not travel due to COVID-19 concerns. In fact, 38% of campers say they plan to take at least one camping trip after not doing so for a year or more. The same percentage said they would travel or camp this year even if gas prices increase.
"Fuel prices are a big consideration, but we can't underestimate the desire to travel," Scott said. "Between those who have not traveled due to the pandemic and avid campers making plans regardless of gas prices, travelers are eager. We're not just seeing this in our research, but in our reservation data."
To view the full findings of the KOA Monthly Research Report – March Edition, past and future editions, and review the research methodology, visit the KOA Press Room. 
Subscribe to News and Insights