In June 2022, Go RVing hosted a Media Summit at the Harpers Ferry Kampgrounds of America. The event was attended by a diverse group of journalists, including Kimberly Wilson, a correspondent for Essence. While at the summit, Kimberly experienced RVing first hand, sparking her interest in the story of Nathan and Alicia Lawson, the owners of Time Away Resort, the first-ever Black-owned campground in Alabama. Read Kimberly's interview with the Lawsons below.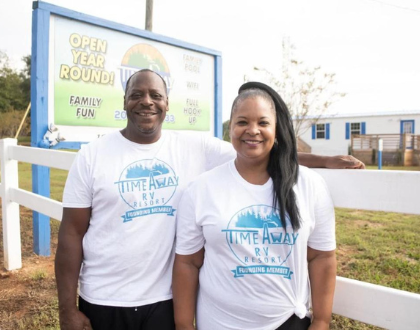 The "great outdoors" have historically lacked diversity.
Dubbed the "adventure gap" or "nature gap," the lack of representation in the outdoor space is starting to shift however. In fact, the new North American Camping Report released by Kampgrounds of America indicates more people of color, LGBTQ+, and other diverse identities are choosing camping as a way to experience the outdoors and reap nature's benefits.
This is partly due to this year's uptick in "revenge travel," following two years where so many of us yearning to break free of the confines of our homes and jobs — shifting those who choose camping as a way to experience the outdoors. New campers continue to be more diverse when compared to campers overall, with 54 percent of new campers identifying as non-white. 
Nathan and Alicia Lawson, the owners of Time Away RV Resort, the first recreational RV resort within walking distance of the NASCAR Talladega Superspeedway in Lincoln, Alabama, want to continue to change that narrative. Because RVing is for everybody.
And they've been on to something. While there is no shortage of campsites near Talladega (and in fact, there are RV sites on the grounds of the speedway), Time Away is unique in many ways, and particularly because of its appeal to Black travelers from across the country (and even the globe). In this interview with ESSENCE, the First Lady of Time Away RV Resort, Alicia Lawson shares why representation in the RVing industry is necessary and how there have been significant strides in getting there.
What have been your experiences as Black campers?
Alicia Lawson: I grew up in the Port Lawrence Housing Project in Toledo, Ohio and would never have had the chance to experience camping as a child had it not been for a camping program our elementary school implemented. I went camping for the first time in 6th grade on a week-long trip and absolutely loved it!
My husband Nate had a much different experience. His parents owned an RV from the time Nate was born, and even belonged to a camping group with their cousins where they'd camp regularly. Eventually, Nate's mom gave the family RV to him and we used it as our getaway while our kids were growing up. Although we shared the camping experience with our kids, it was really a chance for Nate and I to be together on our own at least once a week as a date night. We'd drop off our kids with our parents and take our 'time away'. 
When we first started camping together, we never saw or looked for another Black camper. We just assumed we'd be the only Black people at the campground until about 3 years ago when we stumbled across another Black couple at an RV Park we were visiting for the first time. They used the "Whooty Whoo" call to catch our attention, which we thought was hilarious, and since then we've been great friends. 
Starting out, we kept to ourselves at the campground. It wasn't really a communal atmosphere then. The camping experience is so different now. We walk around, meet new people and feel really safe and welcomed. There have been times when we've pulled into a campground and particular flags are flying at various campsites. We turn around and leave, knowing that's not a space we're going to feel comfortable in. 
There's only been one incident the entire time we've been camping when we felt unsafe and unwelcomed at a campground. We were sitting around our campfire and our neighbor came over to introduce himself. At first, he was lovely and we hit it off. But as night fell and he had a few cocktails, his personality changed and he started asking us questions that made us feel very uncomfortable. I used a 'safe' word that Nate knew was a signal to get inside the RV. In the morning, the campground staff came to our campsite having heard there was an issue the night before. We told them what happened and they completely supported us letting us know they have a zero tolerance for any form of racism. They called the police who removed our neighbor from the campground and the campground expelled him forever! 
Read the full article from Essence here.
Subscribe to News and Insights