One of the most interesting camper concepts of last decade, Dethleffs' E.Home Coco showed how a trailer could take some of the "tow" out of "towable," using an electric drive to create its own motive power to lessen the load on the tow vehicle. As it turns out, Dethleffs isn't the only company pondering that very idea. Australian startup OzXcorp is hard at work on a supplementary electric drive to turn hard-edged Australian off-road caravans into semi-self-propelled all-terrain RVs with Level 4 autonomous capabilities. Not only can its "hybrid drive" cut the load on the tow vehicle, it can maneuver the trailer to and from the vehicle, and muscle through sand, mud and other wheel-sucking off-road terrain that might otherwise turn caravan into anchor.
It seems motorized camping trailers are on their way to becoming a reality. We had our doubts when Dethleffs introduced the E.Home Coco concept at the 2018 Düsseldorf Caravan Salon, as it could have simply been one of dozens of pie-in-the-sky vehicle concepts shown one year, forgotten the next. But the German company has been testing its own hardware and showed the E.Home Coco again at the 2019 Caravan Salon, indicating the Coco is more than just a one-and-done show vehicle. Now that we see a second company pursuing the world's first electric-driven caravan, it seems only a matter of time before a powered caravan hits the market. Only question is, will the market be Europe, Australia or somewhere else?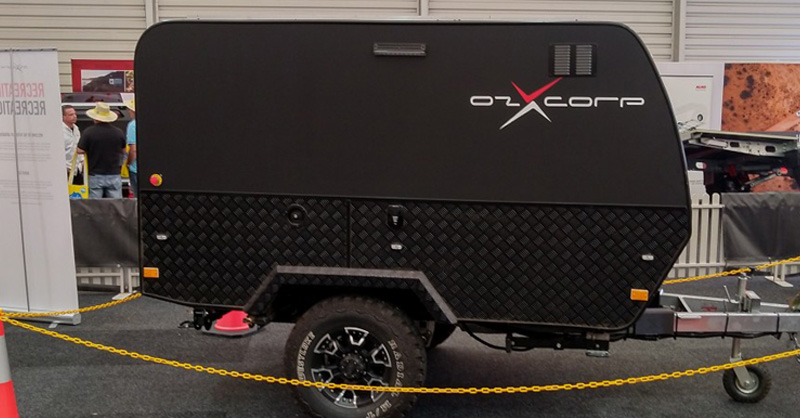 (Photo: OzX is testing this rugged, little prototype trailer now and also making the hybrid drive scalable to larger dual-axle caravans. Credit: OzX)
It very well could be Australia. OzX is already testing a prototype drive it plans to have ready for market as soon as next year. Company co-founder and chief technology officer Andrew Huett tells us the marketable hybrid drive could take several forms, but OzX is currently leaning toward hub motors for each trailer wheel versus a single motor and differential at each axle. The hub motors provide for precise wheel control and improve overall system efficiency, according to Huett.
Each hub motor puts out up to 11 hp of continuous power, capable of a 30-second peak-power burst of 22 hp. The system continuously adjusts motor output to keep the trailer and tow vehicle in sync, lightening the effective weight on the hitch without overpowering the trailer and creating handling and safety problems.
"If you had a rubber band between the vehicle and the trailer, the trailer is always trying to find the equilibrium of neither having a loose or a stretched rubber band between them," Huett analogizes.
Check out the full article from New Atlas here!