Garry Enyart, Director of Mobile Generator Sales & Coach Care at Onan/Cummins Power Generation was elected as Chairman of the RV Industry Association Board of directors for the 2019 fiscal year during the Board of Directors meeting on Sept 29.
"We are looking forward to working with Garry over the next year as we continue moving forward with our new strategic initiatives, RVX and the RV Technical Institute," said RV Industry Association President Frank Hugelmeyer. "Garry has been a leader and advocate for the RV industry for years and his involvement on the board spans 15 years. The level of experience and expertise that his leadership brings will prove invaluable over the coming year as we continue making strides in moving the industry forward." 
Enyart has served on the board in various roles since 2005 and a member of the Executive Committee since 2013. He is also a current member of the Audit, Awards, China, Public & Legislative Affairs and Strategic Planning Committees. He is also a member of the Consumer Satisfaction Coalition, RV Service Training Council and RVDA/RVIA Certification Governing Board.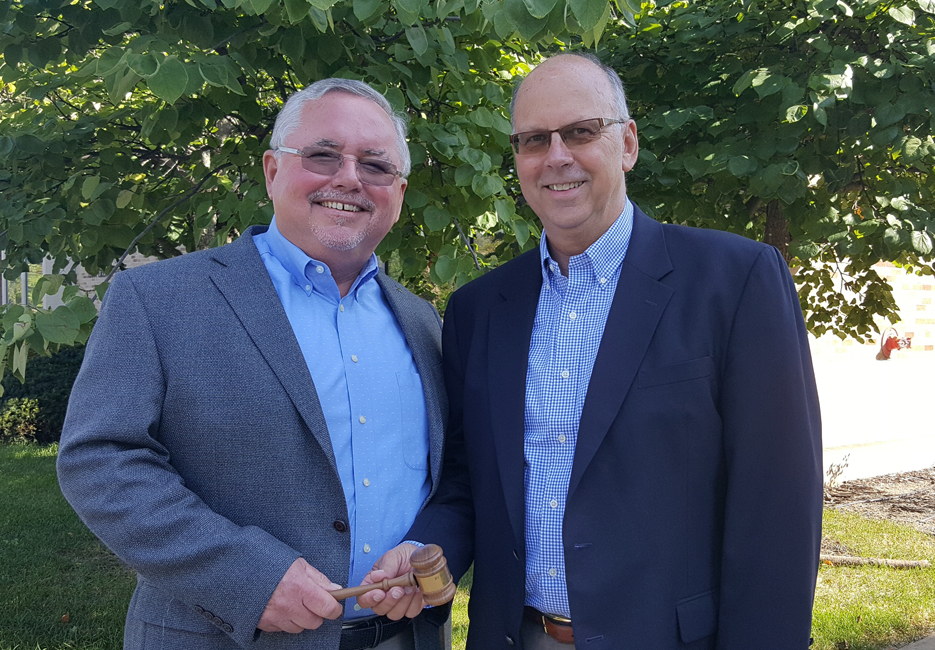 (Bob Parish, left, passing the gavel to newly appointed RV Industry Association Chairman Garry Enyart, right.)
In addition to selecting a new chairman, the association's Board of Directors also named a new Executive Committee that includes First Vice Chairman Matt Miller, president of Newmar Corporation; Second Vice Chairman Mike Happe, president of Winnebago Industries; Treasurer Jeff Rutherford, President of Airxcel, Inc.; Secretary Bob Martin, President, CEO & Director of Thor Industries, Ex Officio Bob Parish, Vice President of Wells Fargo CDF  and RV Industry Association President Frank Hugelmeyer. All officers began their one-year terms on Oct. 1, 2018.
In other actions at the meeting, the Board of Directors approved a 15-month budget of $23.7 million dollars for fiscal year 2019 that holds membership costs in place while funding essential programs and initiatives to accomplish the association's mission of promoting and protecting the RV industry and its members. They also approved a motion to secure space for future RVX events up to three years in advance.
Newly elected and re-elected board members began their new terms on October 1, 2018:
Manufacturer Representatives
Chris Baum, Liberty Outdoors

Paul Cassidy, Erwin Hymer Group

Jack Cole, Lance Campers/REV Group

Brett Randall, Columbia Northwest, Inc./Aliner
Supplier Representative
At-Large Representatives
Garry Enyart, Onan/Cummins

Elden Wood, Carefree of Colorado
To view a complete list of board members, click here.