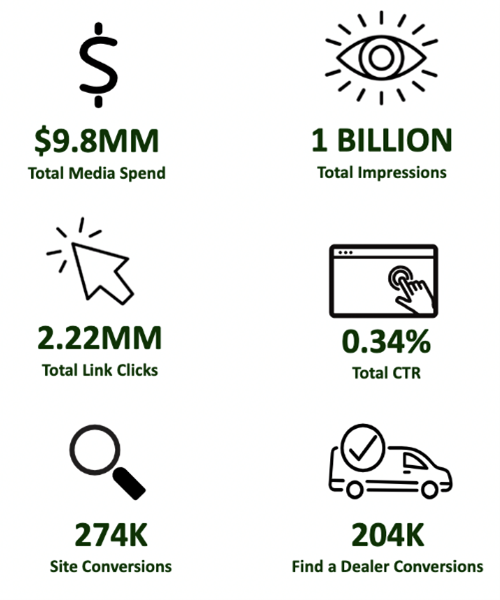 While 2021 was anything but a return to normal, Go RVing's "Go on a Real Vacation" continued to keep RVing top of mind for consumers looking for vacation alternatives. Using a smaller media budget and targeting high value audiences primed for travel, the brand campaign saw One Billion total impressions, with more than 2 million website visits and 204,000 "Find a Dealer" searches during a short, condensed advertising run. 
A separate, fall campaign created around the premiere of Addams Family 2, which featured the spooky family taking a cross country RV road trip, garnered more than 213 million impressions and 148 thousand website visits. 50 percent of the television buy was featured in primetime. 
Through a micro-targeting campaign in 188 markets across the country, Go RVing accumulated 20 million impressions from a first-time buy with Gas Station TV. Messaging resonated with our high value audience targets and ad completion rates were highest with this group across digital channels. 
The Addams Family promotion also saw the introduction of TikTok for Go RVing. The clips garnered an Ad Recall of +5.5%, Awareness of +8.6%, Favorability of +4.9%, and Intent of +4.3%.
Planning for the 2022 media buy is currently underway.
Subscribe to News and Insights