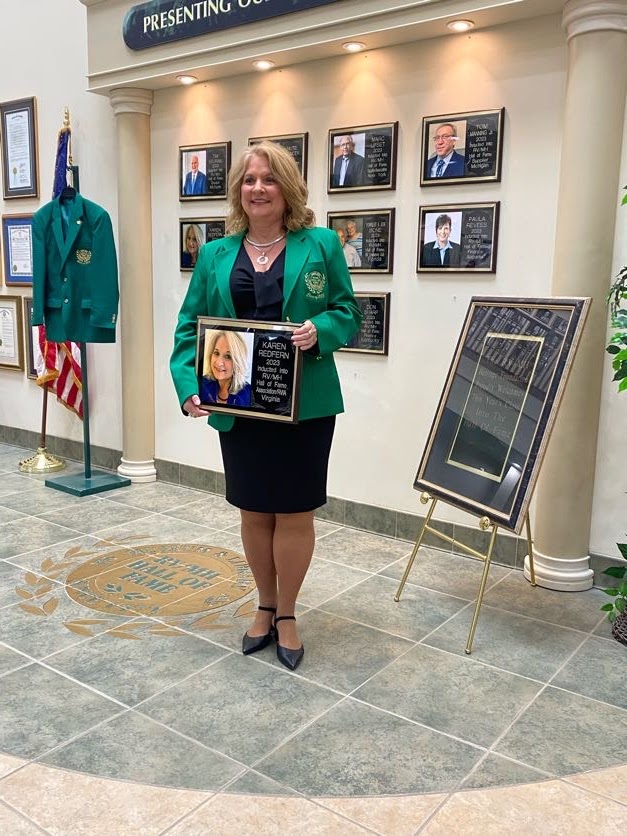 Go RVing's Chief Marketing Officer and Senior Vice President Karen Redfern has been inducted into the RV/MH Hall of Fame as a member of the Class of 2023. Karen, who has been a part of the RV industry for 33 years, was a driving force behind Go RVing's establishment over 25 years ago. She previously served as Go RVing Vice President of Brand Marketing & Communications before being promoted to her current role in 2022.
As Chief Marketing Officer, Karen leads a team of marketing and communications professionals responsible for the industry's brand marketing campaign, including strategic marketing, social and digital media, traditional advertising, video content creation, public relations, experiential marketing, partnerships, and consumer trends and research.
The RV Industry Association recently interviewed Karen about her career path and her induction into the RV/MH Hall of Fame:
How did you become a part of the RV industry? 
How I almost didn't is the funnier question. I was looking for a new career path and made it to the final round of interviews for the RV Industry Association's Media Relations Manager. I was asked: "You've had five jobs in six years— why should we take a risk on hiring you?" I remember responding: "How much of a risk I am depends upon you. I only leave when I feel unchallenged so if I enjoy what I'm doing, find challenges in the job, and like the people I work with, then I'll stay." That was 35 years ago. I guess the risk paid off!
What has your career path looked like?
My career path has allowed me to grow in ways I never imagined. I started in my position doing media relations, which gave me the opportunity of being a regular RV expert on the NPR weekly radio show, Car Talk, with the infamous Magliozzi brothers. They were so zany I never knew what to expect and whenever it was live, I rolled with their punches!
I switched to the Public Relations role where I worked on producing the industry's weekly cable TV travelogue show, Wish You Were Here (later renamed to Going Our Way). The show ran for 10 seasons. I also worked with the RV Dealers Association and National Association of RV Parks and Campgrounds on the Go Camping America program to entice consumers to want to go camping in their RV. That was the predecessor to the Go RVing campaign.
When Go RVing was being formed, I was involved in building the program and its mission. I was also involved in all the program production shoots. I created the first rebranding of the RV Industry Association, updating the logo and unifying the Association's communications. After 16 years I did hit one of those career points where I was feeling unchallenged. I left the RV Industry Association and joined the National Association of RV Parks and Campgrounds, working with the campground side of the industry. The opportunity arose a couple years later to return and focus my work entirely on the Go RVing program. I jumped at the opportunity and have never looked back.
What's your favorite part of your role as Go RVing's Chief Marketing Officer? 
By far, the most rewarding part of my career is having the opportunity to lead and be surrounded by incredibly talented, ambitious, and creative marketing minds who are also genuinely amazing human beings. What I have always loved about my role is that every day is different from the day before. I've always followed the mantra of "learn something new every day" and that is certainly true throughout all my career with the RV industry.
While I love how I have grown, what I find the most rewarding is helping my teammates find their strengths, developing their self-confidence, and watching them continue to grow, flourish, and succeed. And most importantly, as a leader, I ensure they each receive recognition for their talents and contributions. I have been so lucky to have been a part of an amazing team.
What does your induction into the Hall of Fame mean to you? 
It's been humbling— and difficult. I am not a person who likes accolades for myself. I have a job I love doing in an industry I truly believe in, so I readily give 150% of myself to the job. Throughout so many of the amazing advances we've made in the Go RVing program, I have been part of the team or have led the team, but it has truly been a group effort so it's difficult for me to accept being singled out. The team has been there through all those challenges and changes as well! I would not be receiving this incredible honor if not for each of them as well– it's been a team effort every step of the way.
How did you learn that you had been inducted? What was your reaction?
I received a phone call from the Hall of Fame and was completely caught off-guard– it was not a call I anticipated receiving. I am truly humbled and grateful to those who nominated me and wrote letters of support.
What is your takeaway from this experience? 
It really does take a village and I am beyond grateful to call this industry my village. The RV industry is very competitive, but it has also demonstrated remarkable unity by supporting national consumer marketing program ever since its founding. The industry's unwavering support for the Go RVing program has allowed us to evolve consumer perceptions of a product category and lifestyle option. Being part of the strategic vision for this industry has been beyond what I ever thought this job would be. It has become a life passion because it encompasses not only corporate policy, but also the people who make it such a unique industry to be a part of. Receiving this award in recognition of my involvement with Go RVing would not have occurred if we didn't have the trust and support of the industry's individual companies and leaders.
How will your induction into the Hall of Fame impact you going forward?
Looking at the inductees who went before me— many true titans of the industry and innovators— leaves me feeling I still have more to accomplish. I want to continue building the program for the future, as well as keep mentoring and supporting my team as they achieve their professional aspirations. 
Do you have any words of wisdom for future inductees? 
When people speak about finding your career path, they often say to do what you love. I was fortunate enough to do what I love throughout my career— connect with people through words and storytelling.

But what if you find you aren't happy with where you are in your job? I think, when you can't do what you love, you can find career success by loving what you do. By excelling no matter what the job, gaining recognition for your accomplishments, and being the best at that job (hence loving what you do), you will find opportunities to make meaningful changes and contributions. Your work ethic will stand out and you will be recognized.
Subscribe to News and Insights