By early 2015, Robyn and Victor Robledo had checked all of society's invisible boxes. They'd been married for 18 years and had five healthy, active children between the ages of 4 and 15. They ran a business together, a gymnastics and personal-training facility called Island Tumble. The family lived in Chula Vista, California, across the bay from San Diego, in a 3,000-square-foot house with a two-car garage, a backyard barbecue pit, and an outdoor pool with a waterslide. It had previously been a show house; a model of life lived well.
Something, though, was missing. Something, in the Robledos' successful, sun-kissed lives, felt empty.
"I remember sitting on the beach with my husband," Robyn Robledo says, "and I'm like, 'I never see you. We're still this much money in the hole. And all I want to do is sit on a beach and surf some waves. So what the heck's the point [of living this way]?'"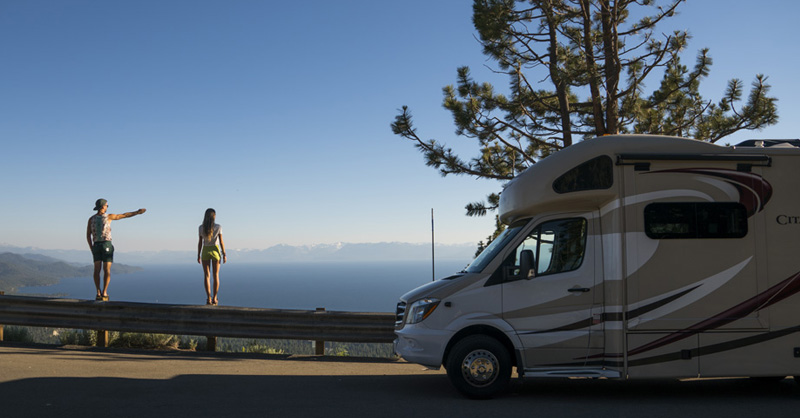 (Photo credit: Go RVing)
Three months later, the Robledos turned their lives upside down. They sold nearly everything they owned, pulled their kids out of school, bought a 30-foot RV, and hit the road. Over the next two years, they drove through the American West, explored a dozen European countries, and went surfing on three continents. In 2017, they shuttered their California business and made a "great leap of faith," according to their website, Nomads With a Purpose, to "go all-in on this epic journey" and become a full-time traveling family.
In the years since, the Robledos—whose stated mission is "To live each day in search of adventure, together as a family, and to inspire you to find your purpose so you can live your life to the fullest"—have spent just five months living in a "stick and bricks" home. After their RV was badly rear-ended in 2018 (and, in the end, "totaled" by their insurance), they temporarily moved into a house in Colorado, then upgraded to a 42-foot fifth wheel and began traveling again. As they put it on their website: "Some of us hated living in a house."
A GROWING MOVEMENT
For much of the 20th century, full-time travel was the purview of white-collar retirees, people who superimposed the vast stretch of retirement onto the open road. Then, in the early 2010s, coinciding with the launch of Instagram, a new nomadic lifestyle appeared: vanlife. Vanlife took old-fashioned American values—rugged individualism, a back-to-the-land yearning, the bohemian desire to exist outside the cookie-cutter 9-to-5 life—and commodified them for social-media consumption. What had been a countercultural lifestyle a half-century before was now an enviable, aesthetically minded "brand" propagated on social media by attractive, childless wanderers.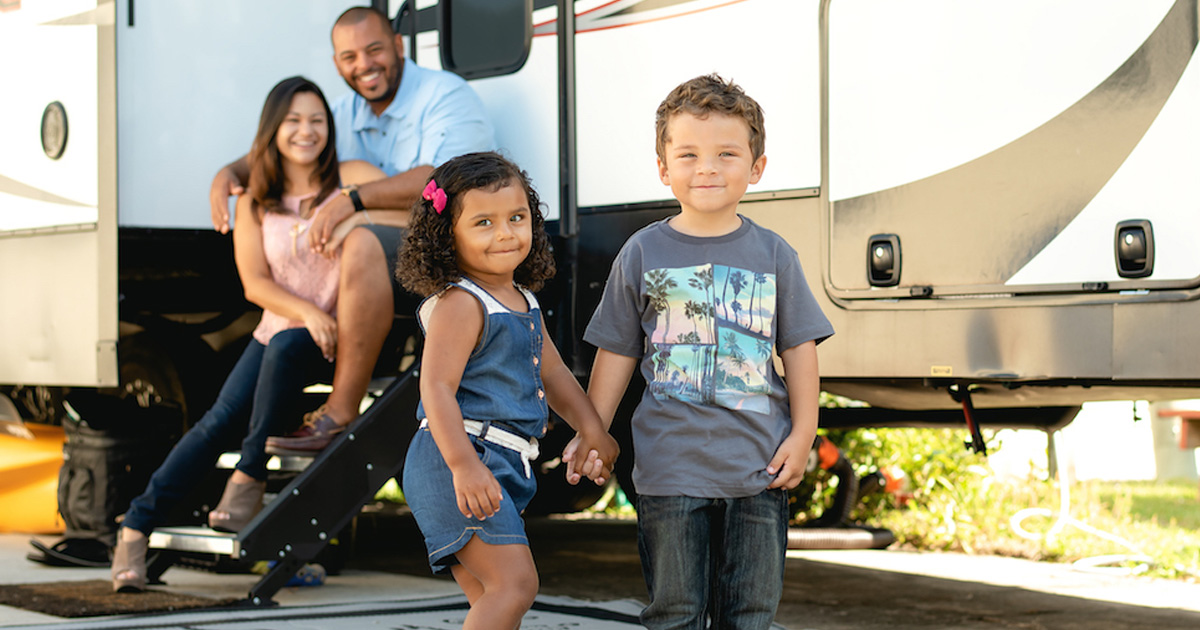 (Photo credit: Go RVing)
"But, for all its twee escapism," Rachel Monroe wrote in The New Yorker in 2017, "vanlife is a trend born out of the recent recession." Like those who fled the Dust Bowl during the Great Depression, van-lifers sought a circumstantial escape from financial precariousness. Full-timing promised a similar escape, but the lifestyle arose from the what-ifs that dogged those who emerged from the crisis relatively unscathed: What if we never had to pay another mortgage? What if we worked when and how and where we wanted? What if our children could be educated by the world at large? What if that retiree trope of "enjoying life while we can" meant enjoying life right now?
RV ownership, which now stands at 11 million American households, has surged over the last decade, driven by growing interest from young people. The average age of RV owners fell from 48 in 2011 to 45 in 2016, and is dropping still; Generation Xers now have a higher RV ownership rate than Baby Boomers. More than a million Americans live full time in RVs, according to the RV Industry Association, and search data for terms like "full-time RV" and "RV living" show that the internet hive mind is attuned to the trend.
"There were a lot of people full-timing who you just didn't know about before social media," says Robledo. "Now, it's FOMO, like, 'Oh, I want to jump on that.'"
Check out the full article from AFAR here.