There is no doubt that the travel industry as a whole has been one of the most impacted from COVID-19. This impact is not targeted to a sector or a country, but travel and hospitality at a global level. As states and provinces in the U.S. and Canada reopen to a new normal, what will travel look like? Even more, what does it mean for the RV and camping industry? By looking at the data and research coming from Kampgrounds of America (KOA) we can begin to answer these questions.
Since mid-March cancellations at KOA skyrocketed 175 percent over the same time period the previous year. Whether it was state-mandated shutdowns or campers not able to travel, campgrounds that were open took a massive hit. The hits were felt by more than just campgrounds as manufacturing plants were shut down and dealers were forced to close. RV and camping organizations, like the RV Industry Association and KOA, came together to help campgrounds remain open as essential businesses and banded together to create tools and training to help campgrounds stay safe during this time.
For KOA, April 15 was a turning point. The system's reservation numbers surpassed cancellations. Since then, bookings have continued to outpace cancellations and there is an ever-increasing positive gap between the two.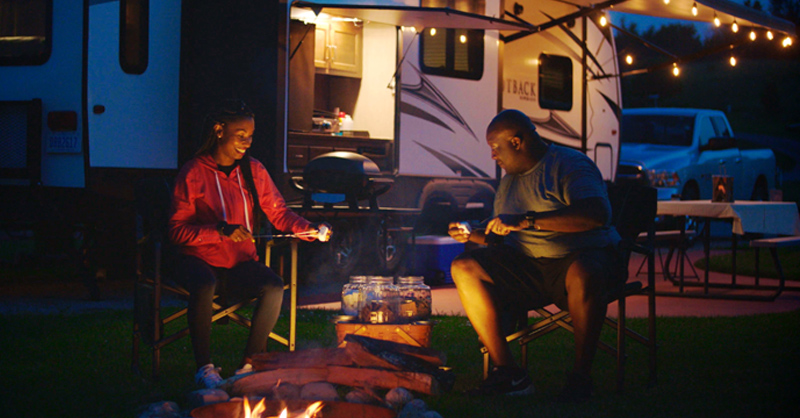 (Photo credit: Go RVing)
Why might this be? According to KOA's Special Report on Camping and the Effects of COVID-19 released May 11, leisure travelers (both campers and non-campers) rated camping as the safest form of travel versus other travel types.
Most likely, these sentiments come from the natural social distancing found on campgrounds. Sites are already over six feet apart. Camping is in the outdoors and is highly individualistic. Operational tools that KOA has put out to its system also play an important role in safety. Such as limiting capacity to communal areas, updated cleaning procedures, and implementing practices like curbside check-in.
RVs themselves lend a hand in why camping is viewed as a safe form of travel. RVs have a person's own items, a private bathroom, and require little to no interaction with communal campground areas.
The report showed that 52 percent of campers are either somewhat to very likely to consider purchasing an RV due to COVID-19.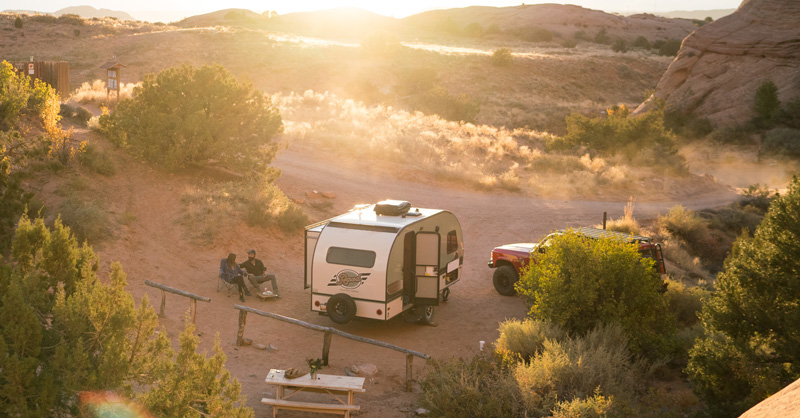 (Photo credit: Go RVing)
Not only did the report show that 41 percent of campers are still intending to take planned camping trips this year, nearly half of leisure travelers who camp say they will replace one of their cancelled or postponed trips of another travel type with a camping trip.
Additionally, the research shows that one third of non-campers are now interested in camping in 2020. The top reasons being able to spend time outdoors (46 percent); camping as an affordable way to travel (41 percent); and it's easier to practice social distancing than other types of travel (37 percent).
The report highlights new markets and potential for camping to rebound quicker than other forms of travel, as well as appeal to more markets. The reservation data mirrors this sentiment. For September, advanced reservations are 40 percent higher than they were at KOA the previous year during this time. From April 15 to May 11, KOA saw an increase of 192 percent in registration revenue online and 56 percent increases in online session over the previous 27 days. 
With only 11 states and one province open for leisure camping and no stay at home order in effect (as of May 11, 2020), KOA is still experiencing high numbers of cancellations. Yet, through the findings in the Special Report and continual data analysis KOA sees a rebound not only for its campgrounds but for the industry at large if more states can reopen campgrounds. Even more, the industry could see growth in new campers this year with the potential for lifelong customers.