On Tuesday, January 8, Winnebago CEO Mike Happe joined the RV Industry Association's federal affairs team to advocate for campground modernization and expansion, a recreation infrastructure title and a fix to the RV floorplan tax issue.
The team first met with RV Caucus Co-Chair Senator Joni Ernst (R-IA) who has been a consistent supporter of the RV industry and its priorities. Discussion covered a range of topics but focused on the need to fix the floorplan interest deductibility issue. Ernst agreed to reintroduce the Travel Trailer and Camper Technical Corrections Act, a bill that will ensure that towable RVs are included in the floor plan interest financing deductibility provisions of the Tax Cuts and Job Act.
(L to R: Winnebago CEO Mike Happe with Sen. Joni Ernst)
There was more good news to come out of a meeting with the Chief of Staff for Senate Caucus member Senator Tina Smith (D-MN) who said he thought there might be potential for a bill focused on tax extenders that could include the floor plan tax language. Smith's office was also very interested in expanding rural broadband, an issue that has a lot in common with the effort to expand broadband in certain areas on public lands.
The team also met with senior staff in Senator Martin Heinrich's (D-NM) office who expressed a strong interest in moving a recreation title as part of any potential infrastructure package. This meeting also included much discussion about the new RV Technical Institute (RVTI) and what kind of support and collaboration the Senator and the state of New Mexico might provide.
"The work being done at the federal level by the RV Industry Association is so important for the entire industry," said Happe. "And it was clear from our meetings that we have Members of Congress who are willing to support fixing the floorplan tax issue and interested in working with the RV Industry Association and ORR on including a recreation title in any infrastructure package or other appropriate legislation."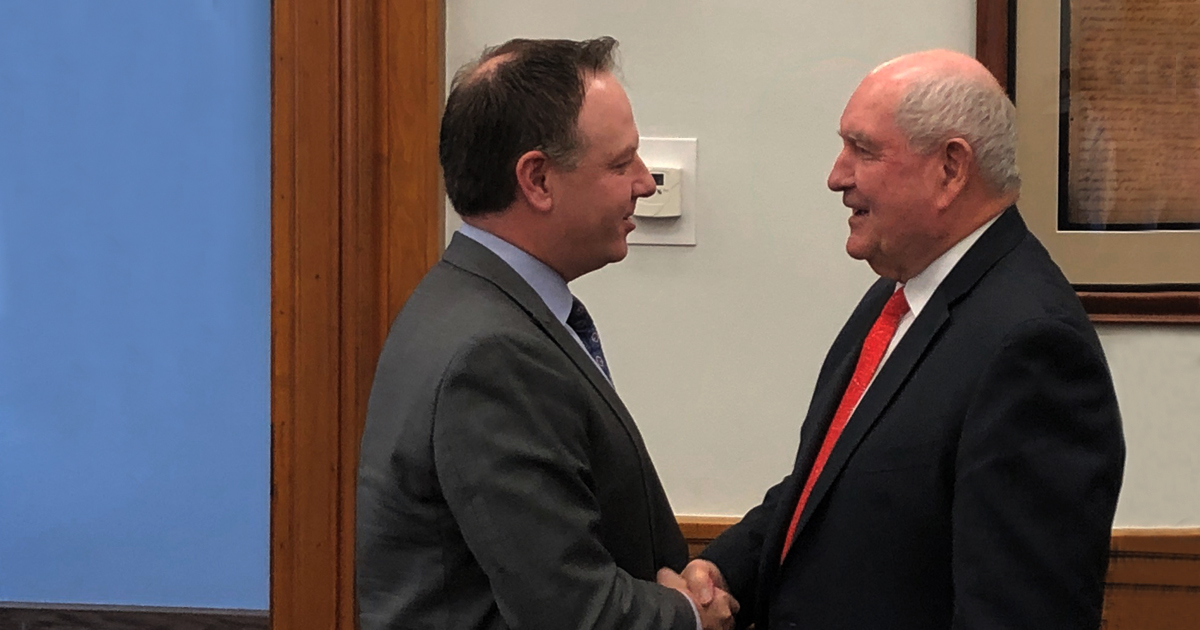 (L to R: Mike Happe with U.S Dept. of Agriculture Secretary Sonny Perdue)
In the afternoon, Happe and the RV Industry Association team joined other recreation CEOs and leaders from the Outdoor Recreation Roundtable (ORR) in a meeting with U.S. Department of Agriculture Secretary Sonny Perdue, Under Secretary for Natural Resources and the Environment Jim Hubbard and other key officials. During the meeting, the group noted the importance of national forests to many recreational activities, and highlighted the world-class experiences provided to anglers and skiers, hikers, climbers, campers, paddlers, boaters and motorized trail enthusiasts. The recreation leaders underscored the key role national forests play in rural economies across the country and the importance of key provisions in the 2018 Farm Bill that will allow rural economic development grants for recreation infrastructure in rural America.
The group also emphasized the need for an improved recreation permitting process and urged expanded partnerships to improve access to, and enjoyment of, outdoor recreation on lands managed by the U.S. Forest Service (USFS). They described opportunities for immediate progress, including Secretarial support for innovative USFS recreation efforts which capitalize on private investments to expand and enhance recreation infrastructure, including campgrounds and eliminating the maintenance backlog on USFS lands, especially where it threatens recreational activity.
Secretary Perdue concluded the meeting by saying, "This meeting has been very helpful. We are committed to helping Americans enjoy recreational opportunities in our national forests. I invite you to help by recommending specific priority steps. Let's capitalize on the fact that recreation is agnostic relative to politics, and let's help more Americans enjoy the great outdoors."