Originally published in E&E News.
Senate Republicans are name-dropping national parks in broader public remarks on the upcoming legislative agenda, fanning hope among supporters of a maintenance backlog bill that floor time might be imminent.
"I'm definitely feeling there is a little bit of an uptick in momentum," Jessica Wahl, executive director of the Outdoor Recreation Roundtable, said in a recent interview, referring to the "Restore Our Parks Act."
The legislation, H.R. 1225 and S. 500, would create a five-year, $6.5 billion restoration fund to address the growing deferred maintenance backlog in national parks and on other public lands. It has influential Republican and Democratic boosters in both chambers.
"Most folks on the Hill are like, 'We've got to fix this problem,'" Wahl said of the nearly $20 billion backlog in maintenance needs in national parks and on public lands.
Pushing major bipartisan legislation through Congress at any time is hard enough; it's basically impossible during an election year. But, Wahl said, there's enough support behind the parks legislation that it could end up being the rare exception.
There are indications that Senate leadership is listening.
Majority Leader Mitch McConnell (R-Ky.) earlier this month cited the parks maintenance backlog as an area ripe for bipartisan collaboration in this post-impeachment election year (E&E Daily, Feb. 6).
Just before last week's recess, Sen. Roy Blunt of Missouri, the upper chamber's No. 4 Republican, cited budget increases for the National Park Service during the last few years, a day after President Trump released his fiscal 2021 budget request. Blunt lumped the park system with health and defense among GOP priorities.
The budget increases Blunt mentioned are the work of Republican and Democratic appropriators more so than anyone in the administration. Congress gave NPS about $3.4 billion for fiscal 2020; the Trump administration's fiscal 2021 budget proposed $2.8 billion for the agency. In addition, the budget request calls for the kind of public lands infrastructure fund that "Restore Our Parks" envisions.
A trio of conservation leaders from across the political spectrum called McConnell's mention of parks and conservation after the impeachment vote "strategic" because of the enormous popularity of public lands among Americans — and the revenue that popularity generates.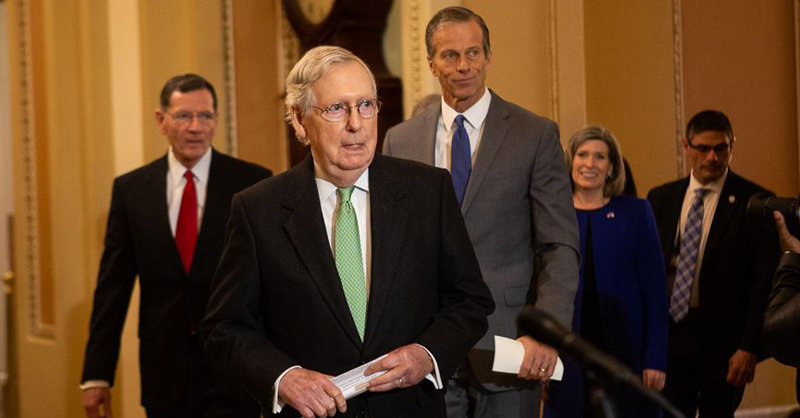 (Photo: Senate Majority Leader Mitch McConnell (R-Ky.) on Capitol Hill with members of his leadership team. Credit: Francis Chung/E&E News.)
"Every year more than 500 million people visit our nation's public lands to hike, kayak, camp, birdwatch, fish, and hunt," Collin O'Mara, Jeff Kupfer and Benji Backer wrote in an op-ed in The Hill on Saturday. The three lead the National Wildlife Federation, ConservAmerica and the American Conservation Coalition, respectively.
"The problem is that decrepit roads and boardwalks, overgrown trails, and deteriorating education centers are impairing the ability of American families to enjoy our spectacular parks, cultural treasures and wildlife heritage — leading them to spend less time and less money supporting local businesses."
PAY-FOR PROBLEMS
Still, legislative roadblocks exist even for bills with broad bipartisan and public support.
"There is still very keen interest in trying to advance the parks bill," said Senate Energy and Natural Resources Chairwoman Lisa Murkowski (R-Alaska) before the Presidents Day recess. Murkowski's panel reported out the legislation in November (Greenwire, Nov. 19, 2019).
But Murkowski also said lawmakers are "dealing with the challenge, the reality, of the pay-for because it is not insubstantial."
The nonpartisan Congressional Budget Office has estimated that enacting S. 500 — the House and Senate versions are slightly different — would cost roughly $6.3 billion over the 2020-29 period.
While the money for the fund would come from up to 50% of otherwise unallocated revenue from all energy production on federal lands and waters, the bill still needs to be "scored" by CBO. And many members are leery of what they consider the legislation's mandatory funding component.
"I think people view it as, it's a bipartisan bill, [and] people like to support our parks," said Murkowski, who voted for the bill in committee. But making sure there's "a path forward" on the funding component "has been the ongoing challenge," the chairwoman said.
The bill faces hurdles in getting to the House floor, as well.
Natural Resources Chairman Raúl Grijalva (D-Ariz.) and Democratic leaders are interested in moving the parks maintenance bill in tandem with a separate bill to permanently fund the Land and Water Conservation Fund. But both pieces of legislation require "pay-fors" in their current form.
And many Republicans, including Utah's Rob Bishop, the chief GOP sponsor of H.R. 1225, object to pairing the LWCF bill with the deferred maintenance legislation.
During Feb. 12 floor remarks on a Democratic-led legislative package that would create more wilderness out West, Bishop blasted the majority for "wasting our time" with legislation that won't go anywhere, while the parks legislation languishes. Trump has threatened to veto the wilderness package if it reaches him (E&E Daily, Feb. 13).
"I am calling on my friends on the other side: Put that bill on the floor so we can vote for something that solves our problems and saves our parks instead of these simply messaging bills that are dedicated to having special-interest groups being able to check off the box that you did something for them," the Utah Republican said.
Bishop's bill has more than 300 co-sponsors.
Bishop told E&E News after his floor speech that he would be "fine" with the Senate moving on "Restore Our Parks" first "unless they put LWCF on it. Though I can't imagine why Murkowski would want to risk it."