The White House hosted its 2nd Annual Made in America Product Showcase in Washington, D.C. on Monday, July 23, featuring an assortment of items made in the U.S.
The White House extended invitations to American-owned and operated companies from each of the 50 states and with the booming RV manufacturing industry in Indiana, an RV was the obvious choice to represent Indiana.
Nearly two weeks ago, Newmar Corporation was contacted by the White House with the request to participate at the upcoming event – something that took them by complete surprise.
"At first we were cautious thinking someone was trying to pull a prank on us," said Newmar President Matt Miller. After verifying that the invitation was indeed a valid request, the team confirmed their participation and were "honored to attend."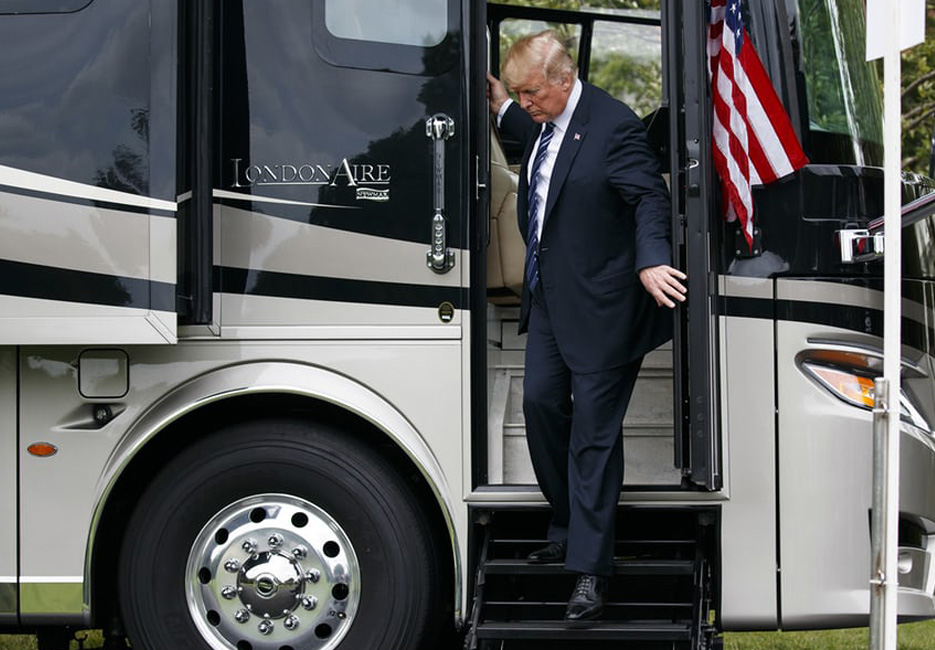 (Photo credit/Evan Vucci/AP)

Now, what to bring?
Newmar decided to take one of its best sellers – the 2019 London Aire diesel motorhome. Having garnered praise throughout the RV industry for its incredible power, luxury and price, it seemed to be the perfect unit to display.
Miller, along with Newmar Vice President of Operations Kevin Bogan, made the journey to D.C. together. They arrived at the White House promptly at 8:30am and after going through security, were allowed to walk around the state rooms where most of the companies were set up. As they made their way to the South Lawn, there it was, nestled nearly 50 feet from the Oval Office and situated next to the Rose Garden, the Newmar London Aire – the perfect spot.
Newmar was one of six other companies displayed on the grounds and surrounded by items such as the Lockheed Martin F 35 aircraft (Maryland), Ford F-150 pickup truck (Michigan) and a Ranger speedboat (Arkansas).
White House staff roamed through displays from 10am-3pm. Both Vice President Pence and Department of Housing and Urban Development Secretary Ben Carson stopped by the Newmar unit at the same time and as it neared 3 o'clock, President Trump boarded the unit and engaged in conversation with Miller and Bogan.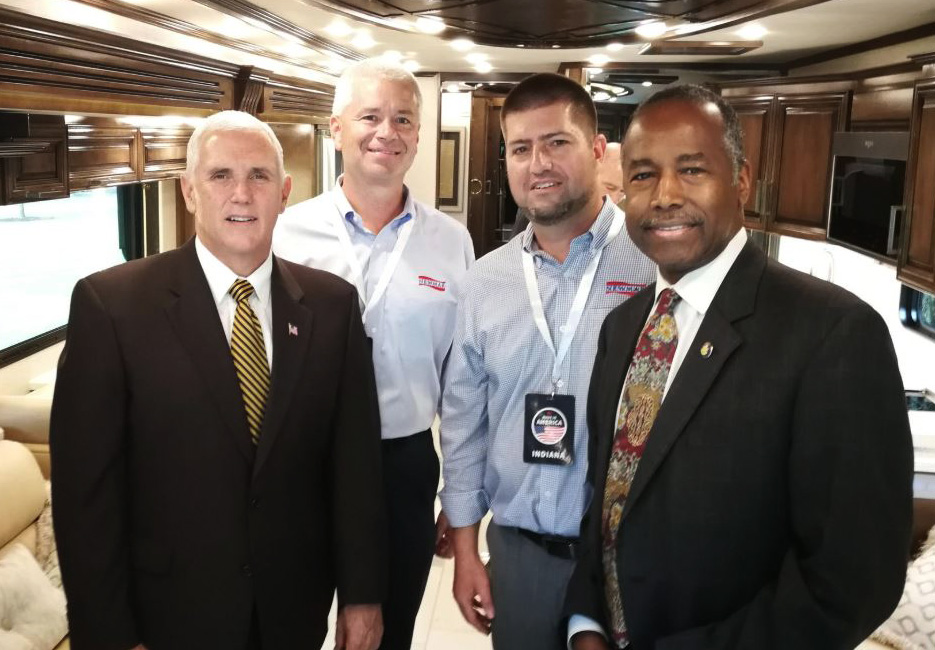 (Photo credit: Newmar Twitter)

"It was an exciting experience," shared Miller. "President Trump asked some great questions, was extremely friendly and made us feel at ease as if we could visit for hours. He asked about our customers, how many units we build and shared nice comments about the RV throughout his visit."
That afternoon, President Trump shared remarks with participants and emphasized, "We're here today to celebrate the greatest products in the world – products made with American heart, American sweat and American pride."
The Administration's commitment to ensuring more products are made in America was the clear focus of the event and was heavily celebrated by all in attendance.
"I believe this is one of the coolest things that POTUS has ever done," said Miller. "To invite small companies from all over the U.S. to be at the White House for a day and show the world what they build is one of the most exciting things I've been a part of in my life."