Every family has its history, its stories. Maybe we hear them when we are children, and distracted by other things, don't listen. But sometimes, when we are older and more interested, they may reveal a treasure of information.
For Baltimore-born Carla Brown, a photographer, printmaker and filmmaker who uses her skills to examine themes of gender, race and family, the discovery of an amazing family story happened when she was in her thirties. Although she had always been close to her grandparents, Benjamin and Frances Graham, spending summers with them in their travel trailer at Jellystone Park in West Virginia, she was too young then to understand the importance of their personal story.
For over 35 years, starting in 1965, when Benjamin was 38 and Frances was 40, the Grahams visited the 48 contiguous states in their travel trailer at a time when few African Americans took the risk of cross-country travel. And during each of those trips, which covered more than 94,219 miles, Grandfather Benjamin kept scrupulous logs.
"As a child, I was vaguely aware of their trips and of some travel logs my grandfather had kept," says Brown, now 43. "It stayed somewhere in the back of my mind. But years later, for some reason, I thought, 'Let me get my hands on those logs, let me take a look at them.' And once I did, I was completely blown away by the details. There are three logs, covering thousands of miles. It covers where they went, what they saw, what they spent, and even what they ate. If they bought two soda pops, they listed it."
The logs inspired Brown to plan a documentary called "Everyone but Two," a project supported the past three years by Go RVing. Working with industry partners, Go RVing provided Brown with RVs for portions of her travel, as well as technical and logistical advice. Go RVing is continuing to support the project through the editing process and is looking forward to a release date in 2021.
In addition to retracing her grandparents' travels, Brown was able to visit, as a surrogate for Benjamin and Frances Graham, the two states the Graham's could not get to — Hawaii and Alaska — thus completing the family's journey to all 50 states.
It was after a summer trip to New York City in 1965 that Benjamin first decided he would save up his 30-days of leave every year to see the country. Summer travel was possible for the Grahams because Frances was a teacher and had summers off. Benjamin was a postal worker and could use his vacation time when they could pack up and hit the road.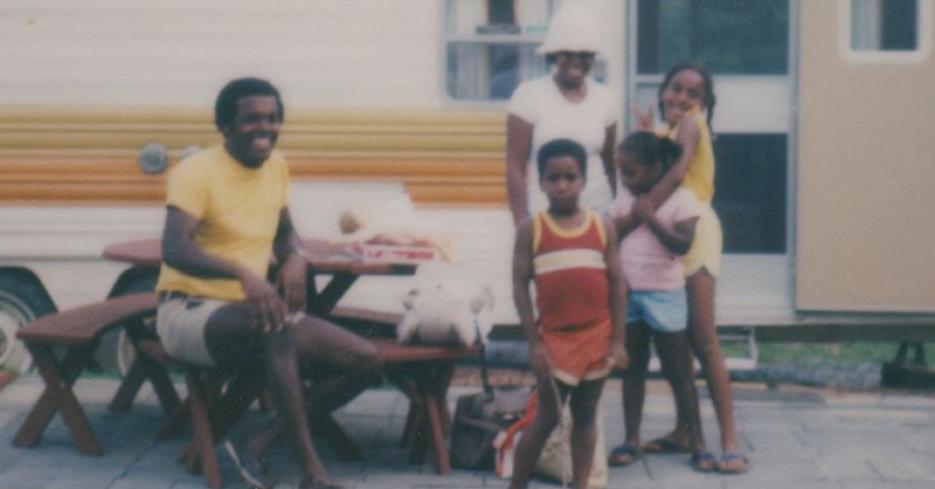 "This was how they traveled until they retired in 1981 when Benjamin was 54 and Frances was 56," says Brown. "Once they retired, the length of time they traveled was extended."
There was little advance planning in the beginning.
"They were totally winging it," says Brown. "They just happened to find a trailer to buy, and so, they just got in the trailer, opened a map and picked a place that sounded interesting. At first they were just interested in the travel, and over the first few years they centered their trips on visiting relatives. But as time went on, they got more comfortable and set some interesting goals. One was to drive on every interstate!"
The 1960s were a time of high racial tension in the U.S., and traveling could be risky, complicated, and uncomfortable for African Americans. During their travels, Brown's grandparents were able to avoid most potential racism and hostility because their RV allowed them travel on their own terms. They didn't need to stay in hotels or go to restaurants, which helped insulate them from the discrimination and mistreatment that was common. Their travel trailer was what allowed her grandparents to travel across the country and go places that other African Americans did not feel comfortable going at that time.
"African Americans weren't on the road as much then," says Brown. "There was once a publication called the Negro Motorist Green Book, created by Victor H. Green, an African American postal worker from Harlem. It was published from 1936 to 1967, listing the cities, places of entertainment, lodgings, and other businesses welcoming to African Americans."
"The Green Book was not the only guide though," says Brown. "My grandfather started his own log in 1965. He wanted to document his family's travels through the 48 contiguous states. Although both he and my grandmother were very aware of the racism in the U.S. at that time, they took no apparent notice of what was simmering in the United States the week they decided to leave. The day they left, August 10, 1965, was during the week that the Voting Rights Act was signed, and the Watts riots erupted."
Along thousands of miles, the Grahams took hundreds of photographs of one another, often in front of a state sign to document just where they were at the time.
"If they were making those trips today," Brown says, "they would be posting to Instagram, with thousands of followers!"
As she continues work on her film, Brown says it's fulfilling several important personal goals.
"One is to celebrate my grandparents' love of adventure. My grandmother has passed away, but my grandfather is 93, as sharp as can be," Brown says. "I wanted him to be a part of this film. I have already interviewed him and plan to conduct an additional sit-down with him sometime this year as I continue to shape the film.  Another reason is that I want people to know that there is so much to see across the country. I'm supportive of everyone who wants to travel in an RV and explore. Remember, if you don't see it, you don't know for sure it exists."
Go RVing works with a diverse group of influencers to reach new audiences and tell their stories and how the RVing lifestyle has shaped their lives, families and future generations. The Go RVing team continues to work with Brown in the development of the film and hopes to promote the film upon its release.
For more information about Carla Brown and her film, click here.