The owner of an RV transport company may not be who you think of as the ideal student for the RV Technical Institute's new RV technician training program - but you should. For Mary Jane Seese, owner of Can Am Transport, the one-week Level 1 training course allowed her to expand the services her transport company offers and meet the needs of her customers.
For anyone who knows Mary Jane, it will come as no surprise that she seized the opportunity to meet the growing demand from her customers for new services, even when it meant wading into unfamiliar territory. Afterall, when the last of her 11 foster children graduated, she decided she wanted to go on the road and do something different. Which is how she ended up a transport driver with Starfleet RV transport in the first place. A position she signed up for on her birthday just ten years ago this past February.
Her experience with Starfleet was wonderful, but it also got the wheels turning for how she would do things differently if she was running the company. So, she did just that. A year into her career as an RV transporter, Mary Jane started Can Am Transport. She built a team around her that was like family, all while continuing to drive and run her company from the road.
CUSTOMERS WANT MORE
As her company and clients grew, Mary Jane looked for ways to meet the needs of her customers and one request that kept coming up was for pre-delivery inspections (PDI).
"Some of my dealership customers are thousands of miles away," Mary Jane explained about the growing PDI requests. "Being able to provide a pre-delivery inspection before transporting the unit to the dealership is very convenient and valuable for my customers. But the problem was, I didn't know how to perform a PDI. And neither did any of my employees."
She knew there must be someway to get the necessary training to provide this service for her customers. So, she did what most of us do, she hit up Google. But the options were limited. She could pack up and head to Texas, but the idea of being away from her business for weeks would be a challenge.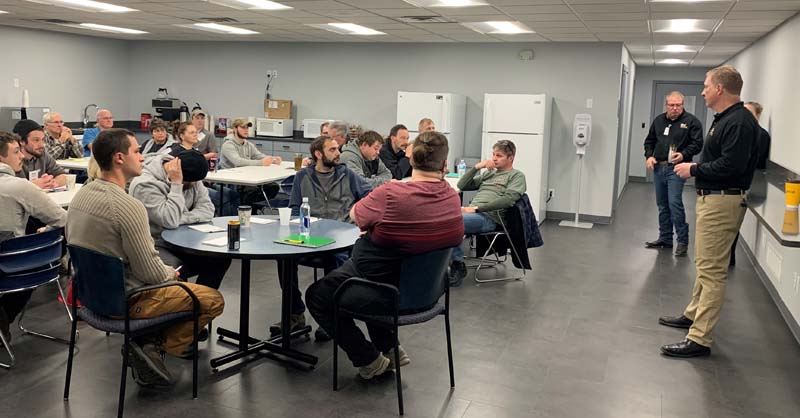 SEIZING THE OPPORTUNITY
While considering her options of what it would take to get her and her team trained, Mary Jane heard of a brand-new RV technical school opening right in her hometown of Elkhart, Ind. At first, this seemed almost too good to be true. Could this new RV Technical Institute really be offering the exact training she had been searching for?
With an address in hand for the RV Technical Institute and the need to find out more, Mary Jane drove to the Elkhart campus where she was greeting by staff member Tammy Holland. Tammy was able to confirm that not only was the Institute's Level 1 training exactly what she was looking for, there was also a pilot class taking place in January 2020.
Mary Jane signed up for the course on the spot. She also signed up her business partner and two of her best transport drivers to take the course, as well.
"I rescheduled everything I could so that my team members and I could take the course and I could run the company at the same time," said Mary Jane.
CLASSES BEGIN
Mary Jane may have been part of the RV industry for the past 10 years, but she joked that she "didn't really know one end of the RV from another - I just knew where to hook the hitch up to my truck and make the lights work!"
When classes began, Mary Jane and her business partner Deb Sims, felt like they were out of their league. Despite feeling overloaded with information, they came back the next day. And thanks to the attention, knowledge and patience from the instructors, they started catching onto the terms and the concepts.
RV Technical Institute students like Mary Jane and Deb have the benefit from learning from industry veterans Mike Curl and Mike Anderson who have decades of experience in the RV industry. Curl and Anderson were part of creating the Institute's curriculum, training program and tests, allowing them to bring a deep knowledge and understanding of how to teach the material to their classrooms.
"Everything about the classes were very well thought out. From the women in the office to the instructors who were there because they wanted to teach. Whether they had to repeat it once or 15 times, the instructors were very good at breaking things down and making sure no one felt rushed," said Mary Jane.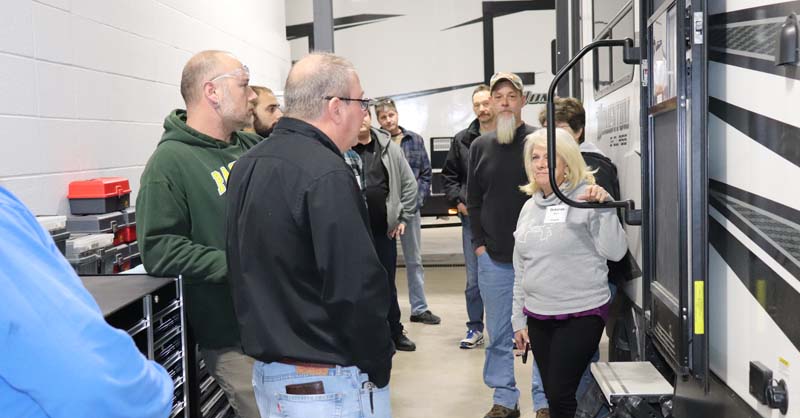 NOTHING YOU CAN'T TOUCH
The week-long class taught courses on every RV system, from propane, electric, and plumbing to appliances, generators, towing and RV body component parts. Integral to the training course is not only the classroom instructional time, but the hands-on labs that allow students to put into action the principals learned in the classroom.
"The hands-on instruction was very important. You can sit all day and read, but getting the hands-on experience makes a world of difference," said Mary Jane. "We were able to take off the front end of the unit and told there is nothing you can hurt here. The instructors walked us through everything. Where the regulators were, how to test with our manometer and how to set up a pressure test. There was nothing on the units that we couldn't touch. Nothing that he wouldn't explain."
One of the highlights from the class was learning to test pressure with a manometer and then building their own jig for the manometer. Each of the students built their own jig that they now have to take and test units back at their own shops or businesses.
JUST GO FOR IT
Her goal in signing up for this class was to learn the "language" of RV repair and PDI in order to offer this new service to her customers. The results were so much more. Not only can she now offer this new service to her customers, she also sent two of her employees through the RV Technical Institute Level 2 training, arming them with the knowledge and training to not only conduct the initial PDI but also identify and repair issues with the units.
Mary Jane has a message for anyone who is considering pursuing RV technician training, "just go for it. There are jobs out there for those who want to work. It is endless what you can do. RVs are everywhere! There is the need for RV technicians everywhere. You will not regret getting into this line of work."