There's no better family vacation than one taken in an RV.
Vacations are essential to unwind, but they always seem to present challenges: mom and dad want alone time, but they also want time with the kids; kids want to play video games, but they also need space to stretch their legs ; feeding a large family at a restaurant can get so expensive and that's not even taking into account multiple nights at a hotel. All these and more can certainly add up in cost, but thankfully they aren't a concern when you Go RVing with the use of your own bathroom, kitchen, and sleeping quarters, and, all on your own time.
Last month at the first-ever RVX: The RV Experience event in Salt Lake City, brand-new models were revealed, showcasing why more and more families are choosing RVs over tents, planes and hotels. Let's take a look at some of the coolest RVs hitting the market for your family this camping season: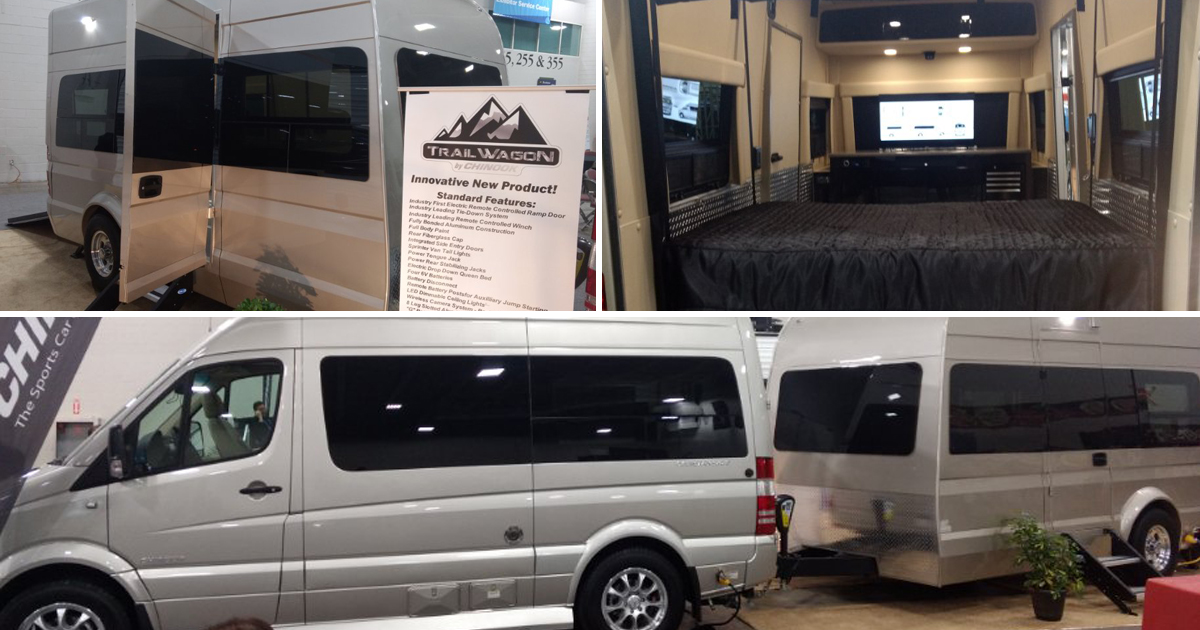 1. Trail Wagon by Chinook RV
When one thinks of "family-friendly" RVing, Type B motorhomes usually aren't part of the conversation. However, Chinook RV changes the conversation by introducing the Trail Wagon to be towed by your Type B. It looks like the perfect solution for couples who love their van life, but also want to include the kids. This trailer includes overhead cabinetry, electric rear stabilizing jacks, 110-watt solar panels, power distribution center and an electric drop-down queen bed converting to sofa seating. It's nice to know that millennials who are living the #VanLife have the option to continue after expanding their families and that baby boomers have more space when they want to include the grandkids.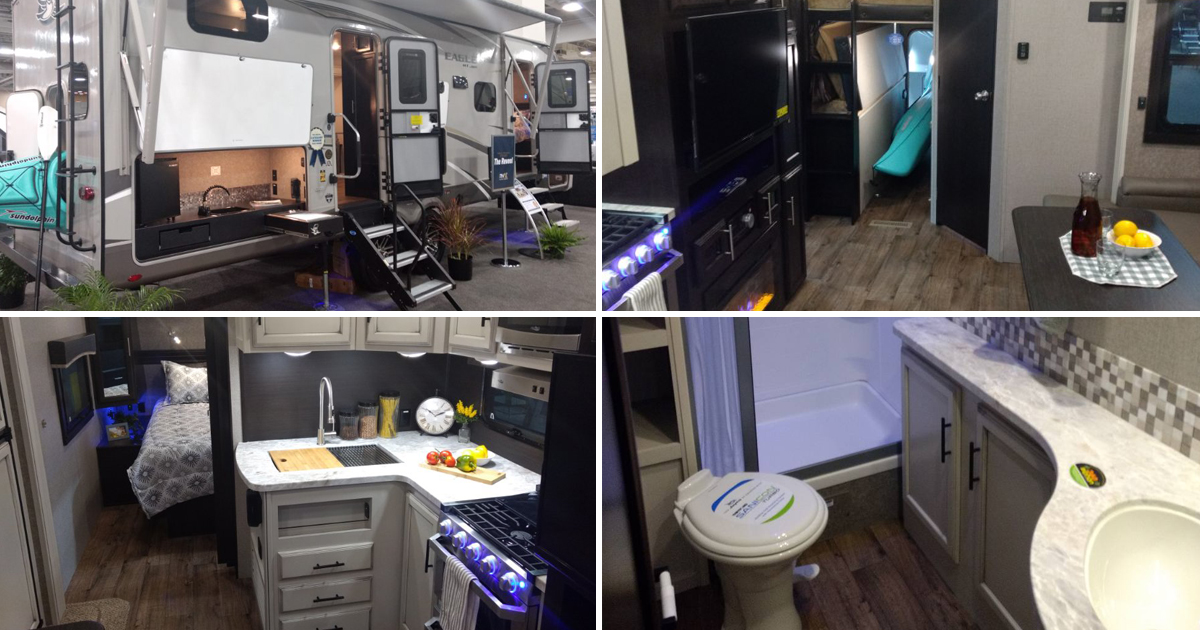 2. Jayco Eagle HT 264 BHOK Travel Trailer
This incredibly efficient vehicle utilizes every square foot of its space. With a queen bed, convertible dinette table and foldable double bunks, even larger families will have plenty of space to sleep. Of course, families demand entertainment and this unit's entertainment center is right beside the kitchen offering a fireplace option. If the kitchen gets too crowded or the parents are trying to keep the kids enjoying the outdoors, there is also an outside kitchen!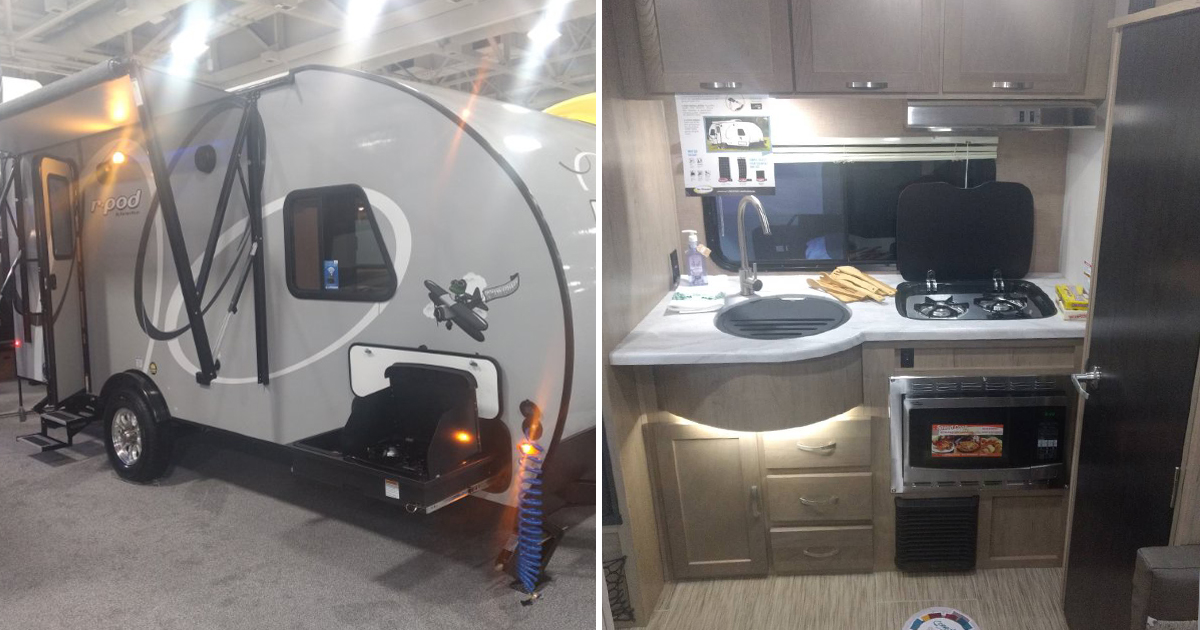 3. R-Pod from Forest River
The R-Pod continues to be an attractive option for smaller families who prefer not to drive a motorhome or tow a large travel trailer. It manages to squeeze everything into minimal space for families who plan to spend more time exploring outside the RV than lounging around inside.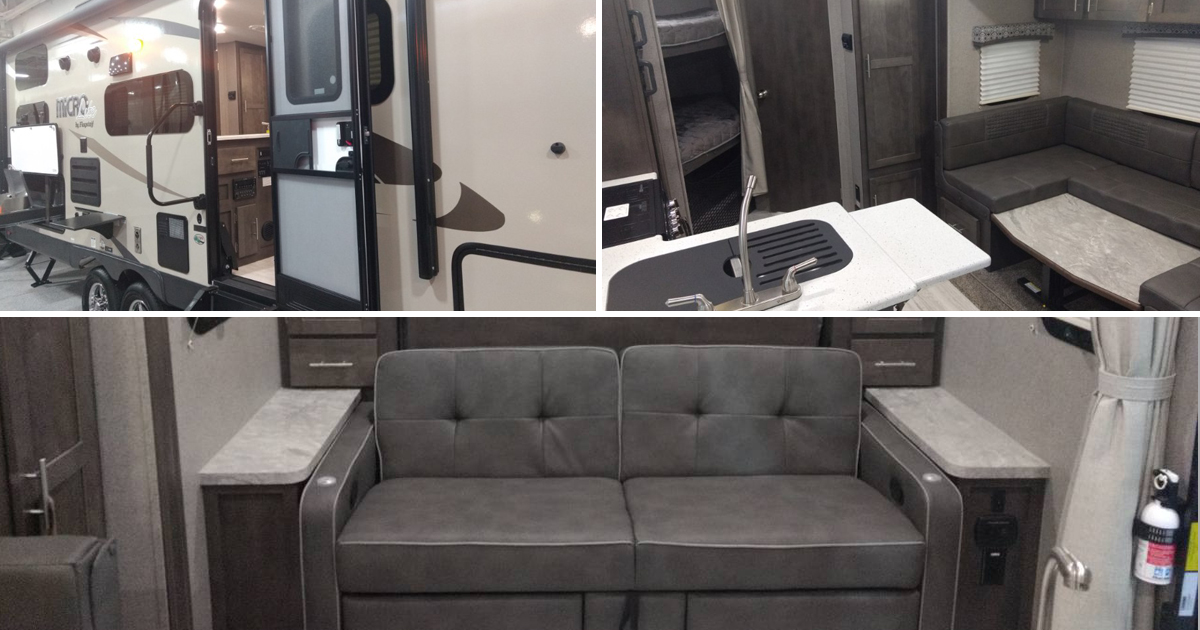 4. Flagstaff Micro Lite from Forest River
The Flagstaff Micro Lite is another great example of family RVs getting smaller and lighter without sacrificing amenities. It achieves this by having a Murphy Bed, convertible dinette and bunks in the rear.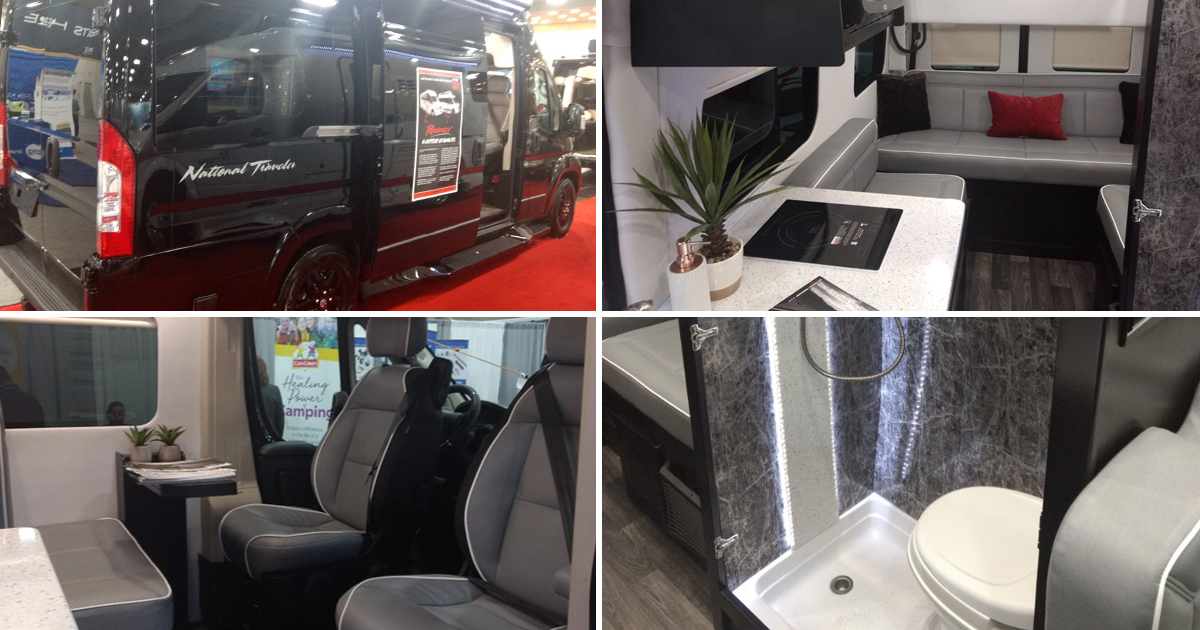 5. National Traveler from Regency RV
Already mentioned was the Trail Wagon which attaches to a Type B motorhome, but how about a Type B that is family friendly in itself? The National Traveler is just that. With enough space to sleep a family of four and headroom to spare for taller travelers (even in the shower!), this RV is perfect for the family to keep that sense of home away from home, but at the same time keeping it minimalistic. It's amazing how much can fit inside this unit.
6. Rockwood Ultra Lite from Forest River
The Rockwood Ultra Lite has so many great floorplans ideal for families. And having the option of floorplans to suit your family's needs can make a difference while traveling. This particular floorplan is especially nice with two bathrooms, two doors and the capability to sleep up to eight people. There's no need to track mud throughout the entire trailer when using the bathroom and some people might let neighbors use it since it's right by the door. There's even a little more privacy in the sleeping quarters to get that well-rested night's sleep in for venturing outdoors the next day.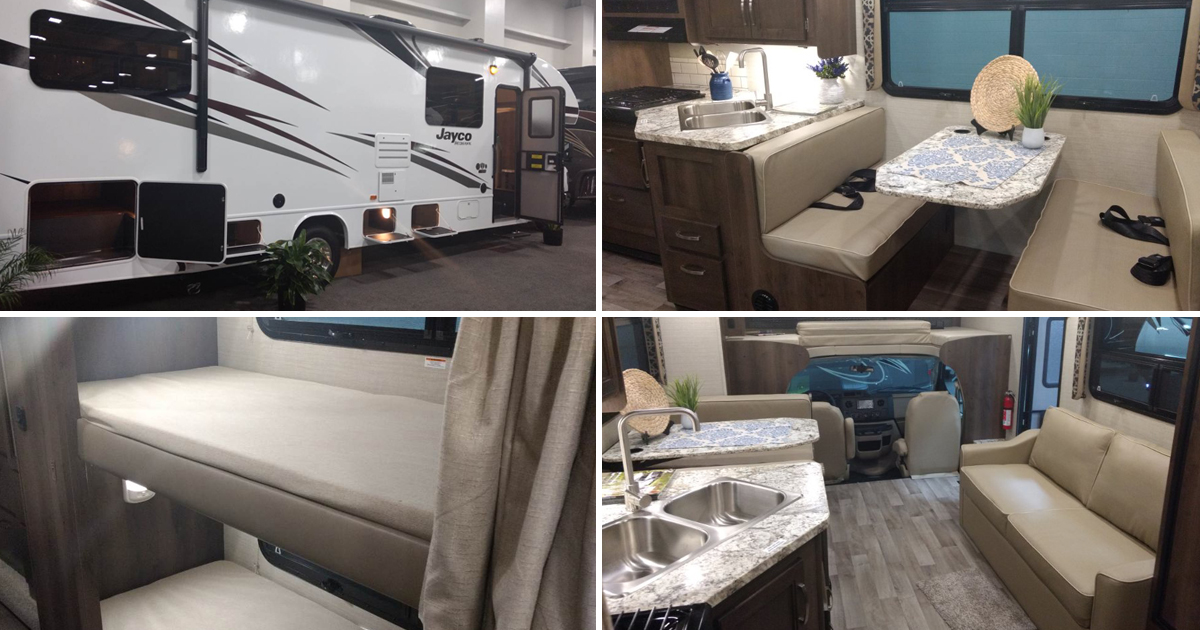 7. Jayco Redhawk
The Redhawk is a great option for families who prefer more space in a larger motorhome. This unit easily sleeps eight people with no shortage of space!  With ample storage room, this RV has room for everything a family wants to bring on the road. Like many Type C motorhomes it has an easy accessible sleeping loft above the driver's seat. The couch is situated across from the dinette set and kitchen offering more seating for onboard meals.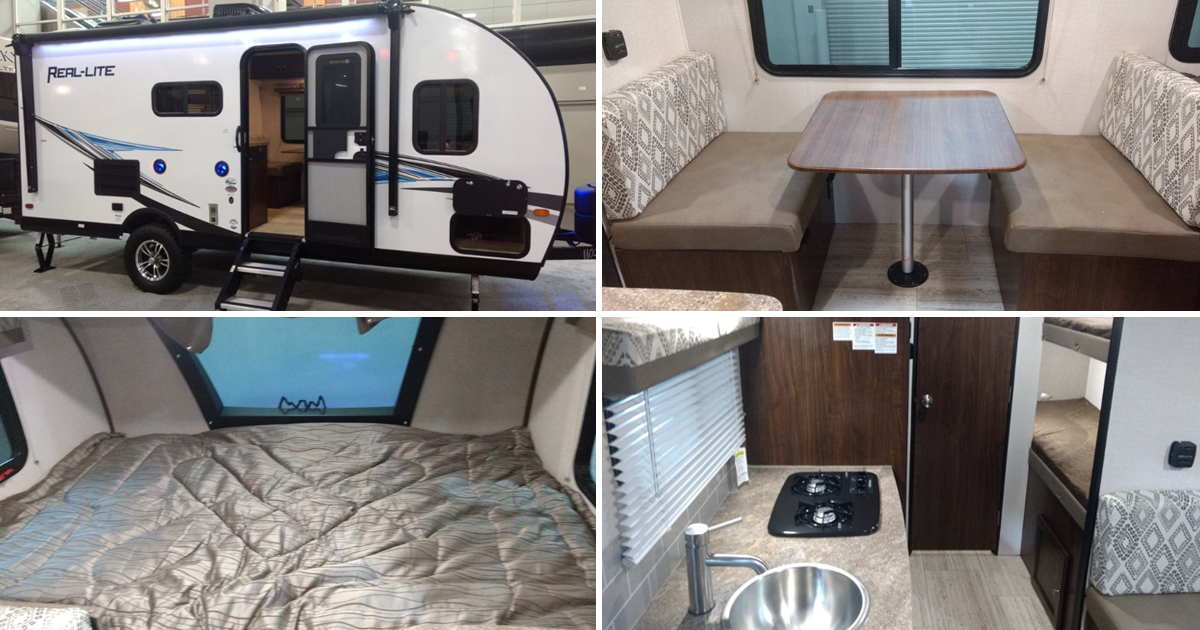 8. Real-Lite Off-Road Edition by Palomino
Looking at the exterior, the Real-Lite Off-Road Edition is a small travel trailer perhaps barely larger than an R-Pod. However, once inside you can see it sleeps up to six people, has a kitchen and a bathroom. The industry is clearly going in the direction of manufacturing lighter and smaller RVs as an option for families looking for easier towing capabilities.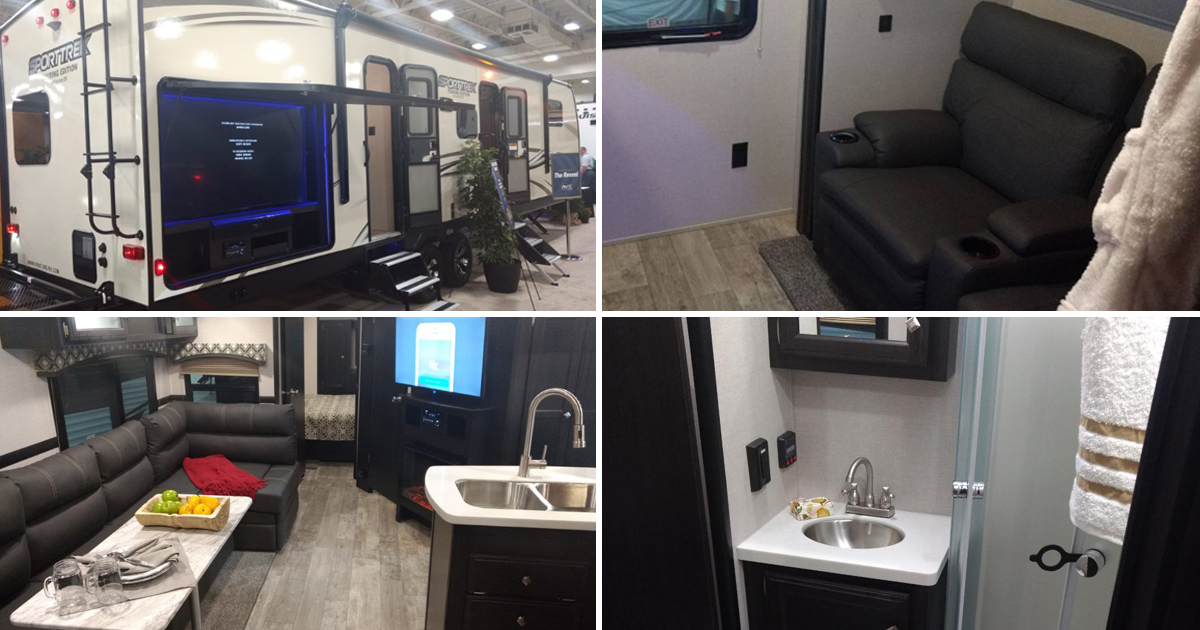 9. Sporttrek Touring Edition by Venture RV
Yes, the Sporttrek Touring Edition is a perfect match for the tailgate, but it's also ideal for families who love movie night! With two doors, a spacious kitchen and plenty of room to spread out and watch one of these TVs, there's no more fighting over the remote after a long day of venturing the outdoors.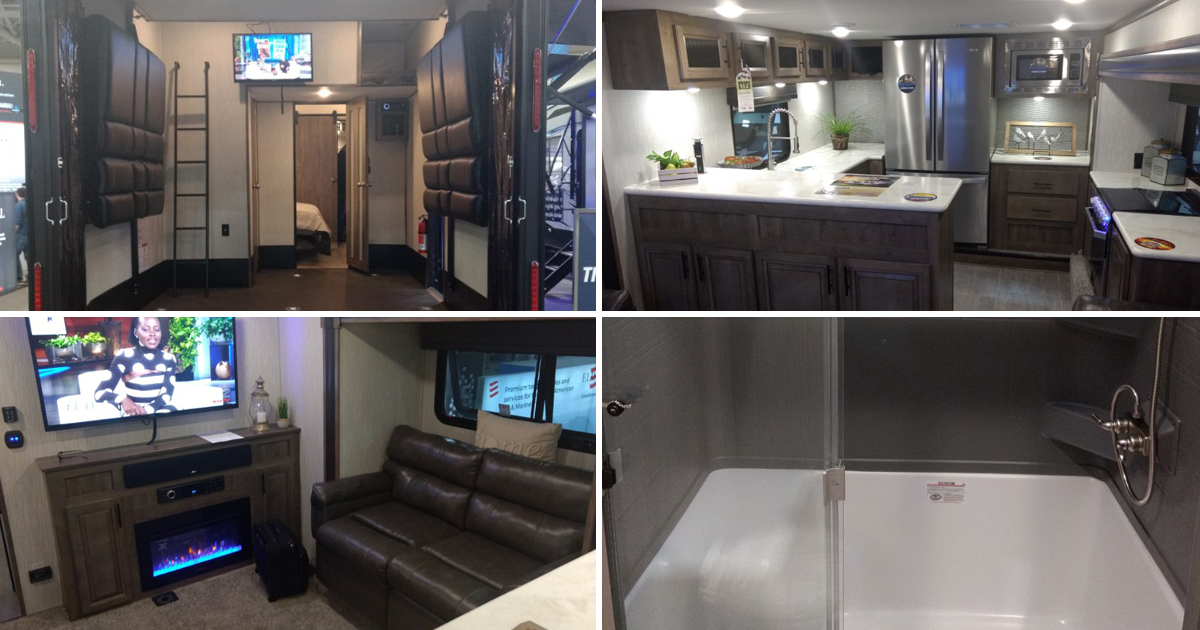 10. Forest River Vengeance 385 FK Touring Edition
A very impressive unit that is sure to make the entire family comfortable is the Vengeance 385 FK Touring Edition. This toyhauler even has a loft for another bed in the back along with high ceilings all around and a full residential shower. A unique layout, the kitchen and living room are located up the stairs at the front of the vehicle's interior, giving the living quarters a homier touch.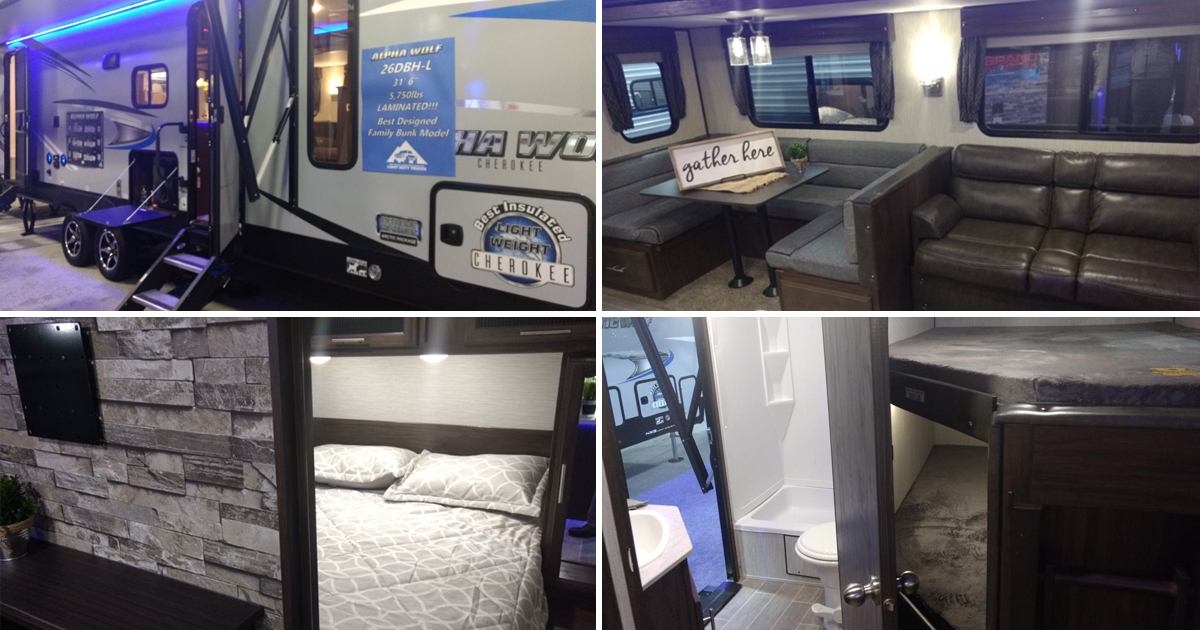 11. Forest River's Cherokee Alpha Wolf
This is another great setup for family adventures featuring a tub, walk-in pantry, double bed bunk beds, sofa, queen bed with underneath storage and full pass through storage on the bottom of the vehicle. It's also really nice to have the bathroom located by one of the unit's two doors.
The RV industry is reaching out to new customer segments, navigating towards millennials (singles and couples), but let us never forget the value RVing has on a family – from the countless memories made to exploring new experiences – together. With units like these hitting the market to help accommodate families of all sizes and interests, the tradition of RVing from generation to generation shines brighter than ever.
We cannot wait to see which new products families will be shopping for next year and beyond!