The RV Industry Association's 40 Under 40 class of 2019 was full of incredible influencers and rising stars in the RV industry. The annual award aims to identify and highlight the next generation of leaders and during her four and half years with Coach-Net, Shannon Esterly has proven herself as an integral part of her team. Nominated by her peers, Shannon was recognized for her ability to thrive under pressure, her positive attitude in creating better solutions and aptitude to develop new processes for the betterment of the company.
From the beginning, Shannon immersed herself into the diverse world of RVs and the complex networks of the RV industry. She began her career as an internal account executive, but quickly advanced to the role she holds now as the client sales manager. Shannon's first week on the job involved a trip to the RV Dealers Association's convention which was shortly followed by the RV Industry Association's former RV trade show in Louisville, Ky. The experience was one many reasons Shannon was able to digest so much information about the industry as quickly as she had and is an approach she continues to use when onboarding new employees.
Born in Cambridge, England, Shannon was heavily exposed to the outdoor lifestyle having grown up hiking, climbing and exploring everything nature had to offer. She ended up moving to Texas in 2012 following an injury that left her unable to continue her career as a professional dancer and fitness instructor in England. Looking for a fresh opportunity and new start, she took advantage of her dual citizenship and went to live with her father where she eventually found herself in the RV industry in 2014.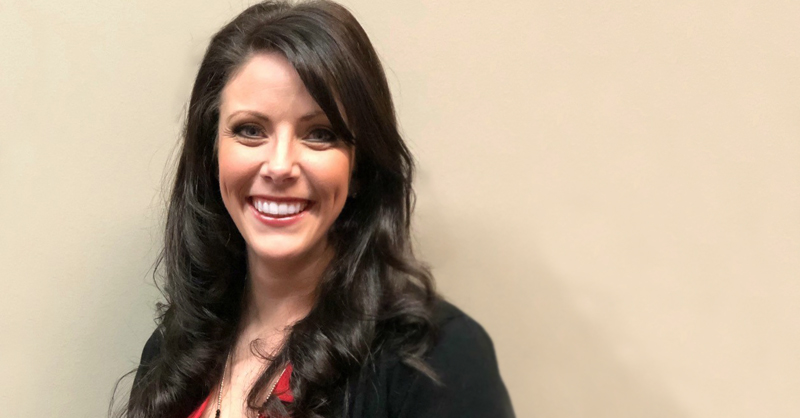 Shannon's always been a problem solver which she easily adapted to her role in working with her clients and dealer partners at Coach-Net from the very beginning. "I enjoy learning about them, what drives them and how they run their dealership," said Shannon. "I enjoy seeing how they contribute to the industry as a whole. It helps me align their goals with the Coach-Net mission and in turn I can ensure that everything aligns with the RV experience. I love the term 'butterfly effect.' I help our clients, who help the customers, which in turn helps the RV industry and feeds the cycle."
Her colleagues point to her natural ability to develop personal relationships which is credited as one of the primary drivers of her success. "Shannon understands that sales are all about relationships," said Marketing Manager at Coach-Net Elise Cannon. "And while everyone knows developing strong relationships requires great effort and persistence, Shannon makes it seem easy. She naturally gets to know her clients on a personal level enabling her to better understand the specific needs of each dealership, so she can discover new and innovative ways to help each unique client with their RV technical and roadside assistance. You can speak with pretty much any of Shannon's clients and they likely will all tell you the same: Shannon is vital in making sure dealers and their customers are taken care of, and most importantly she cares."
Elise continues, "She helps to improve the RV experience every single day. She is invested in her clients' success and dedicated to ensuring their customers have an enjoyable experience. Shannon keeps in constant contact with RV dealers all across the U.S. and Canada assisting them with creating and leading trainings often personalized for each department, completing and correcting critical paperwork, creating and managing customer relationship management systems, and developing innovative solutions for unique challenges each dealership might encounter."
Shannon explains that she strives to be more than a product for the end user and instead works with customers, dealers and end-users, to be a true partner. "I've had three roles in four and a half years," stated Shannon. "I now know the industry better, have gained confidence and can better understand client needs. It's easier to address them and create better solutions as I work with external representatives and the internal sales team to support them on the inside."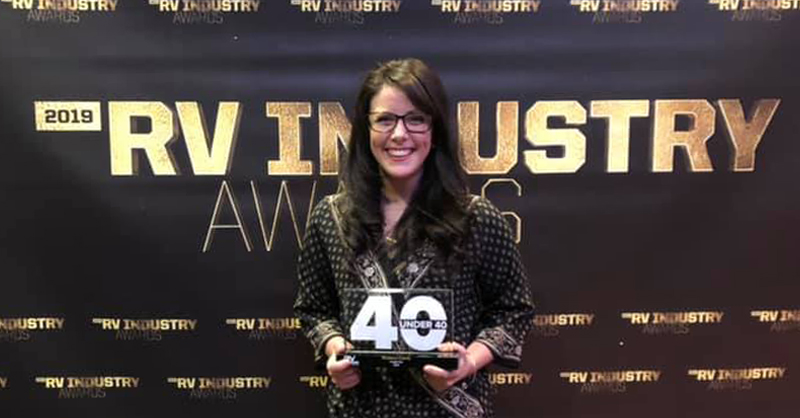 Shannon credits Kim Gregory, Coach-Net's vice president of sales, as someone who has been extremely supportive and influential in her career. "Kim's been in the industry for around 12 years. She took me under her wing my first year, introduced me to people, and took the time to invest in me," shared Shannon. "She shaped me into who I am and my role within the company and is a great leader who invests in her staff every bit as much as she has invested in the industry for over ten years."
David Ostlund is another individual whom Shannon acknowledges as a major contributor to her ability to succeed at Coach-Net and credits his strong leadership. She counts herself as extremely lucky to be included on the same team as David, who was a 40 Under 40 recipient in 2017.
"Since taking over the company, David has had a huge impact on how we run as a business, has made changes on how clients are served and has helped us develop new methods for success," said Shannon. "He has created a culture emphasizing who we are as a company and living to our mission to make customer experience easier. He is an incredible guy – we have RVs at Coach-Net for staff to use because he really believes that we need to experience RVing so we can understand what our customers are experiencing. He is changing our company in creative ways and is someone I definitely look up to."
Shannon, among many of the RV Industry Association's 40 Under 40 recipients, is extremely optimistic about the future of the industry and sees immense opportunity on the horizon. "I'm so honored to have been nominated for this award where influential people are recognized. I'm very proud of my growth within our company and the relationships I've built with my clients. I encourage this industry to continue to work together to make sure that we are all succeeding throughout the industry."