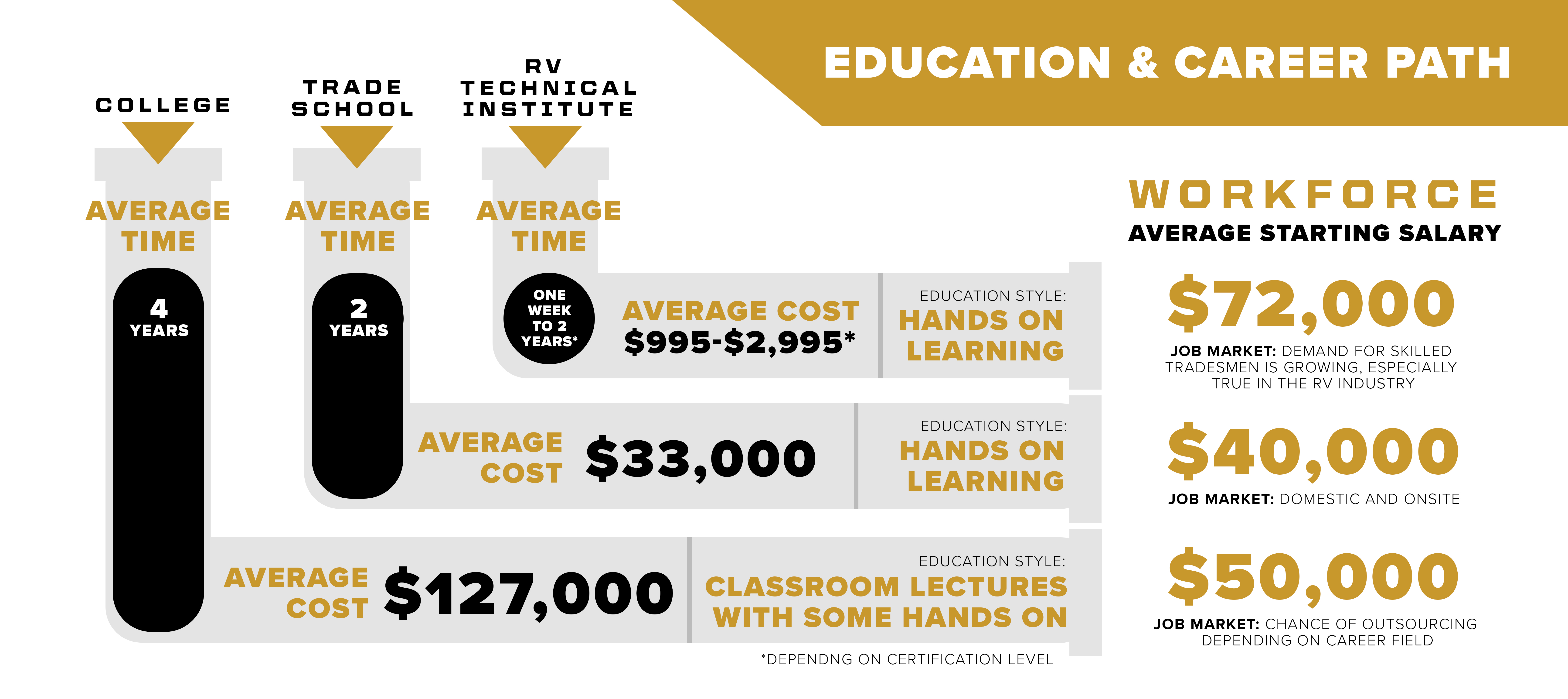 For the past couple of decades, there has been a nationwide narrative that the only sure way to achieve financial and professional success in life was to attend a four-year university. But as a generation of Americans have accumulated mountains of debt from ever-rising tuitions, and many have found that neither jobs nor personal fulfillment are guaranteed by a diploma, the narrative has begun to change. Today, education thought leaders and high school counselors alike are acknowledging that one size might not fit all when it comes to valid post-secondary options. The following article compares the benefits and drawbacks of pursuing a college bachelor's degree versus a trade school certification-- specifically, from the RV Technical Institute.
There are five primary areas of comparison that every potential student should consider before embarking on a degree or certification: the type of student he or she is, the cost of the education, the length of study needed to graduate, the earning potential of jobs related to the degree or certification, and the job market.
Type of Student
Trade school is ideal for students who are fairly certain of their strengths, interests, and the career they envision for themselves, while College can be ideal for students who may not know what field of study interests them most and, therefore, want to take a variety of introductory classes before deciding on a specific degree.
Trade school candidates are typically anxious to complete their education and to join the workforce, while College students enjoy learning in a classroom setting and don't expect to begin their careers for 4+ years.
A cornerstone of the RV Technical Institute's curriculum is hands-on training at their new 18,000 square foot facility in Elkhart, Indiana 2-3 RVs are parked for component trainings.
Cost of Education
According to current estimates, trade school programs (which can take up to two years to complete) cost around $33,000 and the average student graduates with about $10,000 of debt. At RVTI, the cost of a Level 1 certification is $1,995 for those who are new to the industry and $995 for those who are already involved in the RV business. The cost of a Level 2 certification is $2,995.
In comparison, the average cost of a four-year bachelor's degree at a public university is $127,000 and students leave with about $37,000 of debt. Private universities can cost up to $240,000.  
Length of Study
Trade school programs can run two years at most. However, RV Technical Institute's Level 1 certification can last one week and provide technicians with the foundation for a career as a mobile RV technician, a dealer technician, an RV inspector, and more. The Level 2 course takes four weeks to complete and teaches technicians with theoretical knowledge of all the systems and components within an RV and a proven skill set to be able to perform basic diagnostics, troubleshooting, and repairs on those systems and components.
In contrast, a  four-year college degree more often takes five years to complete these days as students must take both general "core" classes in math, sciences and the humanities, and degree-specific classes which may only be offered at limited times.
Earning Potential
There are many conflicting estimates for the average starting salaries of trade school vs. college graduates, but there are also many factors that influence these salaries – particularly for trade school graduates with certifications. While college graduates may start with salaries of $50,000 per year, and their skilled and certified counterparts in the trades may start at $40,000 per year, the former may have significant student loans to pay off. And they have 4-5 fewer income-producing years than those who started their careers directly after high school. Hourly skilled trade workers may also be entitled to overtime pay, which salaried employees are not.
According to current job postings, certified Level 2 RV technicians can earn between $28-$42 per hour, or annualized salaries of $58,000-$87,000, which can be more than the average salaries for many jobs that require a four-year college degree.  
Job Market
The ability to find a job with or without a degree depends upon the demand for particular skills or expertise and it is easier (and more accurate) to project demand a few months from now than four or more years from now.  According to the U.S. Bureau of Labor Statistics, the demand for skilled tradesmen is growing, and that's especially true in the RV industry. The record-breaking sales and rentals of RVs over the past year have meant that more vehicles are on the road and more technicians are needed to maintain them.
A final consideration for those deciding between college and trade schools is job security.  As more desk jobs become "remote," more companies are outsourcing them to less expensive workers in foreign countries. However, it's not possible for skilled, hands-on work for American consumers to be done in China or India. The vital services provided by RV technicians are likely to remain in high demand for the foreseeable future.
"Certified RV technicians can almost write their own ticket these days," says Curtis Hemmeler, Executive Director of RVTI. "Our graduates are excited to launch rewarding careers as mobile and dealer RV technicians, and the RV industry and our customers are very excited to have them onboard!"
Subscribe to News and Insights