Speaking before a packed Mayflower Hotel ballroom filled with attendees of RVs Move America Week, CNN commentator and author Michael Smerconish sounded an alarm bell about US politics, telling his audience that the "loudest voices at either extreme of America are driving us in the ditch."
Smerconish, who began his career as an aide to President George H.W. Bush before becoming a radio talk show host and columnist in his hometown of Philadelphia, spun some entertaining yarns about his life in public service and media, calling himself "sometimes right, often wrong, and mostly fortunate" in his interactions with a wide cross-section of office holders, celebrities and regular Americans.
It's the latter group – the "everyday folks," as Smerconish terms them – who hold a soft spot in his heart, and who often draw the most response when he writes columns about the issues they face.
Smerconish held the crowd at rapt attention as he recounted past columns about the father of a Marine killed in action whose funeral was protested by members of the Westboro Baptist Church, the "controversy" about the future direction of the Miss America Pageant, and a heart-tugging tale of his daughter's letters from her first week away at camp, desperate pleas that he read on the air in Philly.
To be sure, Smerconish did not ignore today's politics during his remarks, but he was making a larger point about how much most Americans really have in common, despite what they may see in the media or in the behavior of their federal officeholders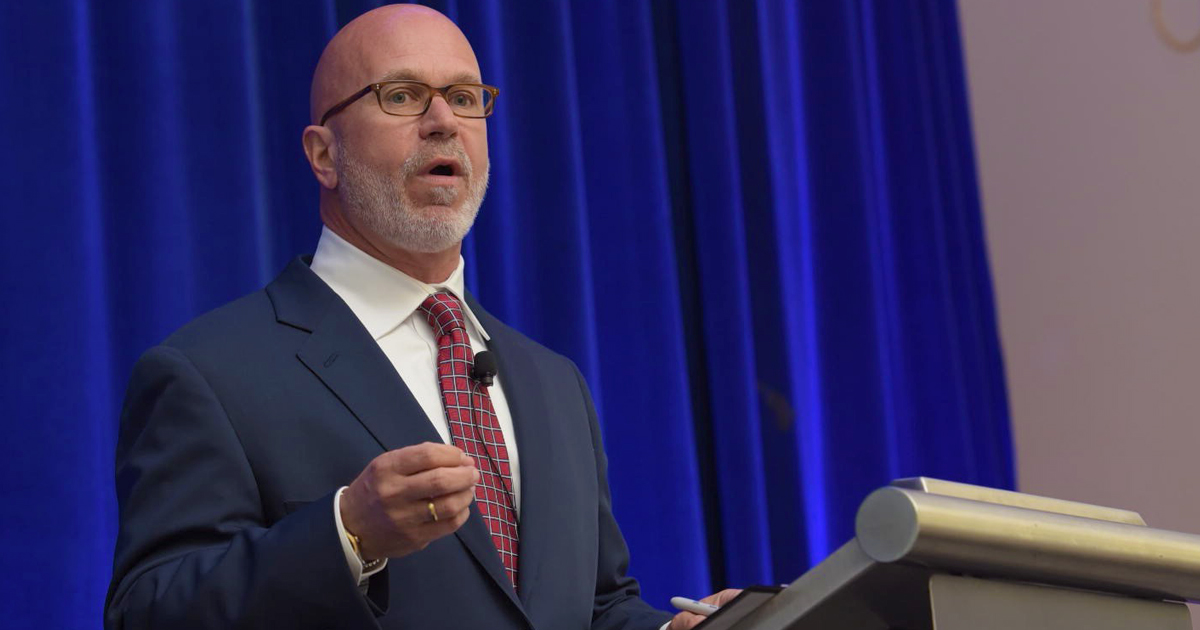 Suggesting that he sometimes felt like "Forrest Gump," Smerconish spoke of taking an instamatic selfie with then-presidential candidate Ronald Reagan, serving on advance detail for Bush 41, and enjoying a seven-hour dinner – including multiple cigars – with Fidel Castro.
These tales did not come across as name-dropping, however, as each had a theme such as persistence (the Reagan pic), luck (the Bush 41 gig) and the ability to navigate tricky terrain (the Castro dinner).
After wrapping his remarks by citing quotes from philosophers Groucho Marx and John Lennon, Smerconish took several questions from the audience, in a session skillfully moderated by RV Industry Association VP of Government Affairs Jay Landers.
Landers himself asked the first question, a timely inquiry on the state of the 2020 presidential race.  Smerconish seemed to hold a grudging respect for former Vice President Joe Biden, whom he mentioned repeatedly not only in his answer to Landers, but also in many of his follow-up points with RVs Move America Week attendees.
Smerconish, whose book is entitled Clowns to the Left, Jokers to the Right, concluded the lunch by saying: "Somewhere in the middle lies the truth, at least according to me."