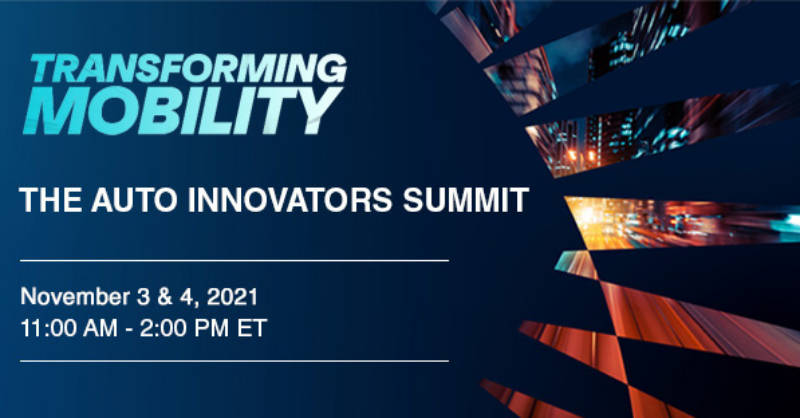 What's the future of the auto industry? That's something that will be discussed at the first Transforming Mobility: The Auto Innovators Summit hosted virtually November 3-4, 2021.
The RV Industry Association is a member of the Alliance for Automotive Innovation and would like to share this opportunity to participate in the Auto Innovators Summit. 
The automotive industry is evolving rapidly and the promise of a cleaner, safer, smarter future is in our grasp, but we won't get there on bold ideas alone. Never has collaboration between industries, tech leaders, government, and the individual consumer been more important.
That's why this summit is designed around four collaborative and action-oriented panels. We're bringing together unexpected panelists, asking the tough questions, and starting debates.
From EVs to supply chain management, we face challenges that will not be solved by a single company or industry alone.
Below is a preview of the questions that they will be looking to answer.
● Facilitating the Future: Getting AVs to the Roads.
What is the policy landscape AVs need to succeed? Former regulators, now industry leaders will help us understand where we go from here. We'll discuss existing pilots, deployments, and perspectives that will define the future today.
● The Future is Electric. The speed may be shocking.
The Biden Administration wants 40-50 percent EV sales by 2030. Can we get there from today's 3 percent? Leading experts discuss the challenge -- and what's needed to realize a net-zero carbon transportation future.
● Stronger Links: Seeking Resiliency in Supply Chains.
How do we realize more resilient supply chains? How do we create supply chains that support EV/AV transformations? How fast can it happen?
● Safety: Never Satisfied.
Will innovation or regulation guide the future of safety? Industry leaders discuss current advanced technologies, driver monitoring systems, and innovations in new vehicle safety.
Auto Innovators Summit
November 3 & 4, 2021
11:00 AM-2:00 PM ET
Subscribe to News and Insights