The second Annual Top Tech Challenge wrapped up Wednesday night with a victory for Brandon Galbreath of D&N RV Service who took the crown for a second time! NBC Auto Racing Analyst and former host of Top Gear U.S., Rutledge Wood opened the event to a crowd of onlookers packed in to watch the best technicians in the industry compete in an intense, winner take all, timed challenge to diagnose and quickly repair RV parts. Galbreath was not only crowned the Top Tech, he was presented with a $10,000 grand prize for correctly diagnosing and repairing the sabotaged equipment in record time!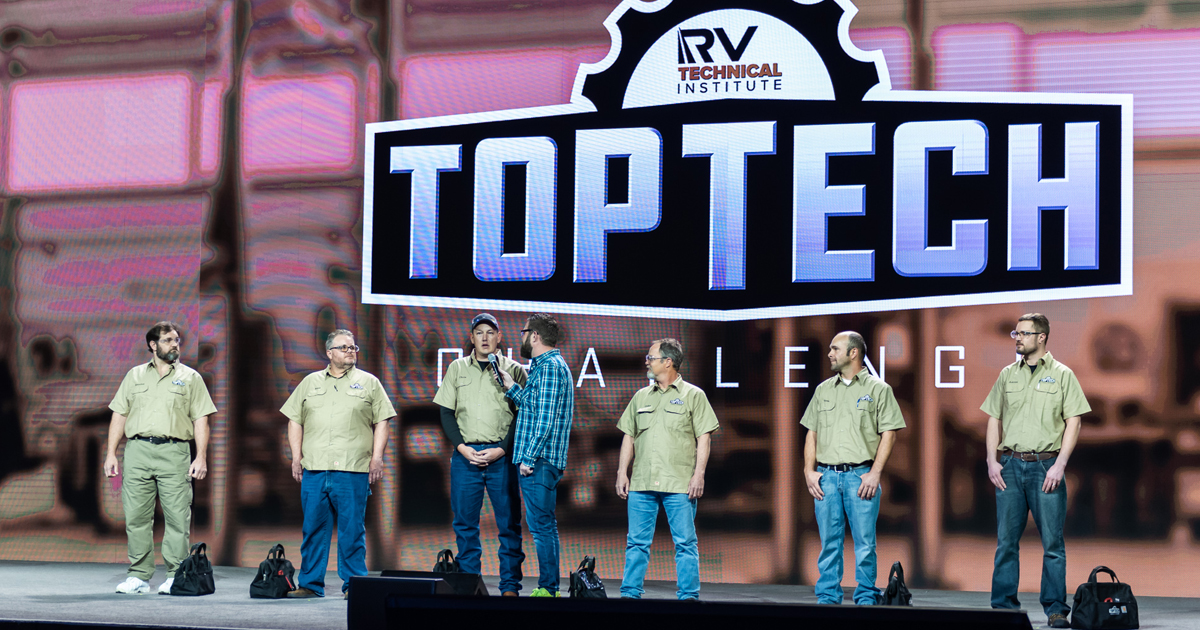 The challenges tested electrical knowledge, leveling, junction boxes, AC electric, furnaces, and refrigerators. The finalists were presented with statements such as, "Customer states that furnaces fan comes on with no ignition," or "Customer states that CFX box freezes everything, even when set above 32 degrees." From there, the techs were given 15 minutes to look at each of the six stations and diagnose the fault with the piece of equipment.
"This year's Top Tech Challenge has surpassed our expectations tremendously. We have a great group of expert technicians specializing in electronics, hydraulics, leveling and more that brought their A-game to the competition," said Executive Director of the RV Technical Institute Curt Hemmeler. "It's going to be hard top the skill-level that was demonstrated today."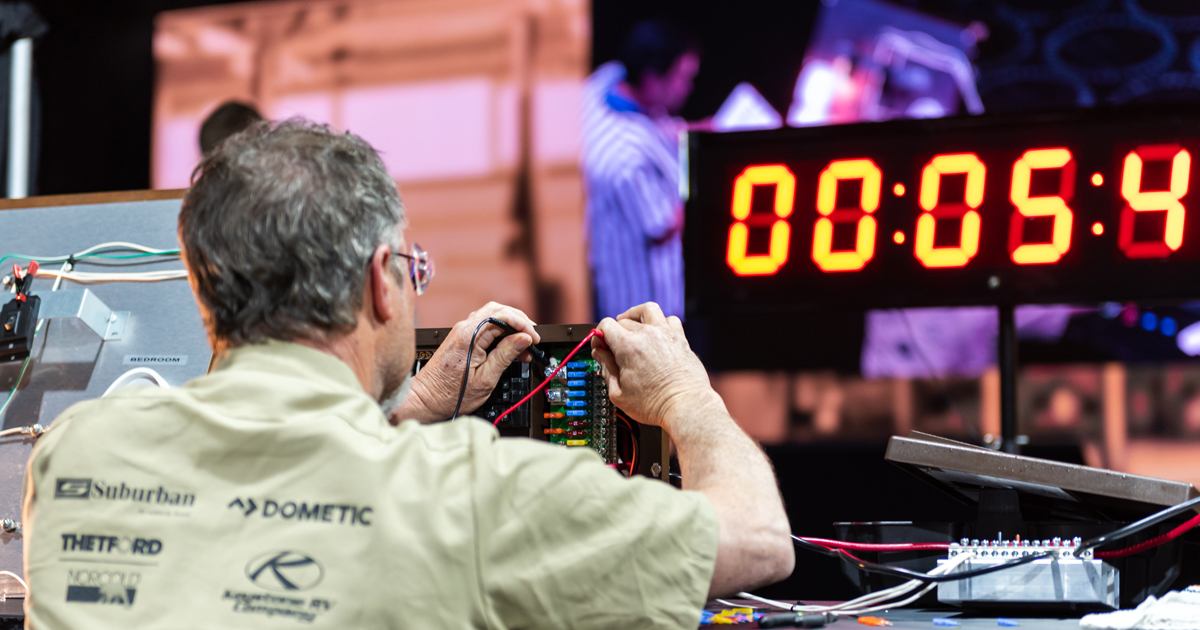 The competition, sponsored by Airxcel, Dometic, LippertComponents ,Thetford/Norcold and Keystone, pit RVDA/RVIA certifies service techs against each other to determine the Top Tech of the year. All contestants diagnosed and solved all six stations earning points for using the correct procedures and diagnosis. 
"The multi-step processes that these technicians walked through to determine the faults with each piece of equipment was extraordinary," said Hemmeler. "Putting the knowledge that they possess into practice in front of a crowd of onlookers while a clock was counting down is a tremendous amount of pressure. I would like to congratulate all of them for the expertise that they demonstrated today."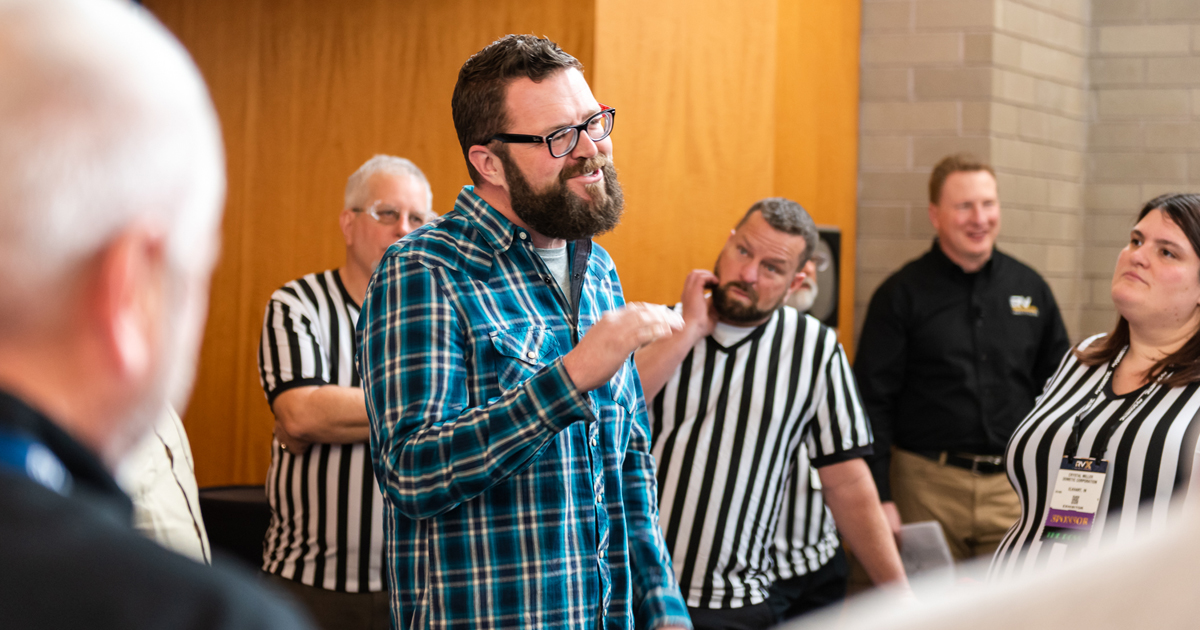 Hemmeler highlighted that it is absolutely vital that we, as an industry, have talented and trained RV technicians with the ability to understand a wide range of complex equipment and troubleshoot a multitude of possibilities. The RV Technical Institute is excited about bringing more technicians into the field that can quickly service our customers
"The goal of this event is to raise awareness about the RV technician career and spotlight how important they are to the health of the industry," said Hemmeler. "We need to focus on recruitment and talent acquisition to the technician career to ensure that we can service our customers and allow the next generation of RV consumer to get out and enjoy the great outdoors in their RVs."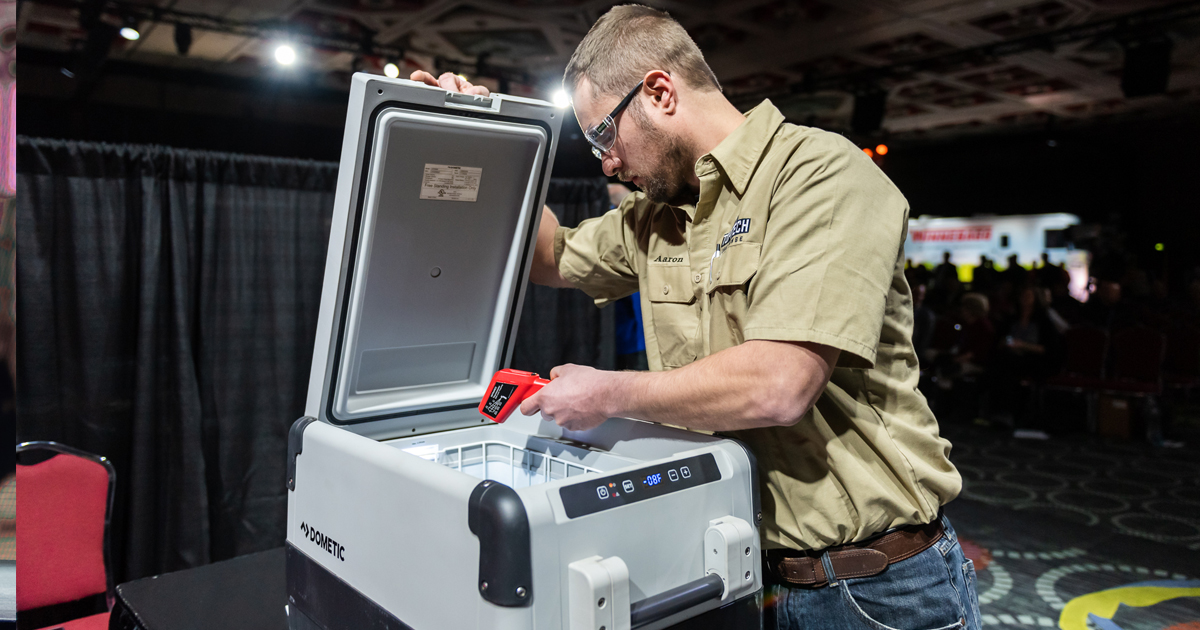 Congratulations to all six of the finalists who competed in the competition:
Aaron Bashore 
Shoemakersville, Pennsylvania
Shop Foreman/Lead Tech at Tom Schaeffers Camping and Travel Center
Brandon Galbreath - Top Tech Champion
Joppa, Alabama
Service Tech at D&N RV Service 
Thomas Gordon 
Ocala, Florida
Shop Foreman/Lead Tech at Ocala Camping World
John Larson 
Minden, Nevada
Owner/Operator at Nevada Mobile RV Service
Chris Page 
Prescott, Arizona
Service Tech at Affinity RV
Bradley Wingfield
Corinth, Texas
Shop Foreman at McClain's RV Superstore
Here are the final scores from the 2019 Top Tech Challenge: