Brandon Galbreath won big in 2017: the title of Top Tech Champion and a $10,000 grand prize!
At the first-ever Top Tech Challenge, a competition which pits some of the best RV service technicians in the country against each other to diagnose RV service issues the fastest, Brandon completed three stages in record time, earning him the title of Champion. Now, for the second annual competition, he returns equipped to defeat his competitors and determined to defend his title for another year.
Brandon, a service technician at D&N RV Service in Guntersville, Ala., has been working in the RV industry since 2001, yet his fascination with RVs came at the tender age of five. As we prepare for the exciting event next week, we reached out to him to learn a little more about the man behind the trophy and his tactics for returning to the stage at this year's competition.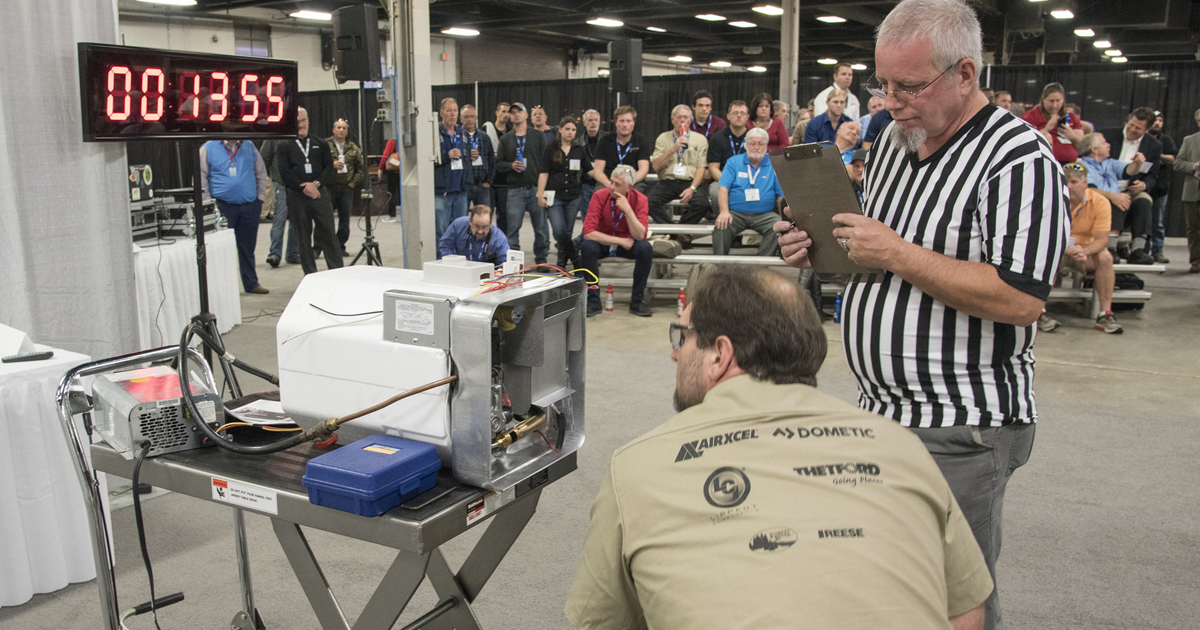 Q: How would you describe your childhood and your early interest in RVs?
A: I would say it was mostly an average childhood. What I mean is, I was never the first one picked for teams, I didn't earn awards for scholarship or anything of the sort. I was always interested in how and why things work. I wouldn't call it a passion, more of a curiosity. I found that I was competent at finding the problem with most appliances, motors and electronics. Becoming a technician of some kind just was a natural flow to life. 
Q: What was it like to win in 2017 and what did it mean to you? 
A: The experience of the win was great, really awesome. It is humbling to be the one who was fortunate enough to win and then be allowed to take part in developing the RV Technical Institute's new  curriculum for credentialing the certified techs of the future.
Q: Tell us was it was like to be racing against the clock?
A: Oh the clock, man, what a rush of adrenaline! I almost couldn't think about the task at hand with the pressure. It was as if I could feel each tick of every second winding down.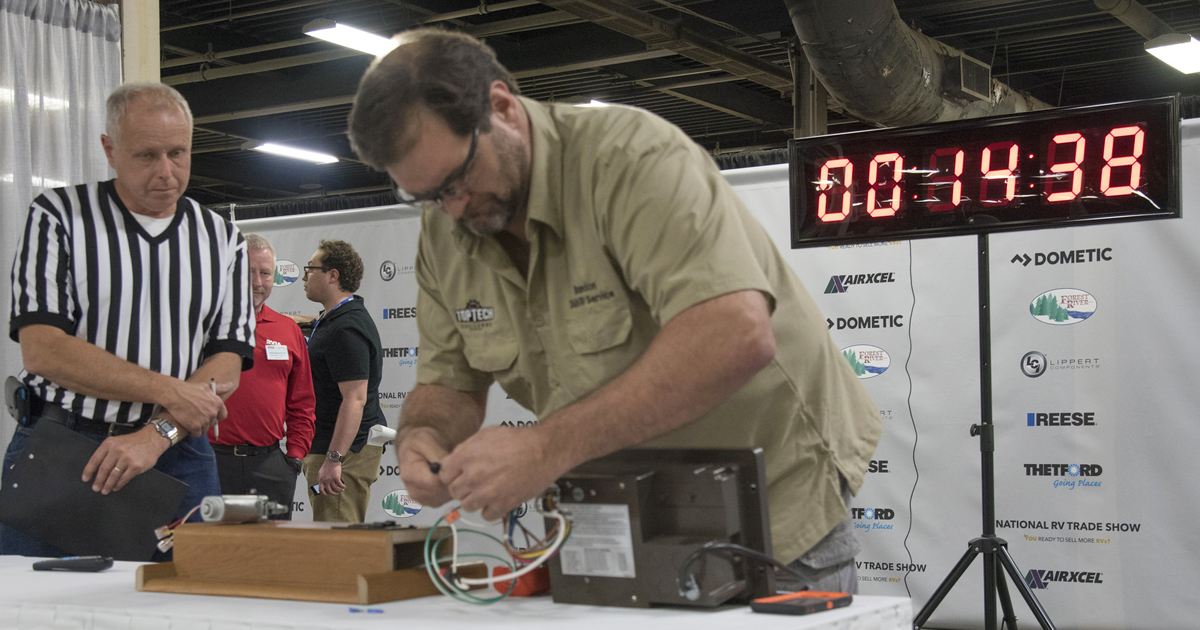 Q: How did you prepare for the last competition for those timed sequences?
A: I didn't have a reference for it. I had never taken part in such a competition and really didn't know how to prepare. Just kind of figured how to manage on the spot.
Q: What was it like to do your work in front of a live audience?
A: The audience was a real factor. It was like they could see what I was doing and they were picking apart my every move. They seemed to be very much into the excitement of the event. It was nerve-racking but exciting at the same time.
Q: Was there anything else about the competition that surprised you or added an element of pressure that the audience may not have known?
A: As if just being in a competition wasn't enough, knowing that I only had one chance to get the right diagnosis, a few times there could have been as many as three different causes and it was either get it right or lose. In real life we can take an extra minute or two and eliminate the other possibilities, but against a clock there is no time.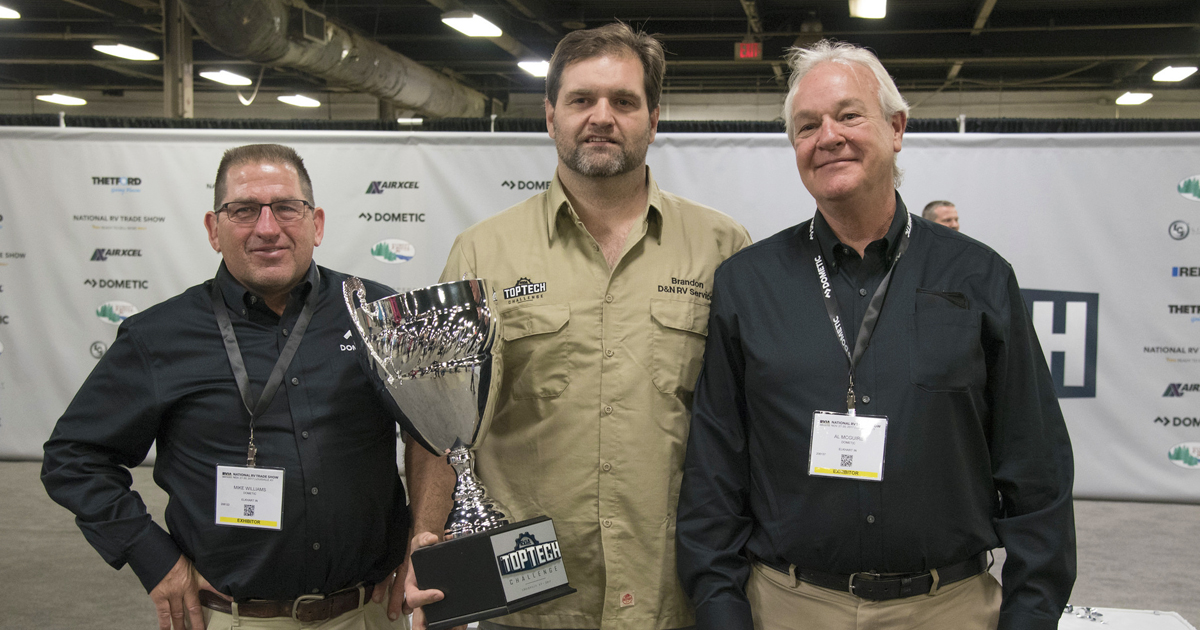 Q: How did your co-workers respond to your win and what advice have they given you for this year?
A: The people I work with are great and real supportive. That being said, it apparently never entered their mind that I could win so they were shocked! As for advice from the team, it's been a lot of, "don't lose, that would be embarrassing!"
Q: How did your family respond to your win?
A: They were happy to spend the prize money! Seriously though, the prize money has been extremely appreciated. For one, it enables me to take time off to participate in the development of the RV Technical Institute certification process. Being able to travel to Elkhart and be a part of this new program has been the highlight of my year. It has been a real honor getting to know the people of the RV Industry Association and those with the RV Technical Institute in this journey.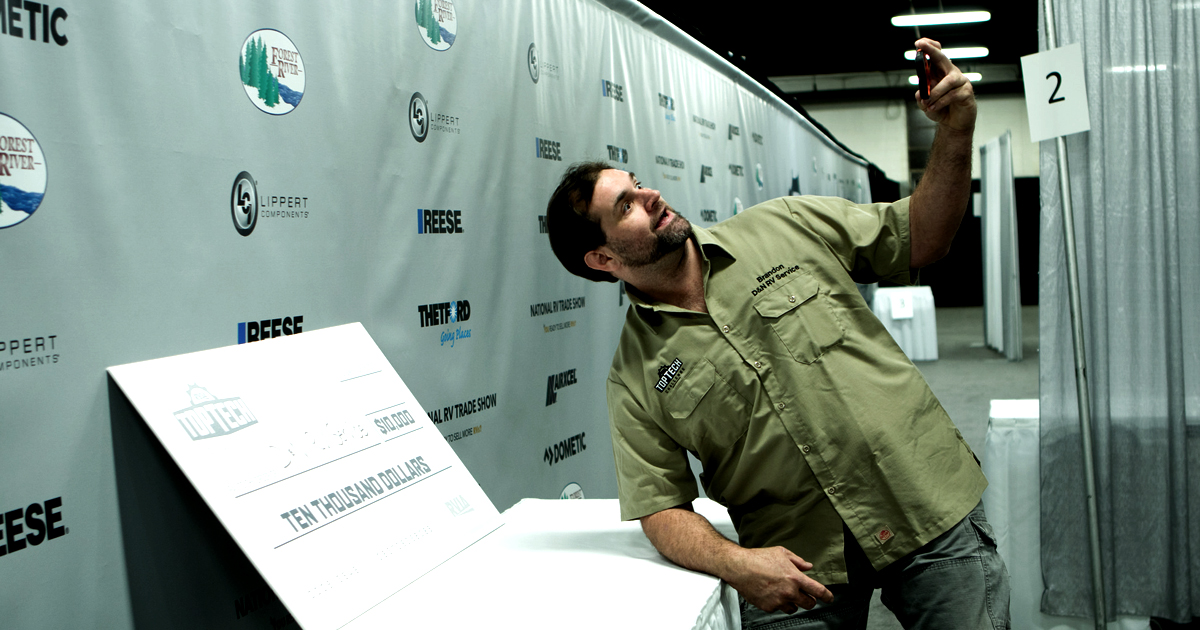 Q: How have you been training for the competition this year?
A: I have doubled down on my personal mandate to get it right the first time. With RV owners, most are making payments on their RV. To me it doesn't seem fair to have to make 3-4 payments while waiting on the service center to complete the repairs. As an industry, I believe we are making strides on this issue in order to resolve it to the benefit of the customer.
Q: What is the greatest pleasure you find in your job?
A: As an RV technician I am able to travel, work outside, inside or someplace different every day. I get a lot of pleasure working in a place where I can look around and see trees, hills and lakes. The people of North Alabama have been good to me, giving me the trust needed to see to their needs and keep their recreation plans on track.
The 2019 Top Tech Challenge, presented by the RV Technical Institute, will be bigger than ever. Six talented competitors will go head-to-head across six challenging stages to see who will come out on top.
It all goes down on Wednesday, March 13 from 4-6pm at RVX: The RV Experience in Salt Lake City. See you there!