James and Stef Adinaro didn't initially seek-out to become RVers. In fact, Stef claims, "it sort of snuck up on us." The married couple, who are also avid athletes, got their start with a Type B motorhome over three years ago. And wouldn't you know it, the idea was prompted by the need for their own bathroom for the countless bicycling events the pair participated in around the country. Say goodbye to long lines! James and Stef admit it was an expensive toilet purchase, but a purchase that opened all sorts of opportunities.
The Adinaros took their active lifestyle on the road which then prompted the start of thefitrv.com, a website dedicated to fellow RV lovers and fitness enthusiasts. James and Stef don't rest on "fitness" lightly. Beyond physical fitness, The Fit RV also shares tips and tricks for keeping one's RV "fit," as well. As a former rocket scientist, James puts his engineering background to use as he creates sometimes zany, but always useful, RV-related experiments with their followers, as well as how-to procedures for RV maintenance and DIY projects – something he's created quite the reputation for.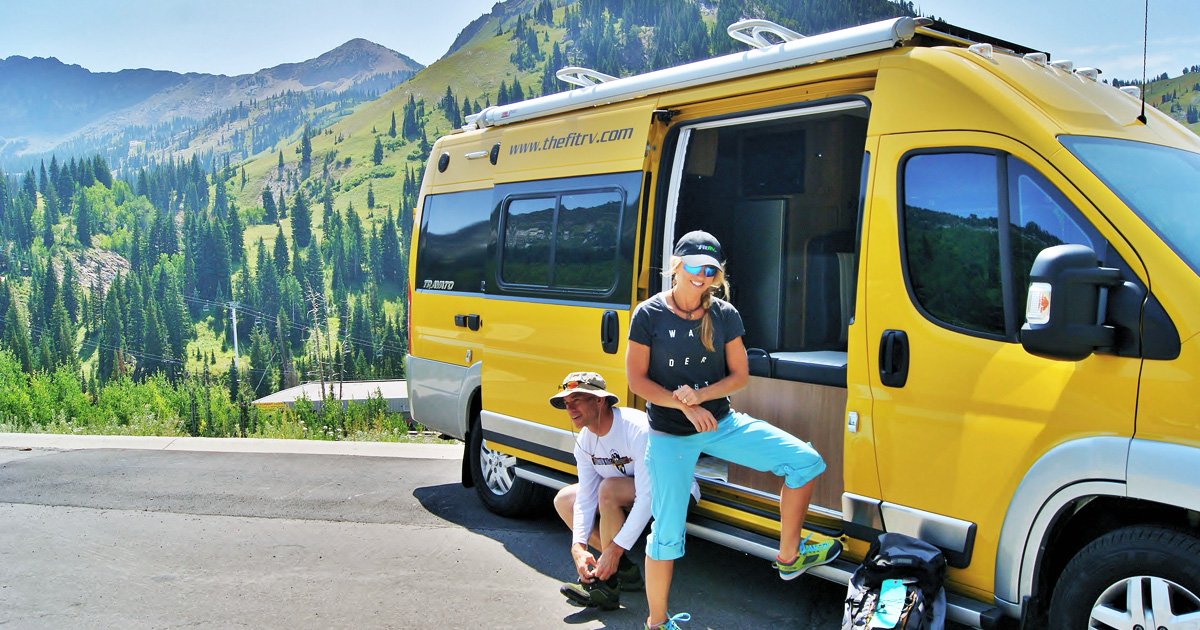 (Photo courtesy/The Fit RV)
The couple's bright yellow campervan, which they've named Lance, is a Winnebago Travato and has been their pride and joy for just over three years. As he likes to do, James had a laundry list of "additions" and "enhancements" to make to Lance that the pair seized the opportunity to document each step and share with their followers for an educational experience.
"I wanted to wait until I was 'done' to do a walkthrough video," said James. "Stef finally won and convinced me that I'd never be 'done' tinkering with the RV." That's when "The Tour de Lance" was created.
While James focuses on keeping the RV-fit side of things under control, Stef gears her attention to the physical aspect of The Fit RV. As a personal trainer and wellness coach, Stef thoroughly enjoys sharing workout plans for RVers, travel-friendly recipes and tips for staying fit while on the road. The pair combine their specialties to a Fit RV lifestyle by means of their blog where they also catalog their travels with their adventure cat Mel.
(Photo courtesy/The Fit RV)
To get a better understanding of James and Stef's passion for a Fit RV lifestyle, we asked them these five questions:

1. What were your concerns on how RV travel might affect your health and fitness?
We humans are creatures of habit. However, the nature of the RV lifestyle is pretty dynamic and ever-changing. This makes it hard to set established patterns on the road and is the main reason RVers struggle to keep fitness a priority on the road. Experiencing this challenge ourselves when we first became RVers is what motivated us to start The Fit RV website.

2. In what ways have other forms of travel/vacation impacted your fitness regimen and how do they compare to RVing?
There's something we like to call the "vacation mindset". It's when people on vacation (whether it be RVing, flying or driving) rationalize their lack of exercise or lack of healthy eating with the idea, "I'm on vacation! I don't have to exercise or eat well!" We like to remind our followers that no one should ever take a full-on vacation from healthy living, but that doesn't have to be punishment! You can find physical activities that work best for you and are convenient to your surroundings. These can also be fun, and with a little creativity, there are lots of ways to eat healthy AND tastily whether on an RV trip or any sort of trip!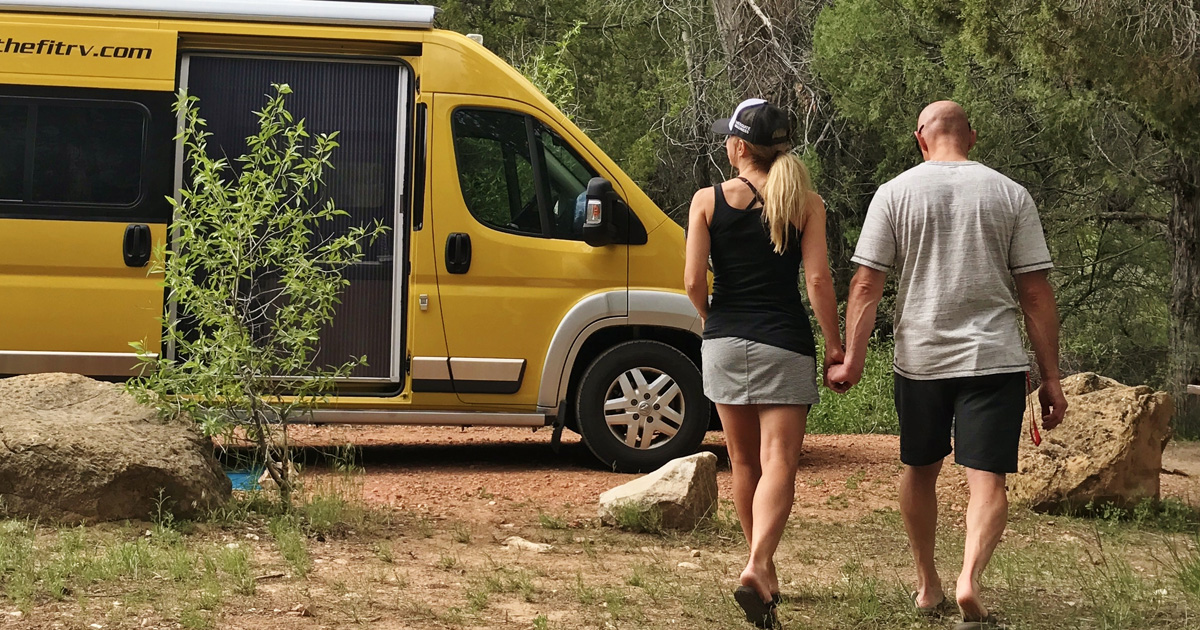 (Photo courtesy/The Fit RV)
3. What is your favorite piece of fitness equipment to bring on the road?
Well, really, you don't need any equipment in the RV to stay fit. You've already got the best piece of exercise equipment - your own body! But we do believe traveling with a few pieces of RV-friendly exercise gear helps spice things up and keeps workouts more interesting. If I only could bring one piece of exercise equipment in the RV, it would hands-down be a kit of resistance bands. The exercise possibilities are endless with bands, especially if your kit comes with a way to mount them. I share tons of workouts and exercises you can do with bands over on The Fit RV website.

4. How has your health and fitness lifestyle changed since you began RVing?
As fitness pros, we're completely committed to leading our best lives, and the only way to do that is by making exercise and eating well non-negotiable priorities. Our fit lifestyles haven't changed. However, the one thing that has changed is how we implement our fitness practices. Since we're travelers and are never in the same place for long, we have to be more flexible with our workouts. Instead of going to the gym, our workouts might be at a different campsite each day. Instead of devoting the same time every day for exercise, we might have to work around our driving schedule or our daily activities.

5. How has RVing affected you as a couple?
RVing itself has been a catalyst for all the things we want to do. We love that we both share that wanderlust gene, enjoy jumping in the rig and pointing it in any direction and ready to explore some place new and inspiring. I think as a couple who has shared those experiences, both the good and the challenging, going hand-in-hand on the road, it brings us closer together and enriches our lives.
For more information on The Fit RV, click here!