The RV Industry Association's inspection program is comprised of six individuals with a wealth of knowledge and passion for RVs. We meet the newest member of the team, Oliver Keultjes, and learn about his first year as an inspector and what he's enjoyed most. Here is his story:
Q. What was your first year as an inspector like?
A. My first year as an inspector has been exciting, enjoyable, productive and dynamic. I really appreciate this job because it allows me to constantly learn and be active. I was able to train and learn in a classroom setting and in the field with a group of incredibly knowledgeable and experienced inspectors. Any time I get a chance, I have been studying, reading and reviewing the codebooks, handbooks and any product installation instructions related to codes and standards for RVs and park model RVs.
Q. What did you learn?
A. I have learned a lot over the past year, including the vast amount of codes, standards and safety requirements. There is a ton of information, but, it is important and interesting. Also, things are always changing with codes, cycles and bulletins, so, there is a great opportunity for continued education. I have also learned a lot about logistics and time management - we travel all over North America. I have also learned how to complete a strong inspection and how to interact with the plant contacts that walk with us. Sometimes there are six people walking with us at a time looking over our shoulders, asking questions, and making comments. With this job, we aren't just inspectors, we're educators. With that we need to be respectful, professional and assertive at the same time.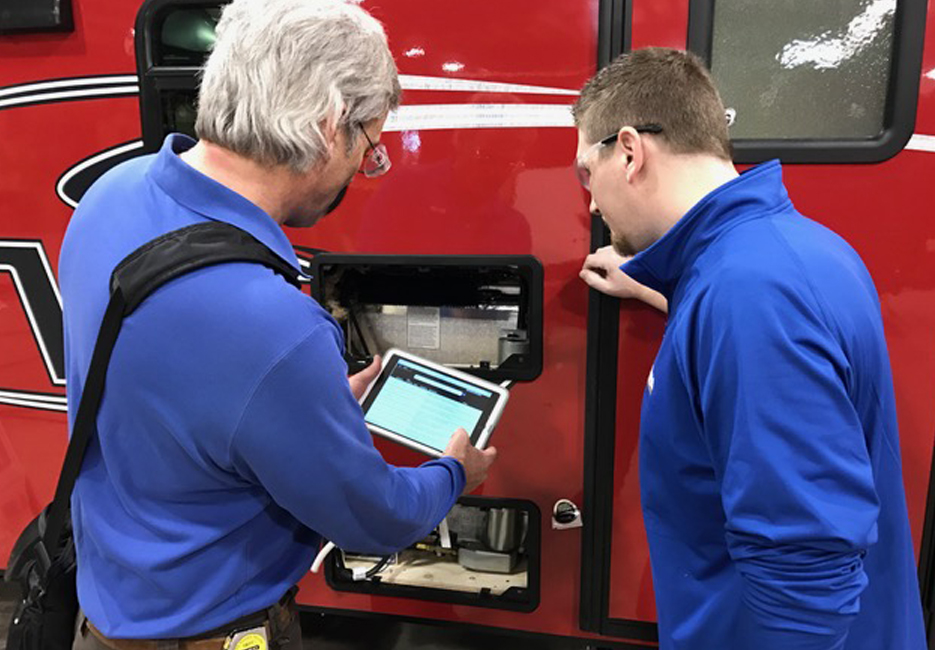 Q. What were your expectations with this position?
A. This job exceeded my expectations. I've been tremendously lucky to be surrounded by such a great group of co-workers and supervisors. They continue to teach me new things every day. Whether it be about a new code requirement or how to navigate a trip more efficiently, everyone has been super nice, respectful, and supportive. As far as the inspections go, I really enjoy surveying the production facilities and examining what codes and standards are and aren't being met. Also, interacting with the plant contacts, answering any questions, and educating them with new, significant information can be very fulfilling. And lastly, I have been blessed with the opportunity to see our beautiful country while I am working. Before this job, I didn't travel much, so this is an exciting time for me.  
Q. What is one thing you enjoy most about what you do?
A. That I can help companies correct safety issues that can, in-turn, keep RV users safe in the long run.
Q. What are your long-term goals for the inspection program?
A. My long-term goal for the inspection program is to play a critical role in protecting and refining what was built before me. My immediate goal is to work tirelessly to become the best inspector in the field. No time is better than the present! Now, I can learn and grow from the other inspectors who undoubtedly have more knowledge and experience than I do. What a great resource! Looking towards the future, I hope to grow within the company and remain with the RV Industry Association for my entire career where I can best help in the Standards Department. I love what I'm doing and want to be here for a long time down the road.
Q. Can you share what you enjoy most about site visits?
A. I enjoy meeting and forging professional relationships with members or plant contacts. I learn from them just as much as they learn from us.
Q. What is so beneficial to you when it comes to hands on experience?
A. When it comes to hands-on experience, I love opening things up and looking inside compartments (j-boxes, panel boards, plumbing compartments, etc.). This is an inspector's idea of unwrapping a birthday present.
Q. Education adds so much value – what kind of feedback have you received so far?
A. As I mentioned earlier, teaching and education is a huge part of what we do. Most members and contacts tell us that they love when we come by because they learn something new from us each time that will help to strengthen their programs as well. If we can educate them on something that will allow them to fix a problem and make things safer, then we are working together in the right direction. A lot of the times, they fix things that we find right on the line while we are still there.
Q. What tools do you find most valuable during your inspections?
A. The iPad is a crucial, multi-prong tool for our team. It allows us to conduct reports, look up deviations or codes using key words or numbers, reference handbooks or codebooks, send and receive emails and look up past reports among other things. Our flashlight is important because it is needed to inspect things in tight, dark spaces. A screw driver allows us to open up boxes or panel boards. And lastly, a tape-measure is vital for the countless measurements we have throughout our inspection process.
Q. When you are planning out your travel, what are 3 essential items that you can't leave home without?
A. My phone, wallet and my iPad.
Q. How does an inspector recover after spending a week on the road conducting inspections?
A. After an intense week of inspections, it is good to wind down and enjoy the weekend. I have been lucky because jet-lag really hasn't been a problem for me.  I like being with friends and family, exercising and simply enjoying the outdoors. I'm really excited for football season, too!
For more information about the RV Industry Associations standards program, click here.