The RV bug bit Elden Wood when he was a young kid, and it clearly never let go. From traveling with his parents and five siblings cross-country in their Champion class A motorhome in the 1970s, starting an RV rental company as a university student of entrepreneurship, and working for RV components makers after graduating business school, the industry is fully flowing in Wood's blood. Now, having been promoted in May 2020 to President of Carefree of Colorado, a Denver-area awnings and accessories manufacturer, his commitment to the industry has reached a crescendo.
Wood insists he wasn't necessarily planning to get into the RV business; after high school, he worked jobs including construction, firefighting and even as an instructor for Fred Astaire Dance Studios. He eventually enrolled at LDS Business College in Salt Lake City, and while later attending Brigham Young University's Marriott School of Business, the RV bug reappeared. "My wife's uncle, Randy DeLaMare, worked for an aftermarket RV parts distributorship. I was a poor student, and he used to let us take his RV camping, which he also was renting on the side" Wood explains. "That gave me the idea to buy and rent out my own RVs." He launched Venture RV, and it took off. "My business model was novel," he says, "The RV industry hadn't embraced the internet, but at the time my website was the top-ranking site for rentals in Utah and the third in the nation, competing with El Monte and Cruise America."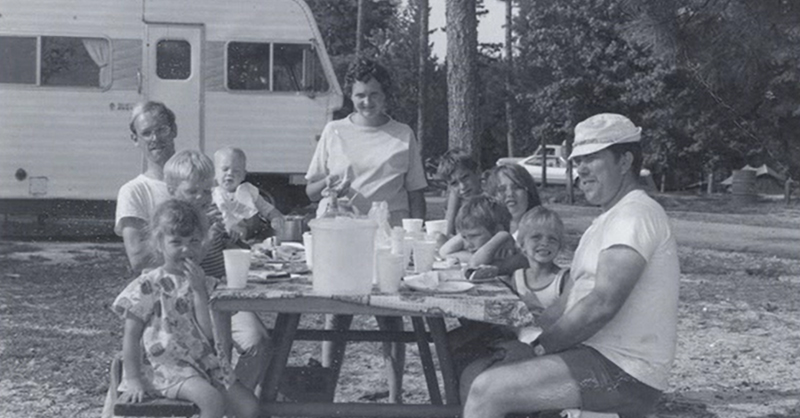 (Elden's family (right of table) with close friends (left of table) at Kerr Lake, NC with the 1971 Dodge Champion motorhome in the late summer of 1976 – with Elden's mother actually pregnant with him in the captured photo.)
An internationally focused school, the Marriott School of Business encouraged its students to complete their studies abroad. Since he had learned German in high school, Wood said he figured he'd land in Germany, but instead found himself in Paderno del Grappa, Italy, which offered more business opportunities; he and his family moved there so he could earn a certificate in International Business and Global Marketing from CIMBA (the Consortium of Universities for International Studies). "On the second or third day, CIMBA arranged company tours in northeastern Italy," Wood says. "Lo and behold, a group of us ended up being introduced to an Italian RV OEM components manufacturer in the area and discovered that Europe is the second largest RV industry in the world."
"My group went to visit SMEV, and were shown around by its president, Paolo Moresco," Wood says. "I think he liked me from the beginning after he told our group that SMEV was starting to explore doing business with Airstream and asked if we knew the company. The other students said nothing, but I piped up, 'Come on you guys, that's the travel trailer that looks like a toaster.' Paolo latched onto me from that moment, and he was my mentor for many years." 
In 2006 Wood returned to the States, taking a managing director position with Aery Corp in Goshen, Ind., as the exclusive distributor of SMEV products. After SMEV was acquired, Wood started VCI Group to distribute many of Europe's leading RV components to OEMs throughout North America. He specialized in interfacing with key participants of the global RV industry, applying his knowledge of commonly used components and leading suppliers. He later worked as vice president of sales and marketing for the German RV supplier, Truma, to help establish their North American operations.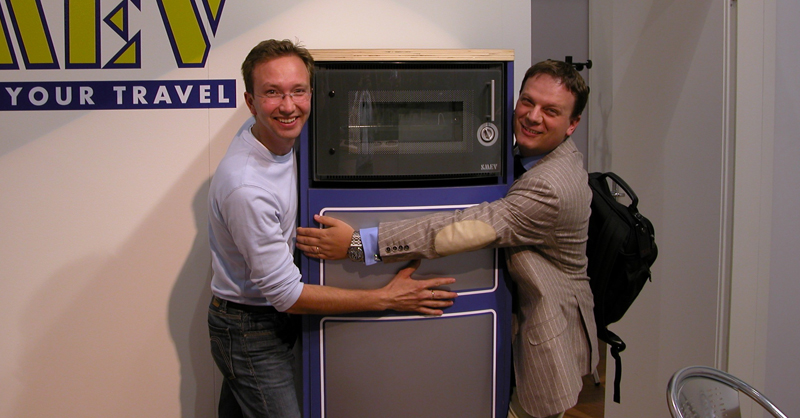 (L to R: Elden Wood and Paolo Moresco in the SMEV booth at the 2007 Düsseldorf Caravan Salon in Germany.)
"My first contact at the RV Industry Association was Bruce Hopkins, who was in charge of standards at the time," Wood explains. "I was trying to bring gas cooking appliances and sinks from Europe back in 2006, and of course you have to meet standards, requirements, and certifications. He was open, supportive, helpful, free with information, and pointed us in the right direction toward certifications to help make sure we were compliant. We became personal friends and industry peers."
Wood became interested in getting more involved with the association, and served as a member of the Trade Show and Events, the International, and the Annual Meeting committees, and eventually joined the board of directors, a role in which he has served since 2017. "When you're involved with the RV Industry Association, you're rubbing shoulders with the most capable, high-caliber leaders in the industry, who in many cases run global enterprises. I love contributing in board meetings and listening to discussions and recommendations from my peers."
Wood moved his family to the Denver area in 2016 when he accepted the post of vice president of sales, service, and marketing at Carefree of Colorado, one of the oldest and largest awning manufacturers, which focuses on the RV industry in US, Canada, Australia, Asia, and parts of Europe, but also supplies the marine industry and residential and commercial markets. 
"During its 50 years in business, Carefree of Colorado has developed a strong reputation for innovation, with more than 30 patents issued related to awnings," says Wood. "We're also known for being able to handle custom requests. While competitors try to narrow their product offerings; we focus on helping our customers stand out and be unique." The company invented the automatic roll-out awning, which was as an aftermarket component, but is now mostly OEM installed. Carefree also invented the electric awning and a motion sensor-enabled awning that retracts automatically in wind.
The timing of Wood being promoted to president of Carefree was soon after the COVID-19 pandemic began, in which Carefree was dealing with manufacturing obstacles ranging from getting components from outside suppliers to ensuring it had enough employees, and that it was meeting all virus-related guidelines enforced by each county as well as the state.
"One of our initial challenges - and successes - was in declaring ourselves an essential business," Wood explains. "Once we did that, and counties began following state-led guidelines, we were able to address the next challenge, which was finding workers who could help us meet the surge in demand for RVs. We hired a lot of seasonal workers and are in the process of expanding our manufacturing floor." Wood adds that he expects the demand for RVs to remain steady on the OEM side, and the aftermarket will be directly correlated to how late in the season the demand goes.
Wood believes the season of RV love will continue--and that it will be boosted by the recent signing of the Great American Outdoors Act. "My prediction is that Americans will return to the golden age of the American road trip, which spawned from great places to go outdoors and visit. Our national parks have been neglected for so long that they lost their luster. Now Americans will have a renewed interest in seeing the beauty of this country and enjoying these natural treasures."
Along the way, Wood is impressed with how the RV Industry Association provides insight, clarity, data, and research to its members. "I think one of the things that's truly unique about our industry--and is facilitated by the RV Industry Association--is that we can come together, as competitors, with a common interest in an industry around a lifestyle we all love."