One of the RV Industry Association's newest members is undoubtedly one of its most enthusiastic. "We love the RV Industry Association!" Jen Young unabashedly exclaims. "It's so great to be a part of the community, and an equal member in an industry that is growing, and always changing." One of the most popular and well-known RV rental companies, Outdoorsy, is on a mission to encourage anyone who is curious about the RV lifestyle to whet their appetite.
Young and her business and life partner Jeff Cavins have embraced the RV lifestyle themselves, having recently returned from a grand road trip in their 2020 Winnebago Revel, traveling from their home base in Austin to explore Texas, New Mexico, Utah, Colorado and Montana. "We lived in a campervan for seven weeks, and we absolutely experienced the great outdoors, which is our favorite place to be," says Young.
Along the way, Cavins and Young were reminded of why they founded Outdoorsy, as well as the challenges the RV rental market faces in the wake of the COVID-19 pandemic.
Cavins and Young met in 2013, in what they describe as "a perfect swirl of fate." Cavins was working on the board of advisors for a tech company, and Young was consulting there. "Jeff wanted to do something huge, and I was looking for something outside of the advertising and business worlds," says Young. "What we knew we had was this real connection to the outdoors. We're the happiest, the most calm, when we're near the mountains or the ocean."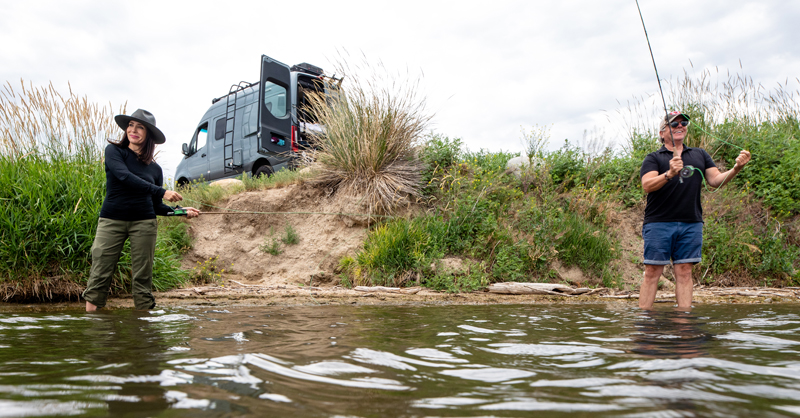 (Photo credit: Andy Austin Photo)
The two started digging into the outdoor recreation industry, which they quickly discovered was one of the largest markets on the planet. "We believed we could create a business that makes us happy, solves a need, and creates a value for the world," Young explains. That idea was cemented when the two came upon the riveting fact that there are 18 million RVs in the U.S. alone, and that the average RV is not used 350 days of the year. "That means there are more than a billion rental days available. That combination drove us to find the right partners, and to create a unique business model," she says.
For Outdoorsy, that model includes a mindset focused on 24/7 customer service and consistently improving the owner and renter key exchange process. They launched the Outdoorsy platform in 2015 with a handful of remote employees and even fewer RVs available for rent.
With no advertising budget to speak of or much of an internet presence, Cavins, Young, and the team relied on referrals and a lovingly produced video to get the word out. Slowly the market picked up steam, as people discovered what's often referred to as "The Airbnb for RV rentals." Fast forward to early 2020, and Outdoorsy had 1.5 million website visitors between January and February.
Then the pandemic struck. "At first, we thought the RV industry might have had a near-death experience," says Cavins, "but suddenly there's this new megatrend around RV consumption. Suddenly people are thinking, 'Maybe we don't need to go to Europe, or go on a cruise.' Now we know RVs are here to stay, and they've been revived as a national pastime." Between May and June, Young adds, Outdoorsy saw more than 7 million visitors come to the site.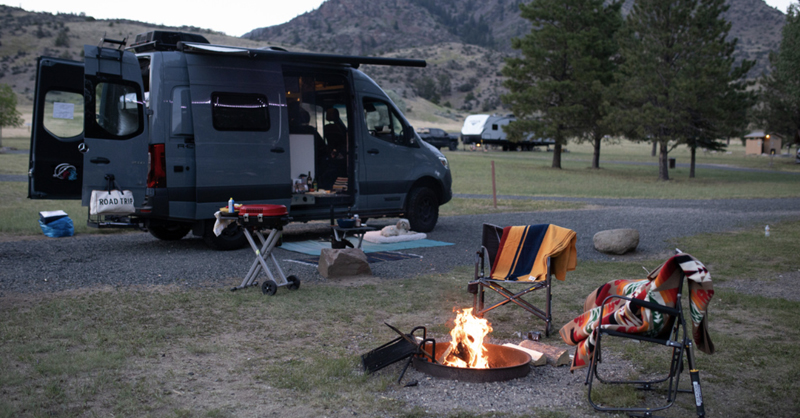 (Photo credit: Andy Austin Photo)
"What we offer is a 'try before you buy' experience," Young explains. "It takes me back to our brand mission: to provide memorable outdoor experiences for everyone. We're big on the concept of accessibility. We want people of all ages and financial abilities to have the RV experience. So, we weren't surprised to learn that in May and June 93 percent of our site traffic came from first time Outdoorsy renters," she says. 
"Outdoorsy is the perfect way for people to test their appetite for RVs," Cavins adds, "We've set up a symbiotic situation where everybody wins."
Since the start of the pandemic, Outdoorsy — as well as the entire RV industry — has had to institute changes to ensure the health and safety of its members and customers. Cavins and Young quickly saw an opportunity to step into a leadership position and create guidelines to protect RV owners and renters. In fact, they were already well set up to do so. 
"One of our founders is part of the Human Biomolecular Research Institute," Cavins explains "and we realized right away there was a large need to fully educate our owner community." He said the first step Outdoorsy took was to teach its owners how to disinfect and decontaminate their rigs. They started by distributing the CDC's cleaning guidelines to their owners and made a further recommendation that all owners purchase and use irradiation lamps, for decontamination after cleaning.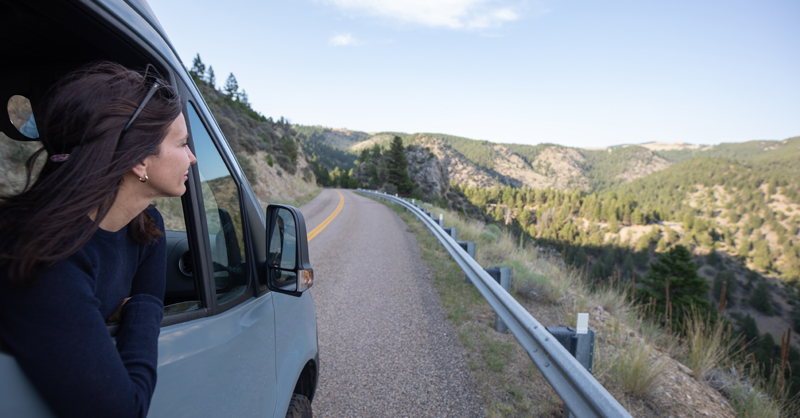 (Photo credit: Andy Austin Photo)
"But we had to figure out what our stance was going to be [with COVID-19]," Young adds. "And we decided it would be an optimistic stance. So, we went up and ran virtual leadership panels, in which we talked about the key issues facing RV owners and potential renters." RV Industry Association's Vice President of Brand Marketing and Communications Karen Redfern participated in one of the panels. With the help of Outdoorsy's RV owner community, the company also spearheaded a "Healthcare Heroes" program through which 150 free road trips were given to essential healthcare workers who have been working around the clock during the pandemic. 
As Outdoorsy continues to expand its global platform — the company is now live in 4,800 cities and 14 countries — Cavins and Young are acutely aware of the need to keep the quality and experience of Outdoorsy paramount. Their goal to improve the key exchange process is evidenced by their commitment to spending as much time as needed with both owners and renters. "This is where education once again comes in," Cavins says. "We're building more educational resources into our mobile app. We created very specific, clearly structured packing and departure checklists. How to operate the power and water, how to drive [an RV], rig height considerations — all of it. It's a day-to-day battle of making improvements to our resources, guidebooks, and everything else we offer."
Through their membership in the RV Industry Association, Cavins and Young have been able to glean information and best practices that help support them in their ongoing journey. "First and foremost, the data, particularly around demand, and insights on topics like consumer sentiment have been invaluable," Young says "But it's so much more than that. Karen Redfern has been a wonderful ally and mentor. She has helped other members understand that Outdoorsy is promoting the category and expanding the market. And she has helped us build the brand and reach customers. The RV Industry Association does such good work in promoting products and experience and we want to align with the same messages that the RV industry is putting out."
"We really care what each customer experience is like," Young adds. "Our charter as a company is to make long-term progress in the outdoor recreation space. It's also why we care about the RV Industry Association so much. We're customer-led first. We partner with industry brands to build our business. The RV Industry Association community is a diligent one, one that delivers on promises to their members. They are cultivating positive experiences in the RV travel industry, which is exactly our goal as well."