To say that Vikram Kaul took a very unusual path to the RV industry may be considered a massive understatement. He never used his engineering degree and had never stepped foot in a manufacturing facility until he bought one. His career has been dictated more by wanting to pursue fields that he found interesting and about which he feels passionate. Viewed through that lens, his path doesn't seem that unorthodox.
Kaul, who grew up in New Delhi, India, earned a degree in mechanical engineering from the prestigious Indian Institute of Technology (IIT), known as the MIT of India. Rather than take a job in the field, he went on to earn a finance degree from the Indian Institute of Management in Bangalore. He moved to New York in 1999, received an MBA from New York University and spent the next 10 years on a very successful career on Wall Street, working for UBS, Merrill Lynch, and Deutsche Bank. 
By 2011, Kaul had moved on to the healthcare industry, where he spent the next seven years in finance and business development roles at Manipal Education Americas in New York, which runs a medical school in Antigua. While there he met Yong Lee, an entrepreneur who was running some home health care businesses.
"So, we decided to work together and give up the corporate life--with the idea of being in control of our own destiny," Kaul says.
"Our first few companies have nothing to do with the outdoors; they are around long-term medical care," Kaul says. "We wanted to help the senior population of the country." But two years ago, Kaul and Lee were introduced to Joe Kicos, the founder of Little Guy Trailers, one of a handful of teardrop trailer manufacturers, and one of only two RV manufacturers in Pennsylvania. They learned that he was planning to sell the company. "We stayed in touch. One thing led to another, and in July of last year, we formed Xtreme Outdoors and bought the assets of Liberty Outdoors (which made Little Guy Trailers). It wasn't by design—but the more time we spent looking at the RV business model, the more we realized it was a very exciting and fun industry to be in," says Kaul, adding, "There's a lot of room for innovation and trying new things."
What seemed like good timing turned out to be somewhat unnerving initially but turned in the opposite direction. Kaul explains that he and Lee were monitoring the RV industry, and noted it was in a downturn after having grown rapidly. "We had no short-term expectation that things would come back," he says.
"We were looking at a longer path and were prepared for a wait. We saw that the RV industry catered to a certain market population, but there were new customers, like millennials, who were starting to show interest" he explains. "We felt that if we came in for the long term, we could produce new things to excite that market segment." 
The two also made a commitment to changing the sentiment by some consumers that some of the smaller manufacturers were not producing as good a quality of product as the larger RV makers. "We decided to push more on that side to produce a better-quality product," Kaul says. "We see this as a long-term growth pattern. And we are very patient owners and operators. We don't sell our companies, so we have no rush for the business to grow quickly."
Kaul and Lee had no idea, of course, that just around the corner was a pandemic that would rock the world, decimating some businesses and spurring others to grow exponentially.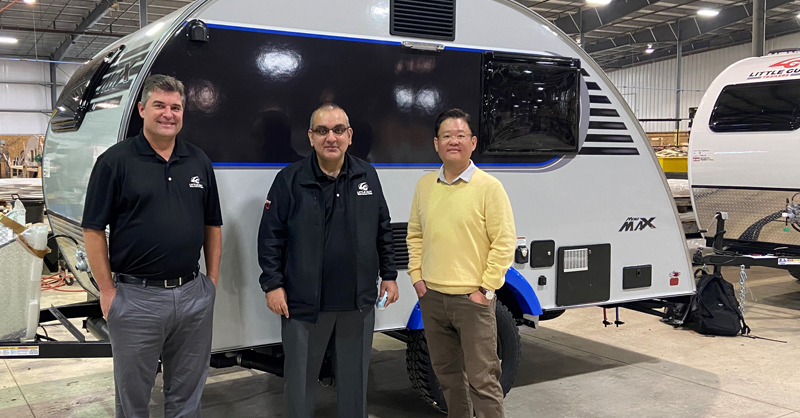 (Photo: Xtreme Outdoors Executive team L to R: Joe Kicos, Director of Sales and Founder, Little Guy Trailers; and Vikram Kaul and Yong Lee, Founders, Xtreme Outdoors)
Just at the time the pandemic hit, Kaul says, Xtreme Outdoors was beginning to hit its stride, by rectifying manufacturing issues and getting dealers and customers comfortable with the Little Guy brand again. Then they were forced to shut down operations, as did nearly all RV makers across the U.S. "That was a bit unfortunate," he says, "but the benefit is that we have just two owners, so we're self-funded and take very little leverage. We're not in any rush and could wait out a fairly long downturn. Mostly, we wanted to stay safe."
During the shutdown, Kaul and Lee continued to work out the quality issues and were prepared to come back with full force. By then they had done enough work to restore the brand equity to Little Guy Trailers, ensuring the outside world that the brand was back—and here to stay. Once Americans realized the safest way to travel in 2020 was in an RV, and manufacturing resumed, Little Guy Trailers were inundated with orders from dealers. "We have a massive backlog—twice of what we normally have," Kaul says.
"We're spending a great deal of time giving dealers anticipated delivery dates, so they can manage their customers' expectations."
Like many manufacturers, Kaul and Lee re-hired most of the employees they were forced to lay off and are looking to hire more. "We have a core group of employees who are passionate about building quality products--these are the ones who will help us expand," he says. And, like many manufacturers, the other most pressing issue Kaul continues to deal with daily is the supply chain. "We've invested a lot of money and effort into overstocking and trying to cut the delays as much as we can, but of course we're dependent on some components that are made elsewhere, just as most RV manufacturers are."
Kaul and Lee are letting no stones gather moss in any respect: Xtreme Outdoors plans to re-launch, in early 2021, a new line of "MyPod" ultra-light trailers designed the appeal to millennial consumers who simply want a place to crash after a day of off-roading, hiking, mountain biking, or other outdoor activities. Xtreme Outdoors is also planning to launch in early/mid 2021, the Little Guy MicroMax, a garageable, lighter Teardop trailer.
When they acquired Little Guy's assets, Xtreme Outdoors also assumed a Little Guy's seat on the RV Industry Association Board of Directors, which Kaul says has been both professionally and personally rewarding.
"The RV industry Association on the manufacturers' side is unique; it treats all of us the same, and helps the small guys get an equal voice about where we should be headed as an industry. I'm able to lay a case out for what might help me, and I'm looked upon equally," he says.
The RV Industry Association was particularly helpful during the early days of the pandemic, he explains: "They put a lot of focus on safety for manufacturers, including providing guidance on Covid-related concerns, like how to maintain social distancing in plants, where you have such a manual labor-intensive setting." Kaul says the association also stepped up when Xtreme had to deal with a product recall. "It was actually a very minor issue, but we didn't know where to start. After a 15-minute call with the RV Industry Association, we found out exactly how to handle it. In any other industry I would have spent days and would have needed legal counsel just to figure out the first step. As a member, that's a great resource to have."
Kaul says he also appreciates the fact that there is a lot of proactive coordination across different industry groups, which makes for very cohesive decision-making. "It's very different from a number of other associations I've been involved with-- it's very hands-in, and you have access to resources and to people with decades of experience in an industry they're passionate about."