Adjusting to virtual learning has presented challenges for everyone—parents, educators, kids. But one family has found a way to make it work for them with an out-of-the-box homeschooling space. Meet Keith and Tia Sims, the family-oriented bloggers behind Soulful Family RV. They travel with their children across the U.S. in an RV together—learning, homeschooling, and blogging as they go.
The Sims—Keith, a former NFL offensive lineman, Tia, and their five kids, Cairo, Storm, Keith Jr., Jayson, and Justin—started part-time RV-ing seven years ago. It's given them the chance to focus on their familial values and the togetherness of traveling as much as education. After all, not all learning happens in the classroom.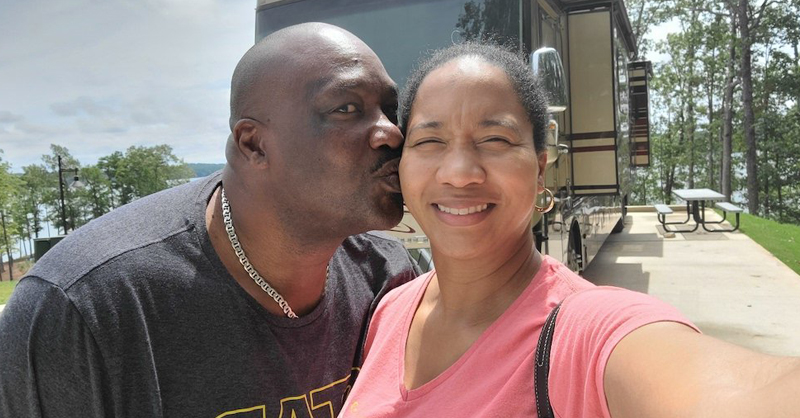 "We are an African American family that believes in loving each other, supporting one another and trying to teach and empower our children to be knowledgeable of our history so they can be leaders, entrepreneurs, and make positive impacts on society and our country," Keith tells Parade.
When it comes to how the family got into the #RVLife, Keith says Tia was instrumental in getting the ball (or wheels, rather) rolling.
"I give all the credit to my wife, Tia. She spent a few years dragging me to RV shows in an effort to convince me that our family needed to get into the RV lifestyle," Keith explains. "Tia is a stay-at-home domestic engineer, homeschooling mom, and former social worker. She was passionate about the possibilities of RV-ing and what it would bring to our family."
He adds, "We started actively RVing the summer of 2014 and have not looked back."
Ever since, the Sims family has enjoyed hitting the road whenever they can.
Tips for RV homeschooling
The Sims usually spend about 100 nights out of the year in their RV. They travel, sight-see, explore unique learning opportunities, and homeschool right from the convenience of their camper.
So, naturally, every pandemic parent enduring remote learning right now is wondering the same thing: What's the secret?
"We have been homeschooling our three boys for the past six years and we still are learning and adjusting," Keith admits. "One of the biggest pros is the dynamic flexibility that it offers our family… As parents we wanted their learning process to always be interesting and geared toward their interests. RV-ing and homeschooling have given us the ability to add to their educational experience and place them in spaces with experts in various disciplines that offer them in-person, hands-on opportunities that kids in the classroom are rarely able to experience. Their curriculum is limitless and in many ways it is tailored to them as individuals."
A big part of on-the-go homeschooling, according to the Sims, is taking advantage of opportunities students couldn't get in a classroom. Traveling while homeschooling gives more opportunity for "field trips" if you will.
"Even though many of the museums and in-person opportunities are on hold, we are still able to utilize online and virtual options," Keith says. "We travel with our homeschool curriculum at all times."
Check out the full article from Parade here.
Subscribe to News & Insights