This article is part of a series on Corporate Social Responsibility (CSR) that features members of the RV Industry Association who are leading the way with impressive CSR efforts in our industry. Winnebago's Corporate Responsibility Leader and Executive Director of Winnebago Industries Foundation Katy Friesz shares the incredible ways Winnebago is making strides investing in product innovation for consumers, as well as its focus on engaging with their employees and community. Check it out!
WHAT DOES CSR DO FOR YOUR BOTTOM LINE?
Some seasoned RV industry folks may think that Corporate Social Responsibility (CSR) is synonymous with eating into profits. However, research generally concludes that CSR efforts actually have a good chance of increasing profits. 'Profit' is one of the three pillars of CSR efforts (the other two being people and planet) since companies that solely focus on 'people' and 'planet' won't be around for long, despite the good they may do, if they aren't successful financially.
Well-known large corporations are already on board with the value of CSR. Two of the leading public companies and retailers in the world, Nike and VF Corporation for example, are marketing themselves through a CSR lens to their investors and have made major strides in demonstrating their commitment to social and environmental betterment goals while at the same time setting aggressive business growth targets.
It is more than possible to significantly increase your sales while at the same time enhancing productivity, reducing employee turnover, and earning your company a reputation advantage with the public by employing CSR programs.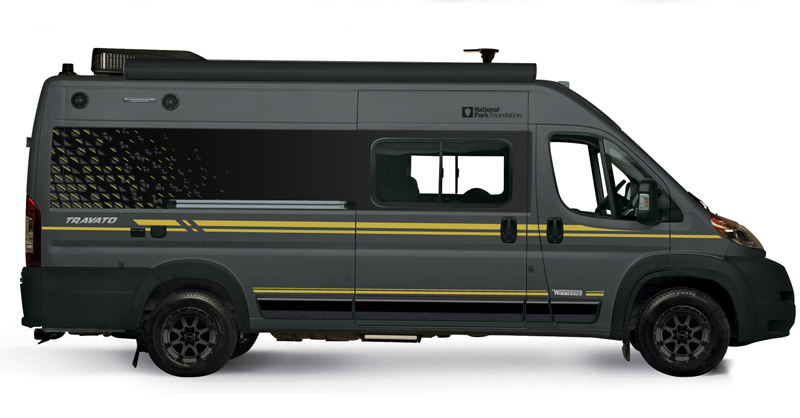 (Photo courtesy/Winnebago)
CONSUMER TREND – DO CONSUMERS REALLY WANT THEIR COMPANIES TO BE MORE SOCIALLY CONSCIOUS?
Absolutely. Consumers, and employees, are paying more and more attention to not only what products a company is selling, but how the company is engaging with their community. It is more important than ever before for companies to make their values clear. The public is interested in, watching and making purchasing and investment choices based on a company's morals.
Corporate responsibility is ultimately about taking a long-term view - being thoughtful and intentional in considering how environmental, social, and governance (ESG) factors align with and play into your overall business strategy. Customers will increasingly think about sustainability, institutional investors are already asking about CSR, and CSR will increasingly serve as a proxy for good management. Millennials are asking for more from the businesses they engage with and are already an important part of the RV industry market. Simply put, you are already behind the times if you are not incorporating CSR into your strategic planning for your business.  
WHAT IS WINNEBAGO DOING TO BETTER INVEST IN ITS CONSUMERS, EMPLOYEES AND COMMUNITY?
Winnebago Industries is making incredible strides with product innovation across their business units. Their teams are focused on innovation that is beneficial to consumers, the company and its broader communities. For example, their Winnebago Specialty Vehicles Group provides great examples of incorporating human-centered design practices that focus on how products can be most functional in meeting the needs of end use consumers.
Working with Samsung NeuroLogica and Volta Power Systems, Winnebago Specialty Vehicles has created the first hybrid electric mobile lung unit. Incorporating the world's first portable full-body 32-slice CT scanner, this mobile clinic can operate for 8 to 10 hours on a single charge and is now bringing critical lung-cancer screening to areas that have long been underserved.
The company is also working on Winnebago accessibility enhanced vehicles to make the outdoors more accessible to wheelchair users or those with mobility constraints. Recently, Winnebago Industries supported nonprofit partner No Barriers USA ambassador Nerissa Cannon on her journey to the No Barriers Summit.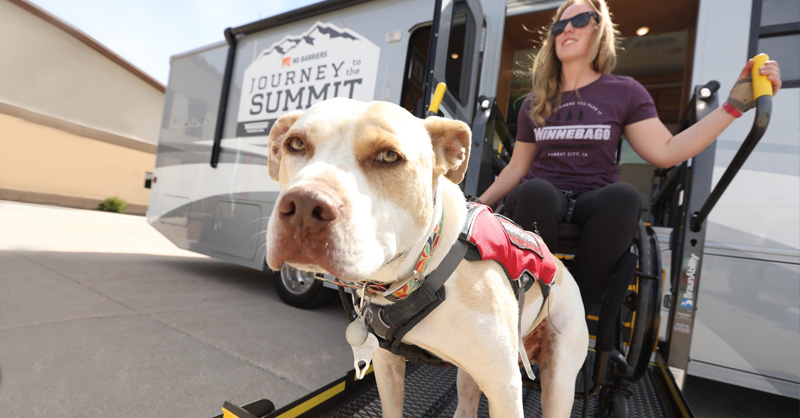 (Photo courtesy/Winnebago)
The company is also focused on engaging their employees by supporting them in the causes they care most about. They have formed 'Community GO' teams to identify needs, opportunities and nonprofit partners in their communities. These teams then put together volunteer opportunities for their colleagues. The month of May was a Care Camp pack-a-thon with KOA Care Camps, so across Winnebago Industries' locations, employee volunteers assembled packages for nearly 2,500 care campers which will enable these kids to have a better camping experience this year. In addition to financial support provided by the Winnebago Industries Foundation, these kinds of community investment opportunities enable employees throughout the Winnebago, Grand Design and Chris-Craft families to develop deeper and more meaningful philanthropic relationships in their communities. This kind of investment in their employees' connection to their community is an important component in retaining a great team and recruiting the next group of innovators into the RV Industry.
The company's most recent CSR venture has been an exciting new partnership with the National Park Foundation. This multi-year agreement supports a nationwide public awareness campaign that seeks to inspire people of all backgrounds and abilities to discover and share their own unique connections to America's national parks. Connecting underserved communities with transformative outdoor experiences is vital to the future health of our natural environment and the growth of the RV industry.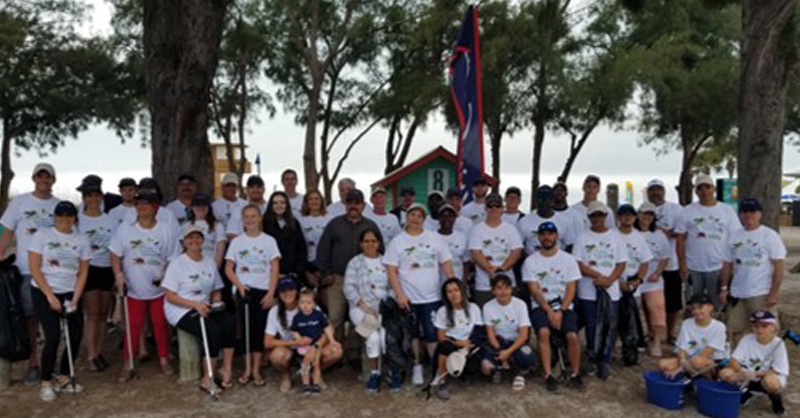 (Photo courtesy/Winnebago)
WHY IS CSR WORTH DOING? WHAT BENEFITS ARE YOU SEEING ALREADY FROM YOUR CSR EFFORTS AT WINNEBAGO?
A continual goal at Winnebago Industries is driving a high-performance culture. This includes recognizing community investment and employee community engagement as two key pillars of cultivating a high-performance environment. By making sure employees feel engaged and that the company they are a part of values the communities and organizations that are important to them and their future, positive outcomes in recruitment, retention and overall satisfaction will follow.
Winnebago Industries ESG/CSR initiatives are also important topics of interest for external customers and stake holders for some of the same reasons. Both the investment community and retail consumers are developing a much keener sense of awareness on the level to which the companies they interact with conduct themselves in a socially responsible and sustainable manner and those factors are likely to grow in importance for future investment and purchase decisions.
Learn more about corporate responsibility at Winnebago Industries.
Are there CSR initiatives underway at your company? Would you like those efforts to be featured in an upcoming RV Industry Association spotlight in this series? Contact Ashley Brinkman at [email protected] with the government affairs team today to start a discussion!