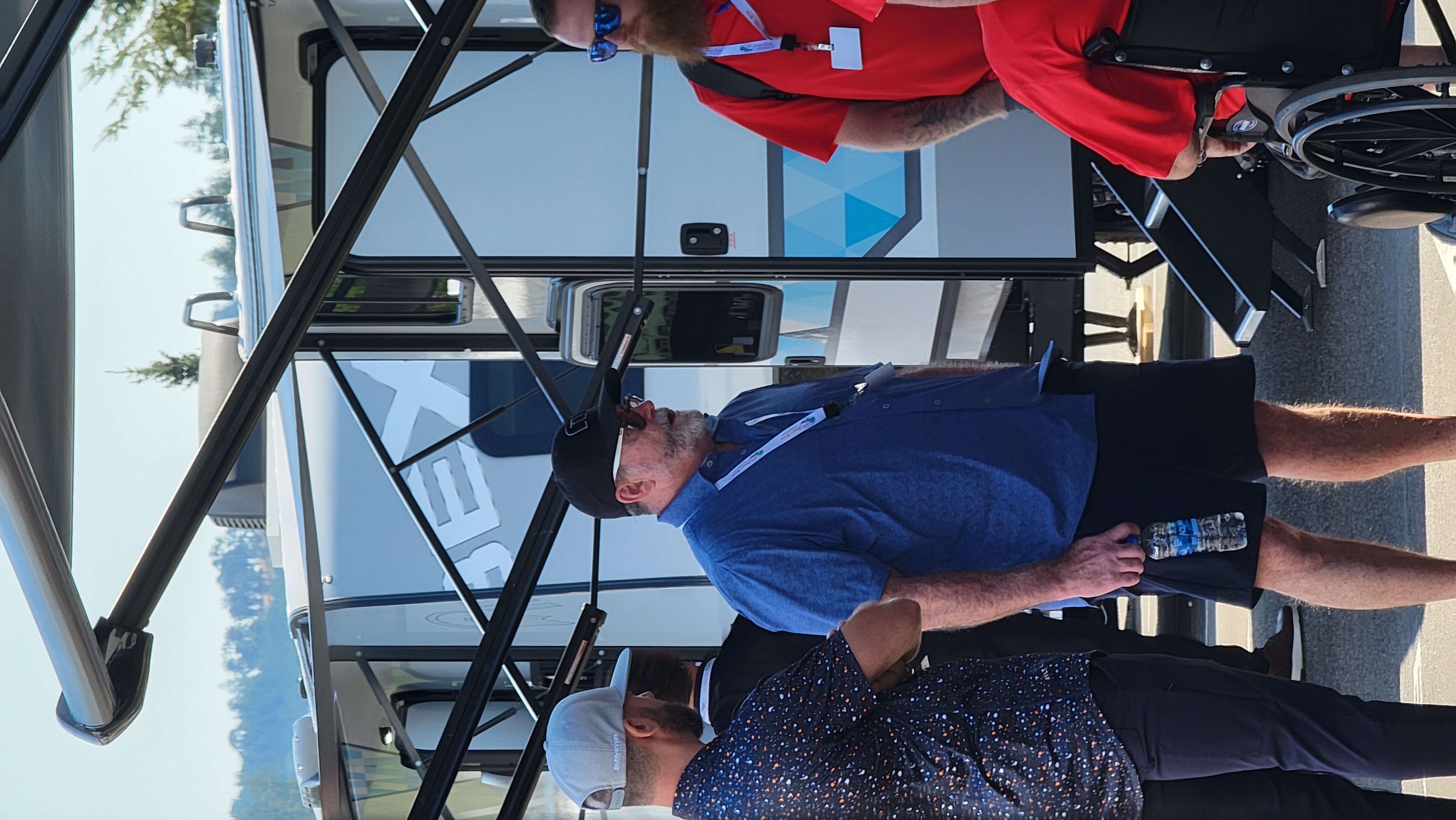 Building industry unity, increasing campsite availability, improving repair event cycle times, and accommodating electrification are just a few of the ways incoming RV Industry Association Chair Kevin McArt intends to protect the industry once he begins his term as Chair in 2023.
The Forest River General Manager has been on the RV Industry Association board since 2017, serving as a member of the Market Information Committee, Chair of the Audit Committee, Chair of the Investment Committee, Chair of the Strategic Planning Committee, member of the Canadian Coalition Committee, past chair of the Public and Legislative Affairs Committee, and acting as treasurer on the Executive Committee. But when he first joined the board, after encouragement by former RV Industry Association Chair and Forest River colleague, Doug Gaeddert, McArt described his experience as "baptism by fire."
"Had there been an Emerging Leaders Coalition 20 years ago I would have had a better understanding of the RV Industry Association and a much stronger relation with my Industry colleagues." said McArt, giving credit to Board member Ryan Elias and staff liaison Samantha Rocci for their hard work and dedication in standing up the Emerging Leaders Coalition.
Born and raised in Elkhart, McArt and his wife of 30 years, Heidi, have three children, one grandchild, and another on the way. 1992 was a seminal year for him. Not only did McArt marry and start in the RV industry that year, but he also began working for the same man for whom he still works three decades later: Pete Liegl, then the co-owner of Cobra Industries. Starting as a sales coordinator, McArt rose to Regional Sales Manager for Cobra's motorized division before the company was acquired by Forest River in 1996. Today, Liegl is the CEO of Forest River, which was acquired by Berkshire Hathaway in 2005.
While McArt's childhood was spent vacationing in his parents' Coachmen motorhome, he never planned a career in the RV industry. He intended to follow in his father's footsteps as a surgeon and graduated from Indiana University, Bloomington with a degree in Chemistry. But a passion for building and designing things eventually led him away from medicine and into the RV industry.
"I grew up either playing outside, restoring antique cars, or building model airplanes, trains and rockets." said McArt, who credits his father for inspiring his love for designing new and innovative RV brands. "I like bringing to market innovative concepts that excite consumers. At Forest River you are given the freedom or autonomy to do just that. A lot of what makes Forest River is its culture. We host company picnics, softball tournaments, fishing and gaming tournaments and this year was our second annual Halloween Spooktacular – all geared towards the employees and their families! There is a difference between having to go to work and wanting to go to work, and I believe people want to work for a company like Forest River!"
But McArt is humble about his many accomplishments, insisting, "It's a team effort; I'm very fortunate to work alongside such a talented group." He also admits to a few failures among his many successes. "You have to break a few eggs in order to make an omelet!"
Forest River's No Boundaries line, which caters to outdoor enthusiasts, is where some of McArt and his team's innovations have recently appeared, as the General Manager of this line, as well as the Surveyor, R-Pod, and IBEX lines, he keeps busy overseeing the day-to-day operations at seven facilities in Indiana and one in Oregon.
He expects to be even busier as the incoming RV Industry Association chair, although he's quick to point out that he'll be well supported.
"The RV Industry Association staff is awesome! They do a lot of the heavy lifting," he said. "For instance, the Government Affairs team helped champion the Great American Outdoors Act, which was the largest investment in our public lands in nearly a century. The RV Technical Institute continues to recruit and train service technicians, raising the bar in customer satisfaction, the Standards Department maintains our Industry's Self-Regulation, and for over 20 years Go RVing has been the consumer marketing leader."
With the limelight comes challenges, however, like campsite availability. There are currently 11.2 million households that own an RV, but only 1.6 million campsites.
"If RVers can't find campsites near their preferred destination, we run the risk of them exiting the lifestyle," said McArt. "A lot has been accomplished with public campgrounds but there are many opportunities that remain within the private campground sector."
Because of the lack of campsites, boondocking and off-the grid products are gaining popularity, he noted. "I see a growing market today for alternative energy and power sources, like solar and lithium battery systems."
McArt also sees the need for more infrastructure to support the increasing trend towards electrification or EV's. "From an OEM standpoint, design and components are going to need to change. There will be a demand for smaller, lighter weight RVs," he said. "Teslas are now pulling R-pods. But you can't travel far without needing to charge the tow vehicle, so that infrastructure must be in place. We're not ready for it."
McArt also intends to continue focusing on repair event cycle time as a means of taking care of customers. "Part of protecting the industry is making sure customers can get their RVs serviced in a timely manner and that the parts and technicians that dealers need are readily available," he said, praising the work of the RV Technical Institute in recruiting and training of service technicians.
The future for the RV industry, despite a changing landscape that includes dealer consolidation and inventory management challenges, looks better than when he first entered it, McArt said. "As a $140 billion industry, local, state and federal officials take notice!"
Subscribe to News and Insights