The RV Industry Association's Standards Department has released a revised version of the American National Standards Institute Uniform Plan Approval-1 (ANSI UPA) 2019 edition. UPA-1 describes the plan approval requirements to ensure a high degree of safety and health for occupants using RVs.
This revised version contains minor changes reflecting how plans can be submitted to the Authority Having Jurisdiction (AHJ). The AHJ is an organization responsible for approving equipment, installation or procedure. Therefore, it's important at the beginning of any project that the AHJ(s) be identified by an agency/organization.
Key changes to the UPA-1 include, new provisions addressing floor plans for lofts along with the location of stairways, tread and riser dimensions, handrails and guardrails, ramp doors, generator connections, solar power sources, plumbing low point drains and traps. Fire & Life Safety has been enhanced to include ramp doors, and location of stairways. Generator, solar and other alternative power source connections to both low voltage and 120V power assembly diagrams have been added to the electrical section of Chapter 3.
All proposed editorial revisions were considered and finalized by the UPA-1 Canvass Working Committee and RV Industry Association staff, and the revised UPA-1 was approved by the ANSI Board of Standard Review on March 8.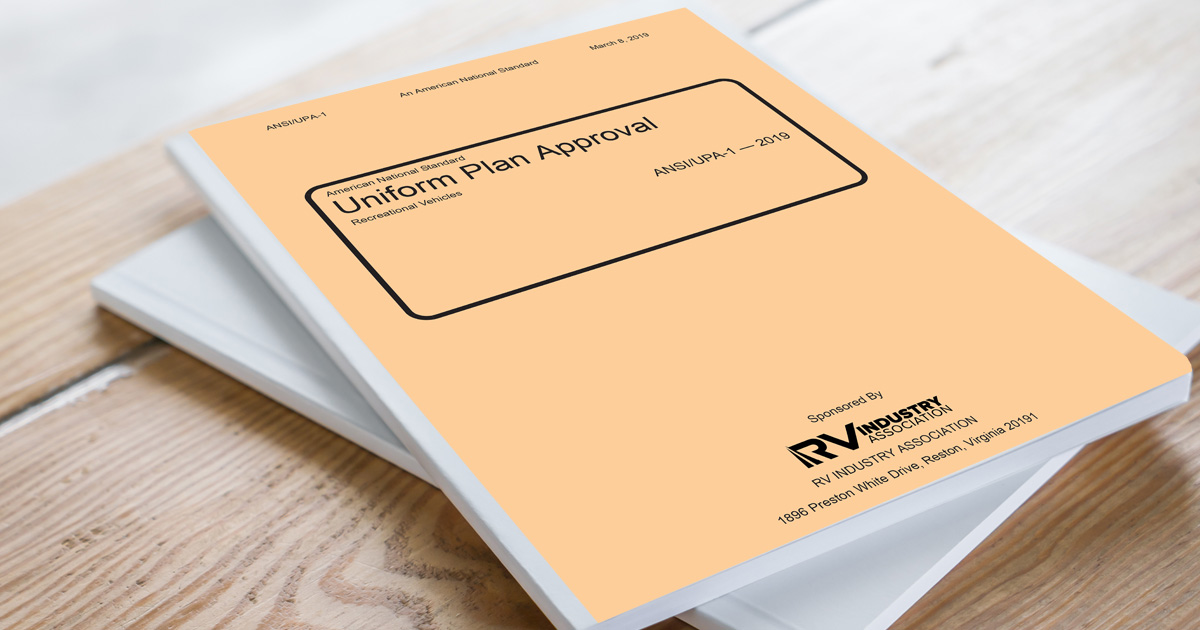 Voluntary consensus standards serve as the foundation of the U.S. economy and are the fundamental building blocks for innovation and competitiveness on the global stage. The Uniform Plan Approval was developed under the published procedures of the American National Standards Institute which utilizes a canvassing method in developing evidence of a consensus.
UPA standards for the RV industry didn't exist prior to the development of this standard. Members with a background in engineering and others associated with design, manufacturing and inspection of RVs have been aware of the need for uniform plan approval standards. They have also recognized that, because of the various agencies involved with plan approval for RVs, consistency in plan approval development was necessary. It was with these elements in mind that this standard was developed. Though first published in 2000, the UPA-1 didn't undergo its first substantial revision until 2009, which clarified how gross trailer square footage was determined and added a requirement to identify the location of gasoline fuel dispensing hose nozzles on the floor plan.
The RV Industry Association encourages every member of the RV community to read and endorse the Uniform Plan Approval and urges those in the RV industry to incorporate its core tactics into their own organization's practices.
The UPA-1 and accompanying background information is now available and can be purchased here.
If you have any questions about the new edition or anything pertaining to standards and regulations, please contact kperkins@rvia.org or jnichols@rvia.org.