Last week, the RV Technical Institute opened its doors to the first class of RV technicians at the new Elkhart, Ind., campus where 25 students started their 8-week long journey covering the new Level 1 RV technician curriculum and a pilot of the Level 2 curriculum. We met with one of the students, Ken Benjamin, to learn more about his experience thus far and what he's looking forward to in the rest of the course.
RVTI: Tell me a little about yourself and your background in the RV industry.
Ken: I am a registered RV technician and have worked for four years at Trailside RV in Grain Valley, Mo. Even though I am already a certified RV technician, when my company was given the opportunity to participate in this pilot program, I jumped at the opportunity.
RVTI: What are you looking to gain from taking the RV Technical Institute courses?
Ken: Everything changes so quickly, so even though I am already a registered technician, I am looking forward to learning more and improving my skills and knowledge. I have actually had Mike Anderson as a trainer before and even though I've been in the industry, he is so knowledgeable that I am still learning a lot.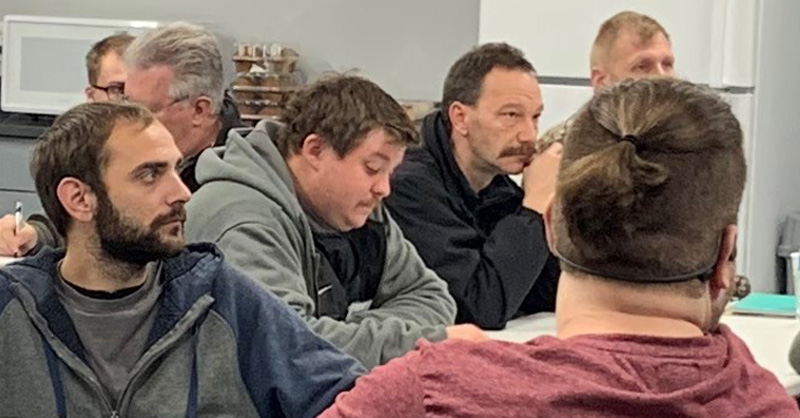 (Ken, third from the left, on day one upon arriving at the RV Technical Institute)
RVTI: Since you have done technician training before, can you tell me a little about how this new curriculum and training program is different than other trainings?
Ken: The hands-on aspect helps tremendously for this industry and is ideal for how my brain works. There are two other technicians from my company who are here as well. They have less experience in the industry, about five and six months each, and they have gotten so much out of the trainings so far. Mike provides a good example for how things should be done, and the students are then able to take these best practices back and adjust as needed for their individual shops.
RVTI: Next week starts the Level Two training which will focus on how to diagnose, troubleshoot, and repair all the systems of an RV. What are you looking forward to most in this upcoming training?
Ken: Level One provided a pretty well-rounded experience that equips you to be the first person to see the RV. Next week, with Level Two, I am hoping to learn the standard process for diagnosing an issue. I've been diagnosing RV problems for years but having a clear starting place and standardized process will be very beneficial. I am also looking for training on some of the newer technologies that are out there.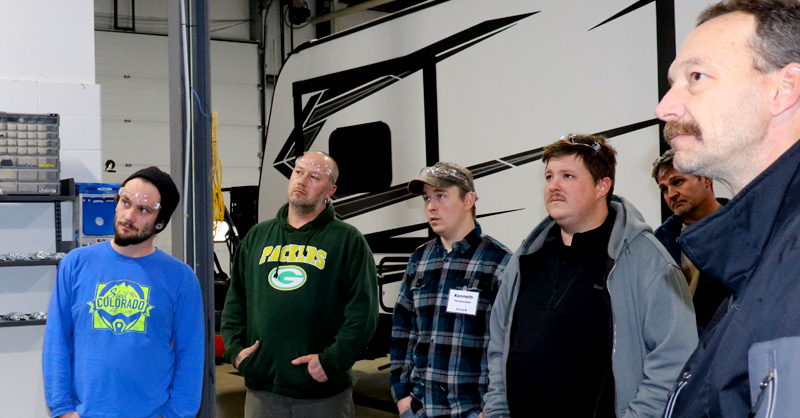 (Ken, far right, with his classmates observing their instructor during practicals)
RVTI: What would you tell anyone who is thinking about a career as an RV technician?
Ken: Before I became an RV technician, I didn't know there were even people who fix RVs! But this is a great career for anyone who is interested in plumbing, electrical, and fixing things. When you are able to diagnose the problem and then fix it, that is really fulfilling work.
RVTI: Anything else you would like to share about yourself or your experience?
Ken: So far, the experience has gone really well. There is a lot of knowledge coming at you at once. And you could see the fear in the eyes of some of the newbies. But it all comes together and becomes clear by the end of the week. The hands-on training really brings together what you are hearing in the classroom lectures with what you are seeing in the RVs. I wish this class would have been available when I joined the industry, but even four years later it is providing a ton of value.