When the RV Technical Institute officially opens its doors on Monday, September 23 at its new location in Elkhart, Ind., there promises to be considerable excitement within the RV industry, but for one person, it will be especially meaningful.
For Curt Hemmeler, the executive director of the RV Technical Institute, it is the culmination of many years of working to improve technical education and training for service technicians. Hemmeler will play a significant role in the running of the facility and implementing the Institute's business plan, including the recruiting and training of RV technicians nationwide.
Hemmeler – who most recently served as vice president of operations and strategy at WyoTech - says he is thrilled to be part of the RV industry, which he calls "the heartbeat of America," and excited to be able to help shape a new kind of business model combining education and business.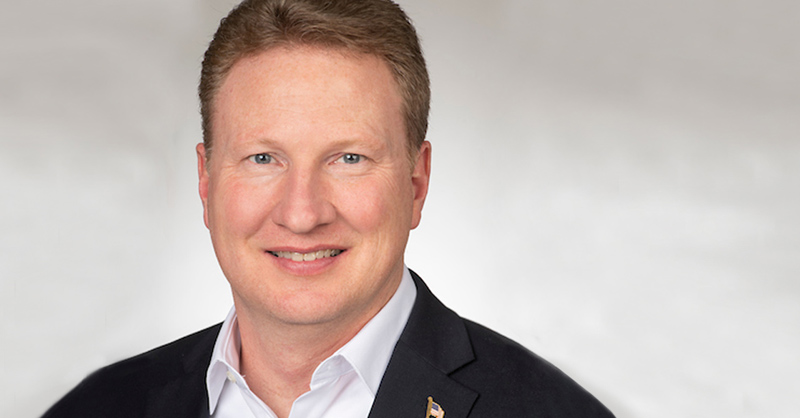 (RV Technical Institute Executive Director Curt Hemmeler.)
"I salute the RV Industry Association for creating the Institute and understanding that there are not enough RV technicians available," Hemmeler said. "Supporting more experts in the field can only result in a better experience for customers as well as for dealers."
In June 2018, the RV Industry Association's Board of Directors approved a comprehensive strategic plan and multi-million-dollar investment to address RV owner satisfaction by creating the RV Technical Institute - to solve the RV industry's shortage of trained technicians and to implement metrics to track the RV customer experience. Subsequently, after a nationwide search, Hemmeler was chosen to run the RV Technical Institute.
When asked why he was drawn to this position, Hemmeler explained, "For 23 years I had been on the education side of organizations, and before that, I was a technician in the Air Force. So this new job combines both, with the chance to return to my roots; I am a technician at heart." He added, "It was also appealing to me that the RV Technical Institute is set up as a non-profit, which makes it much easier to recruit students. Sometimes high school graduates think that going to college is the only way for them to succeed. But not everyone is cut out for college. We want to show them there is another way to get a good job – for instance, as an RV technician."
Hemmeler also identifies closing the skills gap as one of the defining goals of the Institute. "I have spent the last decade focusing on this [skills gap], working on the education side while collaborating with American industry. Within education, there are accreditation and regulatory issues to deal with, while at the RV Technical Institute, students can move up quickly in an intense and targeted manner as they master our four levels of training."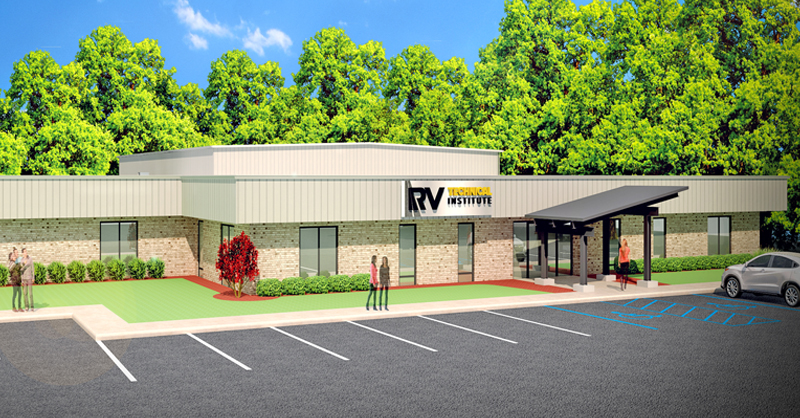 (Rendering of new RV Technical Institute facility.)
According to the Institute, a technician will be deemed a Level 1, 2, 3, or Level 4 technician based on completion of designated levels of training and the ability to successfully demonstrate the required knowledge and skills associated with each designation. Each level of training builds on the foundation of the previous level and allows the technician to become a generalist or a specialist.
The new technician training program will cover theory and application, specialties training and troubleshooting. The four levels are as follows:
Level 1 – A pre-delivery inspector (PDI) technician with a proven skill set to prepare an RV for customer delivery by verifying the operation of all components
Level 2 – A technician that has theoretical knowledge of all the systems and components within an RV and a proven skill set to be able to diagnose, troubleshoot and repair those systems and components
Level 3 - Specialties – A technician that has completed vendor trainings on specific types of components increasing their proficiency in troubleshooting and repair  
Level 4 – Master Technician – This technician has completed all five designated specialties through vendor trainings and is proficient in troubleshooting and repair of ALL the major systems and components within an RV
"I am very excited to be a part of something that will leave a positive legacy within the RV world, as well as help to wipe out the national skills gap," said an enthusiastic Hemmeler. "It all begins later this month in Elkhart!"
The Grand Opening of RVTI's new facility will take place in conjunction to the Elkhart RV Open House on Monday, September 23 from 5 p.m. – 7 p.m. Of course, Curt Hemmeler will be attending the celebration, as well as US Representative Jackie Walorski of Indiana, RV Industry Association Chairman Garry Enyart, RV Industry Association Interim President Craig Kirby, RV Technical Institute board members, and other local business leaders in the community. The official ribbon-cutting ceremony will begin at 5:30 p.m. followed by an open house and tours of the facility. Additional tours will be provided throughout the week – sign up today!