Taking on new challenges and moving up the corporate ladder is nothing new for Sharonne Lee; she's been a vital part of the RV Industry Association for more than 30 years. Lee began her professional career as an RV Industry Association Standards Clerk in 1988, working her way up to RV Technical Institute's Senior Director of Education in 2014 and a just-announced promotion to Vice President of Education and Operations for the RV Technical Institute.
As Senior Director of Education, Lee played a significant role in developing, managing, and executing the RV Industry Association's service technician training and credentialing programs. Her new role at the Institute will allow her to increase her focus on professionalizing the field for RV technicians throughout the U.S. and improving the consumer experience by reducing the repair event cycle time.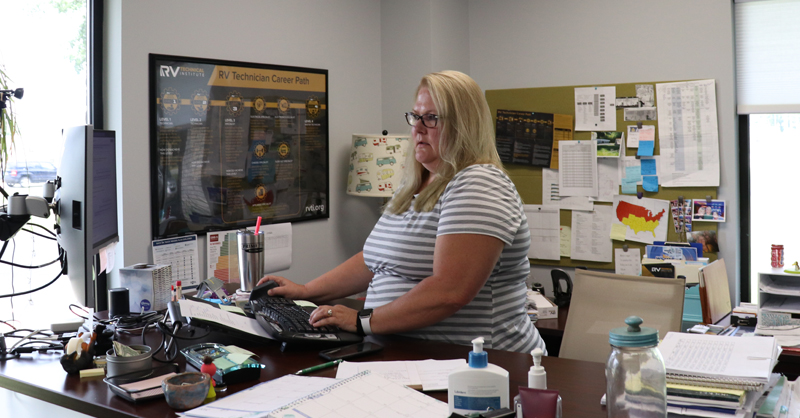 In announcing her promotion, RV Industry Association President Craig Kirby said: "Sharonne has a deep understanding of our industry and a long history of anticipating the needs of our members, implementing processes, and embracing technology to improve our education offering."
Lee emphasizes that her new position will entail more involvement in the day-to-day operations of the RV Technical Institute and its students. "Being in a position to talk directly to our students, the technicians, is something new in the RV industry and very rewarding as we help technicians and students achieve their goals of training and certification." And she stresses that her new position will allow Curt Hemmeler, Executive Director of the RV Technical Institute and Senior Vice President of Standards, to be more involved strategically from the Standards and Education points of view. "Curt has said that there is so much synergy between Standards and Education. We are both really educating, just educating on different topics. And some of the topics even overlap. It makes sense for the two areas based in Elkhart to move together strategically under Curt."
Says Lee, "While Curt is here to help us with things like education, innovation, and taking things online, I'm giving him the industry background -- showing him what barriers we need to build bridges around or over."
Hemmeler praised Lee's contributions to the RV Industry Association. "She's been working here for 30 plus years, and has worked predominately in both sectors, so promoting her to be the orchestrator of operations on both the Education and Standards sides will allow me to strategically innovate for both entities. I think it's going to be a good strategic move in the long term evolution of both standards and the RV Technical Institute."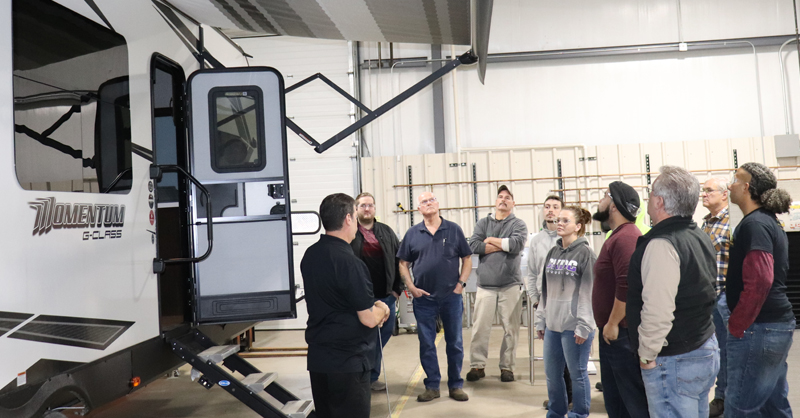 The latest challenge for the Institute at its Elkhart base is, of course, the coronavirus. The RV Technical Institute is continuing to train techs – moving the Level 1 courses online through the summer. Explains Lee, "We are hoping to have students physically into class here at the campus this September, but we are flexible. We are also making changes to our online presentations. We signed a contract with an instructional designer who is going to take the Level 1 Course up a few notches in a delivery that is more self-paced rather than the current live webinar format. We are hoping to have the ability to turn our labs into virtual labs where we can still get students assessed without physically having to go various tests such as the drop pressure tests, so we can evaluate their skill levels and still teach them. We'll have to see how that performs."
Adds Lee, "We're excited about our ever-evolving online programs. In the meantime, our existing webinar course is still doing very well, particularly for those who have a background in the industry. For those who know nothing about the RV industry, they need a little more background. It's not so much a knowledge-based course, but more dependent on skill levels. So they need to do the labs if they are to be successful."
No matter what the fall brings, Lee feels that potential students have many ways to take courses. In addition to a possible reopening of the Elkhart facility, there are the popular online courses and some additional online innovations to come. "Right now, we are working toward building multiple levels of delivery. It just depends on which market you are looking at training. The existing workforce is already back to work. So that's where our learning partners come into play, still teaching their workers by using the curriculum we developed. For brand new people coming in, we're hoping it will be here or taking some online courses. And we are also looking at how we can start educating a third group -- consumers. They will probably stop at Level 1. It's just identifying for them the problems with their unit and then get technicians to work on it. We don't teach a consumer to become a technician unless they are interested in being one"
Lee says that working at both the RV Industry Association and the RV Technical Institute is very rewarding as it allows her to tackle new challenges: "The RV industry is a great place to work. Being here in the heart of the industry is like being part of another family and you create bonds and relationships that will last a lifetime."
For further information, please visit www.RVTI.org or email RVTI-info@rvti.org.